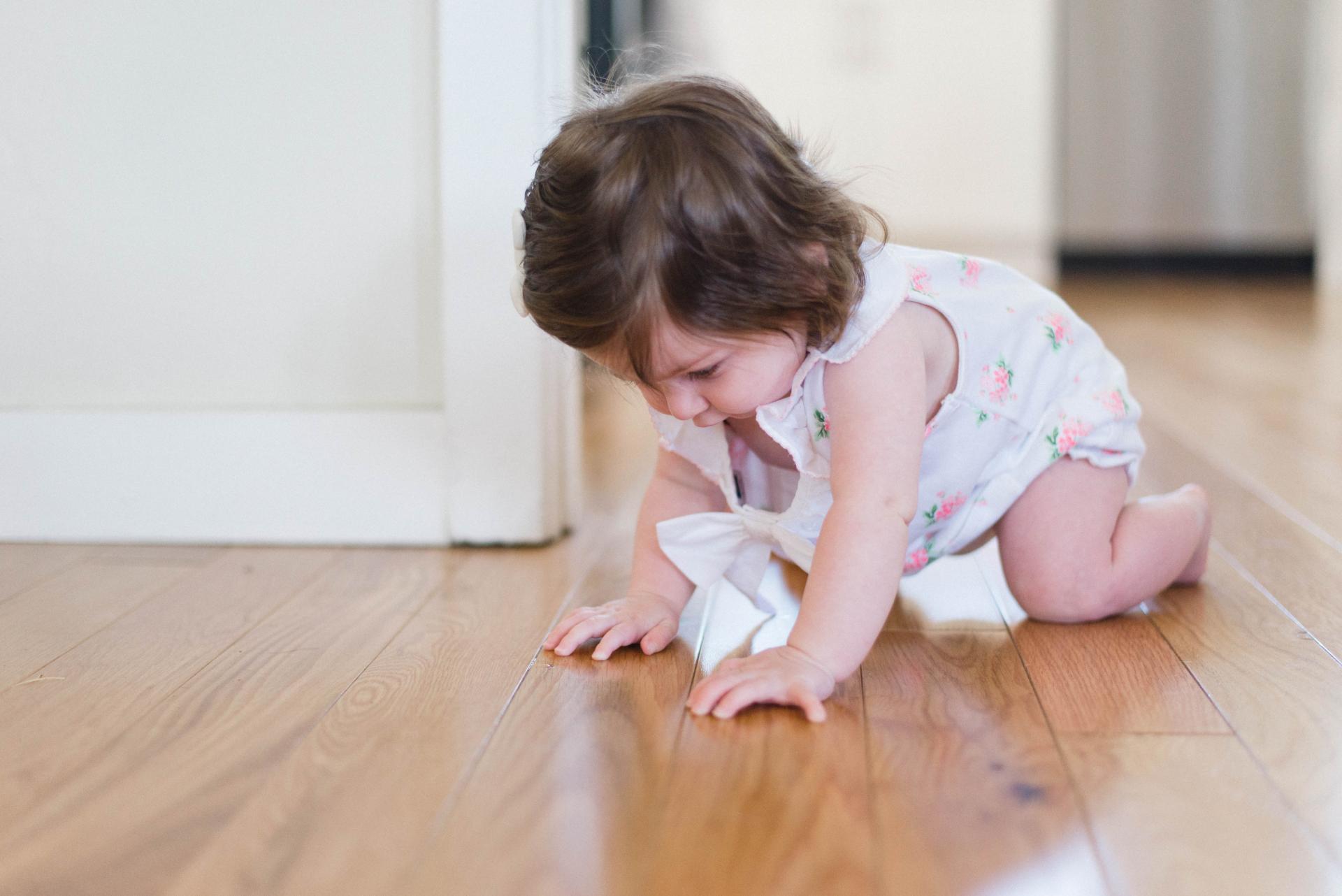 All babies develop at different rates, and chances are your little one may be on the move sooner than you anticipated. The second that he starts to pull himself up, tables and other surfaces will no longer be baby-free zones and once he can crawl he'll get from A to B in the blink of an eye. So once your baby starts to get moving, it's a good reminder to install stair gates, plug protectors and all of those other clever safety devices.

From cord blinds in the lounge to hot hobs in the kitchen, there are lots of possible dangers lurking – but luckily you can protect your baby from each risk with a simple safety device or precaution.
Here you'll get the lowdown on how to baby proof your home quickly and simply.
Doors and handles
Is your front door locked? What about the back door? How easy is it for your little one to push the door open and gain access to the garden, or the street and road outside? Do they lock properly? Are the handles loose? If you think your doors have seen better days and you're looking for something more secure, then click here for some door inspiration. Keeping your baby safe is a priority, so make sure they can't escape when you're not looking!
TV or Furniture Anchors:
Believe me…it will go fast and before you know it your baby will start to pull up on furniture around the house. Make sure that your TV is secured to the wall and that furniture cannot tip over. Using fasteners, help ensure that your little one won't be able to pull furniture onto themselves.
Outlet Covers:
Always keep your outlets covered. Babies and toddlers tend to want to stick things in them which is very dangerous. If you take one off to plug in the vacuum, make sure you put it back on when you're done. It can be easy to forget.
Cupboard Locks:
Make sure that all cupboards have child-proof locks, in order to keep your baby out of things they should not be in. Keep all medicines and chemicals up high in a cupboard with a lock to ensure that your little one does not get into those.
Sharp Corners:
Corners on the edge of coffee tables or fire places can be hazards to babies just learning to walk or even crawl. Get them covered with corner covers to prevent accidents.
Cords:
Cords that hang from curtains or blinds need to be out of reach and secured so that your baby can not reach them. Little ones can get wrapped up in them which can cause lots of trouble.
Pet Toys:
Sometimes things that don't look like hazards can be especially dangerous. Small cat or dog toys that are left out could be a choking hazard to your child. Even if the toy itself does not appear dangerous think about what is inside of it. Is there a jingle bell or a squeaker that could come lose? If so, make sure they are out of your little ones reach and put away.