This post is in association with Tots 100 and Baby Dove.
I have used Dove products for many years now, and my current favourite is the Purely Pampering Caring cream bath – it's my little indulgence after a long shift! Now, Dove has launched Baby Dove – a brand new range of baby care products, available in Rich Moisture or Sensitive Moisture (fragrance-free), offering complete care for delicate baby skin. We have been taking a closer look at the Baby Dove Rich Moisture Lotion and the Baby Dove Rich Moisture Wipes.
Building on Dove's 60-year heritage of moisture, mildness and gentle care, Baby Dove goes beyond mildness to replenish essential moisture and nutrients in baby skin. Baby skin is thinner than that of adult meaning it is more likely to lose moisture and be prone to dryness; therefore it requires more than just mild and gentle cleansing to keep it healthy and protected. The Baby Dove range goes beyond mildness to replenish essential moisture and nutrients in baby skin, and is paediatrically approved and dermatologically tested. It is safe to use every day even on newborns, and is available in the Rich Moisture range and Sensitive Moisture (fragrance-free) range.
Baby

Dove

Rich Moisture Range:
Developed for babies with normal to dry skin, this range includes Baby Dove Rich Moisture Head to Toe Baby Wash – Baby Dove's go-to product for gentle and caring bath times – Baby Bar, Shampoo, Lotion, Nappy Cream and Wipes with a 'hugs and kisses' fragrance specifically developed for delicate baby skin. The range is hypoallergenic; clinically proven to minimise allergy risks, and the Head-to-Toe Wash is pH neutral, with a proven tear free formula.
The Rich Moisture lotion is thick and creamy, and a little goes a long way! It isn't greasy, but it leaves your hands feeling soft and smooth, and immediately soothes any dry or chapped skin. I am constantly washing my hands while I'm working, and I have found this lotion ideal for keeping my hands protected, so it's great for adults too! Eliza actually suffers from eczema, and I was worried that the rich moisture lotion would irritate her sensitive skin, but so far we have had no issues at all – it has eased the dryness, stopped her from itching and actually helped to get rid of the redness.
We go through a LOT of wipes in this house, for nappy changes as well as cleaning mucky hands and faces. Some wipes are just too harsh, especially for the sensitive skin on Eliza's face, but the Baby Dove wipes have been really good – cleaning well but seemingly gentle on her skin. They are thick, and seem to handle most messes well, even sticky, painty hands. They pull out of the packet well – you only get one at a time rather than a big clump of wipes, and you don't need many to do the job. The only thing I would change is the seal. The Baby Dove wipes have a sticky tab opening, which doesn't offer a great seal once opened, meaning the wipes at the top can dry out quickly. It also makes it hard to re-open when you are in a rush. I think a plastic, click shut top wpould be a better option.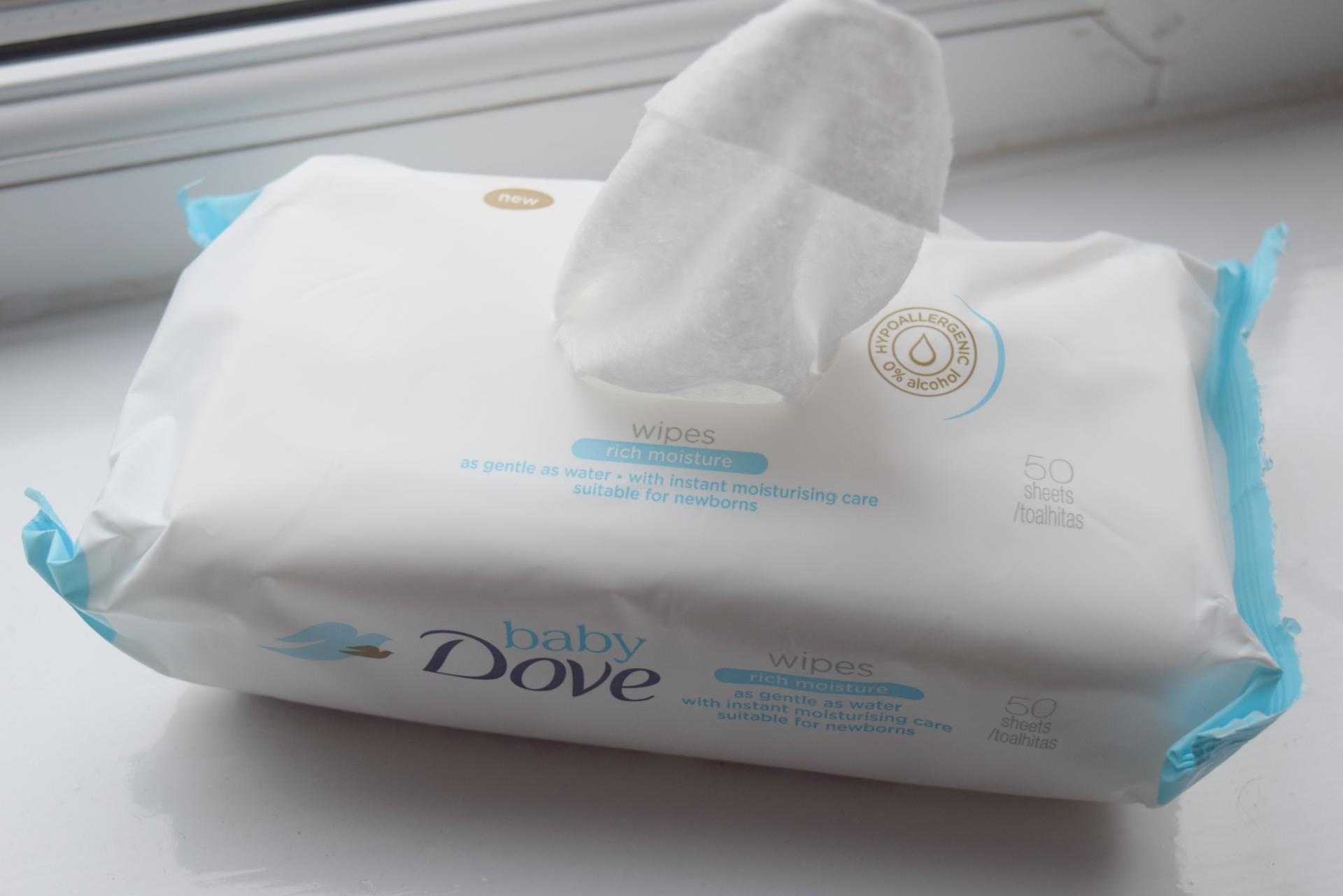 Overall, we are really impressed with the Baby Dove range. It is a brand I trust for myself, so I feel comfortable using it on Eliza too. My only concern was her eczema, which is easily flared when using new products, but we were pleasantly surprised to find that the Baby Dove Rich Moisture Lotion and Wipes didn't cause any irritation, and actually seemed to help soothe any sore areas. We will definitely be buying more from the Baby Dove range, and I wouldn't hesitate to recommend to others.