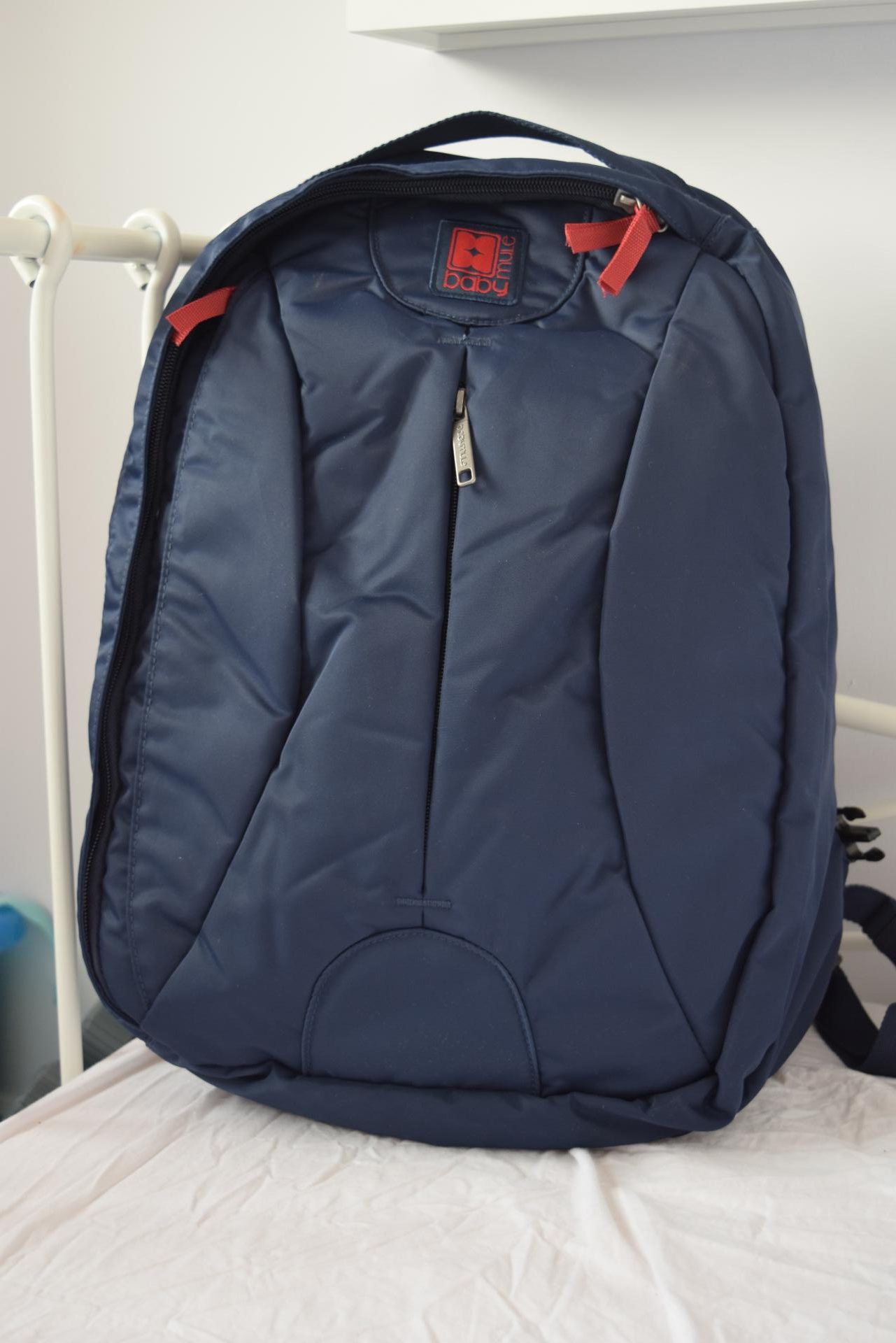 A changing bag is an essential, not just when you have a new baby, but when you have a toddler too. Eliza is 2, and we still need to carry nappies, wipes and spare clothes for her, as well as my purse, phone and keys. We also usually pack some spare clothes for Max, a drink and snacks, a bib if we are eating out and some toys for distraction! This means we need a spacious bag with easy access to everything, and something that is comfortable to carry for long days out too!
We were recently sent a Babymule original changing bag to try out. We chose the navy colour, as it goes with everything, no matter what clothes we are wearing or which pushchair we use! On first impressions, it looks like a traditional backpack, with large, wide straps and a water resistant outer. I love the easy access zip pocket on the front which is perfect for storing those things you want to grab quickly and easily, such as keys and phone. It also makes it easy to keep my things separate from the children't stuff.
Inside the changing bag there is a clip in pouch which contains the changing mat, perfect for on the go. We have used this for changing at the swimming pool, it's much comfier to lie on than the plastic changing tables! It's wipe clean too, and folds back into the storage pouch very easily. The pouch can also be used as an insulated cool bag or full change pouch to hold nappies and wipes for easy nappy change trips. There is also a wet bag for storing anything damp or dirty.
The real beauty of the Babymule changing bag is its versatility. Not only can it be used as a backpack, it can be used as a messenger style changing bag too, with the use of the long body strap included. This strap folds into it's own storage pocket when not in use, so it is super easy to switch between modes. If you are using the bag with a pushchair, you don't need to worry about the straps being too long for the buggy handle, or not fitting properly either. The Babymule comes with buggy clips included so you can attach the bag securely and safely to any style of pushchair or stroller.
We were pleasantly surprised with how spacious the Babymule bag is. It doesn't look like a large bag from the outside, but inside there is a lot of room for all the daily essentials. The internal storage pockets help to keep everything organised, and there is a neoprene bottle insulator for those of you with younger babies. The fact that you can turn the bag on to its side and unzip it right out makes it so much easier to easily grab what you need, rather than having to dig about in the bottom. Once you have packed or unpacked, you can zip it all back together and simply pick it up and use as a backpack if that is your preference.
We have really enjoyed using our new Babymule changing bag, and have been super impressed with just how practical and versatile it really is. It is so spacious that we have actually adopted it as our 'day out' bag, using it for family trips, as it easily holds everything we need. It's incredibly comfortable to carry, and even when full it doesn't feel heavy. The wide straps stay on your shoulders without slipping, and it leaves you hands free for other things – like holding onto inquisitive toddlers!
I would highly recommend the Babymule bag to anyone, whether you are a first time parent looking for a changing bag to last the distance, or whether you have older children and are looking for the perfect bag for family days out. Priced at a very reasonable £89, but currently on offer at just £59, this bag offers great value for money.