We go through SO many baby wipes in this house. They are used for anything and everything, but each time I throw them away I cringe a little bit inside. Not very eco friendly is it?
When Cheeky Wipes approached me and asked if we would like to try their reusable cloth baby wipes, I was thrilled. Not only was I looking forward to being more eco friendly and seeing how much money we could save, I was also keen to see if using a more natural product would benefit Max and Eliza's eczema.
We were sent the Cheeky Wipes All-in-One kit, which contains 25 lovely soft cloth baby wipes, 15 cm x 15 cm. You can choose from a range of options terry, bamboo, microfibre or a mix, and you can select colours too. The kit also includes everything you need to get started with cloth wipes:
Single-Clip' Fresh Baby Wipes container
'Single-Clip' Mucky Baby Wipes container – with mesh bag insert
Cheeky Wipes Fresh Baby Wipes waterproof out and about travel bag
Cheeky Wipes Mucky Baby Wipes waterproof out and about travel bag – with mesh bag insert
Either 10 ml bottle of Fresh Baby Wipes Essential Oil Blend – choose from Lavender & Chamomile, Mandarin or Rose & Rose Geranium
OR Baby Nappy Spray
10 ml bottle of Tea Tree & Tea Tree Lemon Mucky Baby Wipes Essential Oil Blend
There is a quick start guide included with the kit, and getting started is really simple, much easier than I expected. Firstly, you fill your Fresh box to the marked line, and add a couple of drops of your chosen essential oil blend (helpfully marked Fresh). Pop the wipes into the container, let them soak a little and then turn them over. That's it – they're ready to use! Wipes stay fresh in the solution for up to three days.
Next, insert the mesh bag into the Mucky Wipes container, fill with water to the marked line, and add a couple of drops of the Mucky essential oil blend. Once you have used your wipes you can then place them into the Mucky Wipes container. Once you're ready to wash, just life the mesh bag out and chuck them in the washing machine – simple! They can be washed with anything, at temperatures from 20-70 degrees, and can be dried on the line or on a warm tumble dryer setting.
If you are out and about, you can still use Cheeky Wipes. Take some damp wipes from your Fresh container, wring out the excess water, and pop them into the Fresh wipes bag. When used, pop them into the Mucky wipes bag and bring them home for washing. The mesh insert in the bags can be removed, so it really is as easy as taking them out the changing bag and putting in the machine. No need to handle wipes covered in chocolate!
I was really worried that reusable wipes would be fiddly and time consuming, but I couldn't have been more wrong. It takes seconds to prepare a batch of wipes, which then last for a few days. They are just as simple to use out and about as they are at home, and much kinder to skin too. We have had no eczema flare ups using these, and they do seem to do a much better job of cleaning up sticky hands and faces than disposable wipes.
What have we used our Cheeky Wipes for?
Cleaning sticky hands and faces after snacks and mealtimes.
Wiping paint, playdough and pen from hands after messy play.
Cleaning down tabletops and work surfaces.
Nappy changes.
Potty training wipes – these are much easier and gentler than toilet paper.
Face flannels/body wash cloths.
Make up removal.
As you can see, these have been worth their weight in gold. SO many uses, and much kinder to sensitive skin. They are much more environmentally friendly, quick and easy to prepare and wash, and are saving us some money too! You get none of the problems associated with disposable wipes – too many coming out the packet at once, the ones at the bottom being too wet and soggy etc. Cheeky Wipes have definitely become an essential item in our household, and we won't go back to disposable wipes now. I just wish we had discovered them years ago!
I have a Cheeky Wipes All-in-One kit to giveaway to one very luck winner, so you can try reusable wipes for yourself. To enter, simply follow the instructions on the Rafflecopter form below – good luck!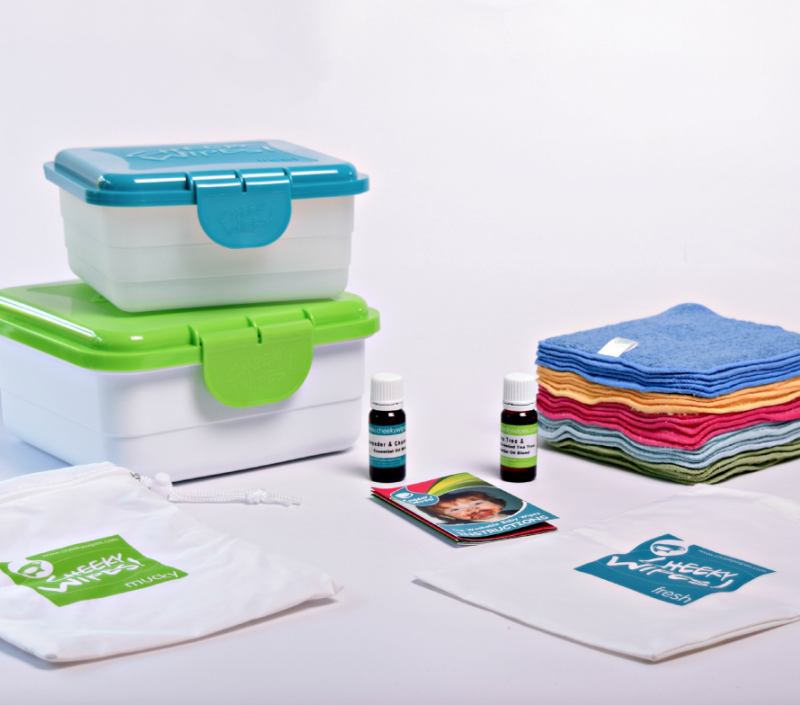 Terms and conditions. Open to UK residents, giveaway ends on 11/5/18. Winner will be randomly selected from all correctly completed entries, and contacted by email. Winner should claim their prize within 10 days or it may be redrawn. Prize supplied directly from Cheeky Wipes UK.