As many of you will know, Britax Römer has been manufacturing car seats for over 50 years and has since been supplying the country with award winning car seats, pioneering car seat technologies and setting a precedence amongst other manufacturers across Europe. One of our favourites is the Britax Dualfix, with its clever spin function, and the option to rear face for longer.
Today, Britax Römer is the only car seat manufacturer producing seats here in the UK, and to celebrate the brand's proud British heritage, they have just announced their 2018 Summer Sale. Throughout July, selected car seats in the Cosmos Black fabric, produced and tested in the UK, will be reduced in stores, with discounts of up to 50%! That's a huge saving on an essential item – because we all know that budgeting with a family can be tough.
To continue the 'Made In Britain' celebrations, there is also a fantastic competition going on. One lucky winner will have the chance for their little one to become Britax Römer's Prince or Princess. Those that wish to be in with a chance of earning this accolade for their child simply need to share a picture of their little one using the hashtag #BritaxRoemerBritTots and either post the image direct to the Facebook page or tag the image on Instagram using @BritaxRoemer.
The lucky winner will receive an exclusive photo shoot for their little Prince or Princess, with the images featured on the Britax Römer Facebook page. The winner will also receive on of the 'Made In Britain' car seats and a visit to the UK factory to see how the car seats are made!
In the meantime, check out some of the amazing offers available to you this July, in the Summer Sale 2018!
FIRST CLASS PLUS (Birth – 4 years | 0 – 18 kg) RRP: £170 NOW £99
The FIRST CLASS PLUS is a car seat that grows with a child. It offers rearward facing safety from birth to 13 kg, forward facing safety from 9 kg through to 18 kg and multiple recline positions to guarantee comfort for new-born sleepers or wriggly toddlers.
ECLIPSE (9 months – 4 years | 9 – 18 kg) RRP: £135 NOW £70
The streamlined ECLIPSE is the ideal solution for cars with limited space and comes with a lightweight shell and slim base. What's more, The ECLIPSE is TUV certified making it the ideal seat for use in a car or aeroplane. Featuring advanced side and frontal impact protection, parents can be rest assured their children are always travelling safely.
EVOLVA 1-2-3 (9 months – 12 years | 9 – 36 kg) RRP: £145 NOW £79
Designed to grow with a child, the EVOLVA 1-2-3 is suitable for children from 9 to 36 kg. Its 5-point harness, performance chest pads and highback booster protection ensures maximum safety for a child from 9 months through to 12 years. Suitable for most cars and approved for use in a reclined position it offers extra comfort for carefree journeys.
ADVENTURE (3.5 years – 12 years | 15 – 36 kg) RRP: £65 NOW £40
The ADVENTURE proves safety for older children can also be convenient. The reassurance of highback booster safety with side impact protection comes within a lightweight, easily transferrable shell and intuitively positioned seat belt guides for straightforward installation every time.
DUO PLUS* (9 months – 4 years | 9 – 18 kg) RRP: £230 NOW £139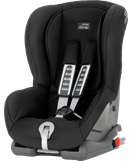 The DUO PLUS combines installation flexibility with a unique innovation from Britax Römer. Compatible with ISOFIX or 3-point seat belt installation, the seat caters to any car, while its pioneering Pivot Link System ensures reduced frontal movement in the event of an accident.