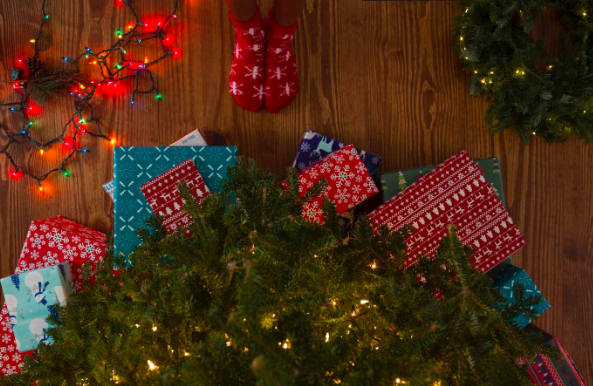 As Christmas approaches, you want your house to look its best. Not only for the parties and guests that might be coming, but also for those special Christmas morning moments when excited kids sit around the tree opening their prezzies. A wooden floor is the perfect way to complement all your efforts in festive decorating!
And there is no better place to shop for the wooden floor you want than doorstore.co.uk where a massive selection of real wood, engineered, laminate and vinyl floor options are waiting to charm you this Christmas.

Solid Wood
Wooden floors are beautiful. They are tough, durable and yet easy to look after. Timber flooring is sleek and stylish and can work in harmony in any style of home. They add warmth and naturalness to any context whether it is rustic or contemporary. The texture of wood is always much-loved and it brings a sense of organic wholesomeness that adds character to your home.
Multi-layered or engineered wood
One option to flooring made of solid wood is engineered wood. This is made up of a base of plywood or veneer, created with layers of hard or softwood boards, and then finished off with a top layer of timber. The criss-cross style of manufacture of this flooring provides it with real strength.

Laminate flooring is manufactured by producing an image of wood grain on plastic. This layer is then laminated on to a board. The best quality laminates have a truly convincing wood finish and can be an excellent, durable alternative to wood flooring.

The appearance of a timber floor can also be reproduced by vinyl. Sheet vinyl flooring works well in environments where water is likely to be spilt such as the kitchen or bathroom and is considerably cheaper than solid wood.

Trends
At the minute people seem to be choosing darker wood over the pale woods that have been popular in the recent past. Oak is always high on the list, due perhaps to the fact that it fits into nearly any colour or interior décor scheme. Extra-wide are popular also, many with distressed finishes. In laminate flooring, many buyers are going for designs that have V-grooves along the board edges which have a more realistic appearance than finishes that are totally smooth.

Installation
Many recent ranges of wooden flooring are long-lasting and relatively simple to install, as long as the surface they are laid on is sound, dry and flat. Experienced DIYers will manage this easily and even novice home handy-workers should be able to succeed in getting the result they want. Whether you're keen to do it yourself, or opt for an installation, they're easy to lay down and can go over practically any floor surface as long as it's level, moisture-free and sound.