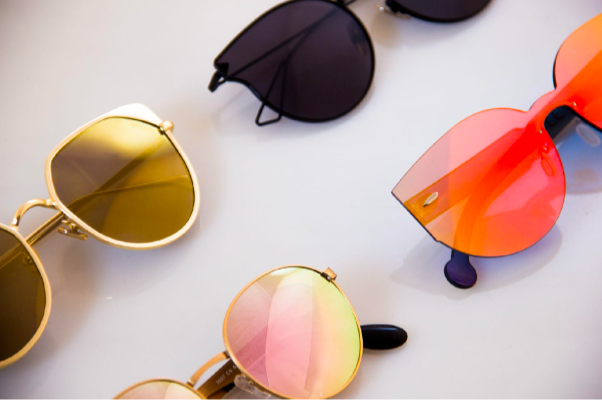 If you're like us, you spend most weekends with the family, taking day trips to attractions over the UK or spending time together in your local town. Most of the time, we're not lucky enough to experience sunny Mediterranean weather, but occasionally we see a beautiful, sunny, crisp winter day and jump at the opportunity to spend time outdoors. Whether you're heading to the park, out for a walk in the woods or visiting a local attraction – it's important to have the gear you need ready to go. Being outdoors and in the sunshine, it's important that we have a quality pair of sunglasses to protect our eyes and the eyes of our little ones!

Lucky for us, online glasses retailers offer the widest range of sunglasses you'll find in one place. Providing an unrivalled experience to shopping glasses and sunglasses online, SmartBuyGlasses UK offer a vast variety of fashionable sunglasses styles, for mum, dad and children! With designer brands like Tom Ford and Ray-Ban, to sportier options like Persol and Oakley, the online retailer is proud to offer a pair of frames for everyone, to compliment your personality and style. If you're shopping for sunglasses online, follow along below to style the whole family in no time:
1. Buy Sunglasses with 100% UV Protection
Sunglasses should be functional, first! It's nice to have fashionable sunglasses frames, but always make sure that the sunglasses that you're buying provide 100% protection against UV rays. UV in sunglasses can be classified into categories ranging from 0 to 4, with 0 offering no protection and 4 offering the highest. We advise you to choose sunglasses with a UV category of 2, 3 or 4, depending on your needs. Lens category 2 are suitable for days that are cloudy, 3 are your ideal choice for protection from strong sunlight, whilst lens category 4 can be used in extremely sunny conditions, like high altitudes or at sea. It's important to check the CE UV certification on sunglasses too, which ensure that the sunglasses meet the requirements to be sold in Europe and have passed EU regulations.

A common misconception when buying sunglasses is that darker lenses offer more UV protection, but don't be fooled, the lens tint does not affect their capability of protecting against UV rays. These should be considered as two independent factors.
2. Choose a style that suits your face shape
When shopping for all the family, you'll need to consider each family member's face shape in order to find a style that suits them best. Keep reading to find out the key features of each face shape and what styles suit them:
Round-shaped faces –

Naturally have curves, fuller cheeks and a wider forehead. It's best to choose square or rectangular frames which create structure and angles that your natural features are missing.

Square-shaped faces –

Characterised by a wide forehead with a more defined jawline, this face shape type has strong natural contouring, benefiting from round or oval frames which help to soften the facial features.

Oval-shaped faces –

Gently rounded with soft curves and in proportion from top to bottom, any style of sunglasses will luckily suit this face shape, so don't be afraid to experiment with bolder styles!

Heart-shaped faces –

Have a wider forehead, high cheekbones and a narrow pointed chin. Sunglasses that are wider at the top than at the bottom work well for this face shape, like cat-eye frames or wayfarer styles.
With the latest advancements in augmented reality, you can even virtually try-on sunglasses online using a try-on tool. By taking a simple 5-second video selfie, your chosen frames will be virtually imposed on your face, creating that "in-store try-on" experience from the comfort of your own home. It makes shopping online even more fun for kids too, giving them the freedom to try on as many pairs as they'd like! Remember, before purchasing any sunglasses, always check with your children that they like the style. They're more likely to wear a pair of sunglasses they love, so let them choose their favourite!
Personalise your shades
When purchasing sunglasses online, you're easily able to upgrade them to suit your personal needs, whether it be adding your prescription, or upgrading to a premium lens type to improve their functionality.

Prescription Sunglasses
Upgrade your standard sunglasses frames to prescription sunnies in a few simple clicks. Choose the lens index (otherwise known as thickness) that you need, and upload your prescription at the check-out. Online stores like SmartBuyGlasses offer a nifty Prescription Lens Scanner tool, which can extract the prescription information from your current glasses lens so you have the information you need to submit a new order in a few minutes.
Polarized glasses or anti-glare glasses are designed in such a way that they can reduce the glare coming off the surfaces like water and ice. This is very handy in improving the visual experience. Moreover, it helps a lot while driving, boating, ice skating, and other such activities.

Premium Lens Upgrades
There are many types of lens upgrades to choose from to really get the most out of your sunglasses purchase.
For family members who want sunglasses for driving purposes, you should choose a pair of anti-glare lenses or polarised lenses, specifically designed to minimise the glare from surfaces such as water or snow.

If you're a prescription glasses wearer and want to eliminate having to carry two pairs everywhere you go, you might want to consider ordering Transitions® or photochromic lenses. These lenses darken when exposed to the sunlight and change back to clear when you go indoors.

Perfect for the little ones in our lives, gradient tints add a little extra to your kids' sunglasses! Children love them as they're available in a wide range of colours, including brown, green, blue and grey.
We know it's not easy to find a shop where you can find sunglasses with so many options for all the family. So for affordable, excellent quality sunglasses, along with 100-day returns and a 2-year warranty, shop sunglasses online for the whole family at SmartBuyGlasses UK.