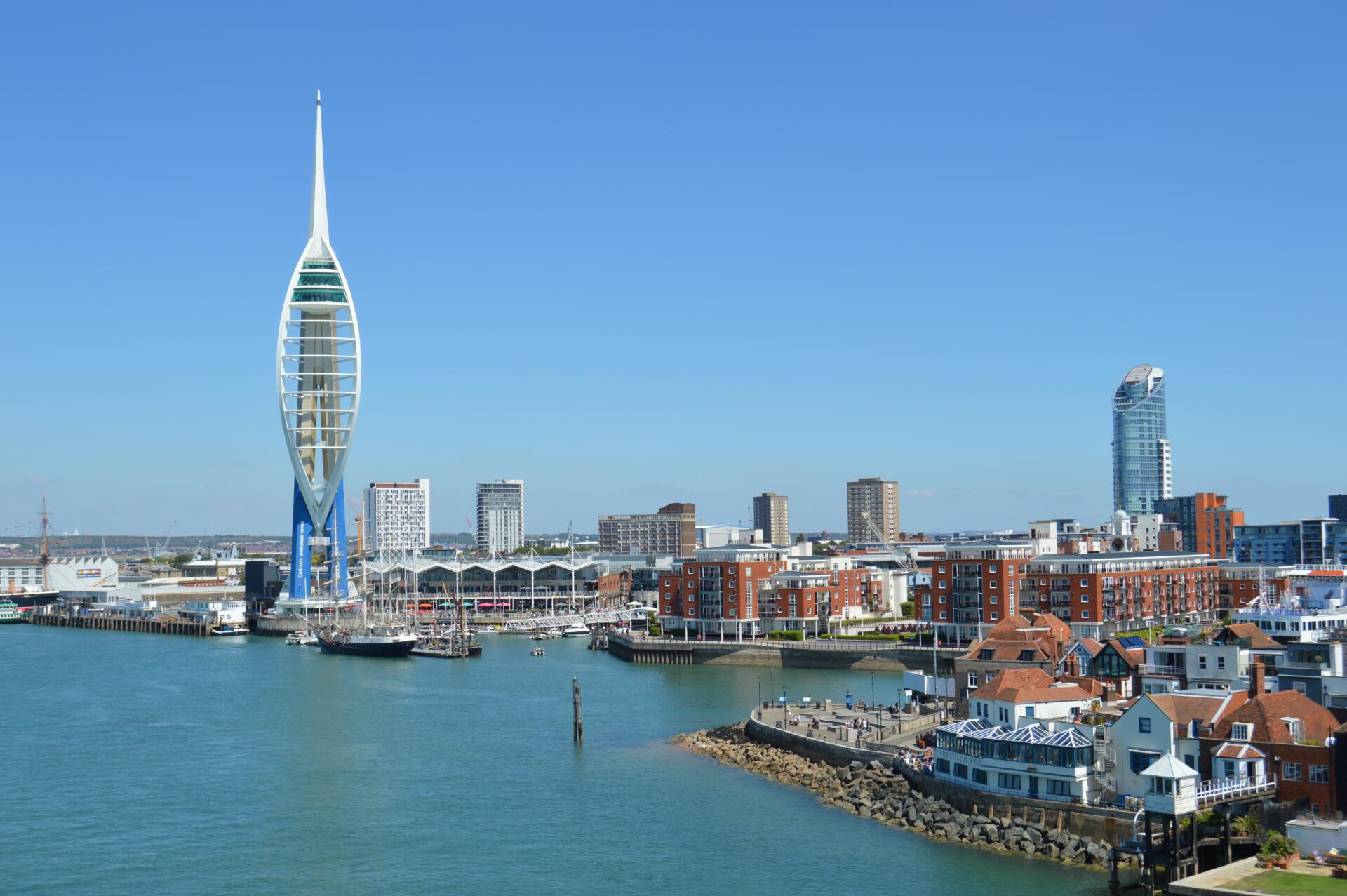 Portsmouth, located on the south coast of the UK, offers a wide range of family-friendly activities that are sure to keep everyone entertained. From historic ships and museums to outdoor adventures and amusement parks, there is something for everyone in this vibrant city.
Why Portsmouth is a great destination for Families
Portsmouth is the perfect destination for families due to its rich history, beautiful coastline, and a plethora of attractions. Here are a few reasons why Portsmouth is a great place to visit with your family:
Historic Ships: Explore the iconic HMS Victory, the Mary Rose Museum, and the HMS Warrior 1860, and learn about Portsmouth's naval history.

Spinnaker Tower: Enjoy breathtaking views of the city and the Solent from the top of this 170-meter-high tower.

Southsea Castle: Step back in time and visit this historic castle that played a significant role in the defense of the country.

Portsmouth Museum and Art Gallery: Discover the city's rich history and art exhibitions that are suitable for all ages.

.

Blue Reef Aquarium: Dive into the underwater world and get up close with a variety of marine species.

Clarence Pier and South Parade Pier: Enjoy classic seaside fun with amusement parks, arcades, and beautiful views of the coastline.

Parks and Gardens: Take a relaxing stroll or have a picnic in one of Portsmouth's many parks and gardens, such as Cumberland House Natural History Museum and Canoe Lake.

Family-Friendly Beaches: Spend a day at the beach and enjoy the sandy shores and calm waters of Southsea Beach or Hayling Island.

Portsmouth offers a diverse range of activities that cater to different interests and age groups, making it an ideal destination for a family vacation. So pack your bags and get ready for a memorable trip to Portsmouth!

The Mary Rose

The Mary Rose Museum is a must-visit attraction in Portsmouth, UK, offering educational and engaging experiences for children and families. The museum is dedicated to showcasing the story of Henry VIII's favorite warship, the Mary Rose, which sank in 1545 and was recovered in 1982. Here's what makes the Mary Rose Museum a fantastic family activity:

The Mary Rose Museum and its interactive exhibits

The museum features state-of-the-art interactive exhibits that bring the history of the Mary Rose to life. Families can explore the construction, loss, and recovery of the ship through displays of valuable artefacts. The museum's glass lift provides a unique perspective, allowing visitors to appreciate the enormity of the ship's hull. The interactive image of the Battle of the Solent, engraved in the museum, captivates both children and adults alike.

Educational and engaging experiences for children

The Mary Rose Museum offers a range of activities and events tailored specifically for children. From handling tables and interactive displays to the amazing light show that brings the ship to life, there's plenty to engage and entertain young visitors. Children can also take part in craft activities such as candle making, pomander making, and court manners and music workshops, providing them with a hands-on experience of Tudor England.

Overall, the Mary Rose Museum is a fantastic family activity where children and adults can immerse themselves in the fascinating history of the Mary Rose and learn about life in Tudor England.

Portsmouth Historic Dockyard

When it comes to family-friendly activities in Portsmouth, Portsmouth Historic Dockyard is a must-visit destination. It offers a unique opportunity to explore historic ships and museums that showcase the rich naval history of the UK. Here are some highlights of what you can experience at Portsmouth Historic Dockyard:

Explore Historic Ships and Museums

HMS Victory:

Step on board Lord Nelson's world-famous flagship and follow in the footsteps of the most famous Vice-Admiral in history. Learn about life on board and get a close-up look at the meticulous restoration work with Victory Live.

HMS Warrior:

Discover one of the world's first iron-hulled armoured warships that changed naval warfare forever. Explore the decks and learn about the fascinating history of this iconic vessel.

Mary Rose Museum:

Immerse yourself in the story of Henry VIII's flagship, the Mary Rose. See the remains of the hull and artifacts rescued from the seabed, giving you a glimpse into Tudor life.

HMS Alliance:

Walk on board a Cold War submarine and experience what life was like for submariners. Take a peek through the periscopes and learn about the challenges of living underwater.

The National Museum of the Royal Navy Portsmouth:

Dive into the history of the Royal Navy through a collection spanning several hundred years. Discover the stories of brave men and women who served in the Navy.

Hands-on activities and interactive displays for the whole family

Exploration Galleries:

These interactive galleries offer hands-on activities and exhibits that engage visitors of all ages. Learn about naval history through interactive displays and fascinating stories.

Forgotten Craft Exhibition:

This exhibition pays tribute to the small naval craft and crews that played crucial roles in naval history. Get up close to these historic vessels and learn about their significance.

Boathouse 4:

Watch boatbuilding in action and learn about the role of small boats in the Royal Navy. See craftsmen at work and get a behind-the-scenes look at this important aspect of naval history.

With a variety of attractions and activities to explore, Portsmouth Historic Dockyard offers a fun and educational experience for the whole family. Take a journey through time and discover the fascinating world of naval history in the UK.

Exciting Escapes: An Adventure to Remember

When visiting Portsmouth with your family, one destination that simply cannot be missed is Exciting Escapes, an immersive escape room experience that's both challenging and engaging for all ages. As one of the most popular escape rooms in Portsmouth, Exciting Escapes provides a variety of themed rooms that will make you feel like you're in a whole new world. Here, your team will have 60 minutes to solve clues, crack codes, and unravel the mysteries to escape.

Educational and Engaging Experiences

At Exciting Escapes, the challenges are not only about solving puzzles, they also provide an opportunity for education and learning. Each room tells a story that requires teamwork, creative thinking, and problem-solving skills to navigate successfully. The immersive nature of these challenges engages and educates participants in a fun, interactive manner.

Why Exciting Escapes is a Must-Visit for Families

Exciting Escapes offers an unforgettable shared experience for families. This exciting activity encourages collaboration, communication, and critical thinking amongst family members, making it not only a fun adventure but a great team-building exercise. The thrill of solving puzzles together within the time limit makes for a memorable and rewarding experience.

With its selection of captivating themes and carefully crafted puzzles, Exciting Escapes promises a one-of-a-kind adventure for families visiting Portsmouth. Whether you're a seasoned escape room enthusiast or a first-timer, Exciting Escapes has something for everyone. So, step into a world of mystery and excitement, and create unforgettable memories with your family at Exciting Escapes in Portsmouth!

Gunwharf Quays

Gunwharf Quays is one of the top attractions in Portsmouth, UK, offering a unique shopping and entertainment experience for the whole family. Situated on the stunning Solent waterfront, Gunwharf Quays is a must-visit destination that goes beyond just shopping. Here's why you should include Gunwharf Quays in your itinerary when visiting Portsmouth:

Shopping and Entertainment at Gunwharf Quays

Retail Paradise:

Gunwharf Quays is a retail paradise with over 90 famous brands offering up to 60% off the regular retail prices. From high-end fashion to homeware, there is something for everyone.

Vue Cinema:

Experience the quality and enjoyment of a visit to the 14-screen multiplex cinema at Gunwharf Quays. Whether you're organizing a family outing or a night out with friends, catching a movie at Vue Cinema is a great way to relax and enjoy some entertainment.

Hollywood Bowl:

Let the whole family enjoy everything that Hollywood Bowl has to offer. Bowling is a classic activity that never fails to bring fun and laughter. Whether you're a pro or a beginner, Hollywood Bowl at Gunwharf Quays provides a fantastic bowling experience for all ages.




Family-friendly activities and attractions at the waterfront complex

Miniport:

Miniport provides a unique family boat hire experience at Gunwharf Quays. Drive miniature electric ships and enjoy a relaxed and enjoyable time afloat. It's a great opportunity to enter your children's world and share their sense of adventure.

Aspex:

Aspex is a contemporary art gallery located at Gunwharf Quays. It features innovative visual art and regularly hosts art workshops for all ages. It's a great place to engage with art and unleash your creativity.

Rib-ride:

Take a high-speed family RIB trip out on the Solent from Gunwharf Quays. Enjoy stunning views of the famous Mary Rose wreck site, the Historic Solent Forts, or the beautiful beaches on the Isle of Wight. It's an exhilarating on-the-water experience for the whole family.

With a wide range of shopping, entertainment, and family-friendly activities, Gunwharf Quays offers an unforgettable experience for families visiting Portsmouth. Plan your trip, visit Gunwharf Quays, and create lasting memories with your loved ones.




Spinnaker Tower

Enjoy Panoramic Views from Spinnaker Tower

Experience breathtaking panoramic views of Portsmouth from the iconic Spinnaker Tower. Standing at 170 meters high, the tower offers a stunning vista of the city and its surrounding areas. Here are some key highlights of visiting Spinnaker Tower:

Take a ride up to one of the three viewing decks and enjoy the spectacular views of the harbor, ships sailing in and out, and the beautiful coastline.

The Sky Garden is the highest viewing deck with a mesh ceiling that allows you to feel the breeze while taking in the view.

Look down through the glass floor of the Sky Walk, which can hold the weight of two black rhinos, for a unique perspective of the harbor below.

For thrill-seekers, there is the option to abseil down the side of the tower (for teens aged 14 and above, accompanied by an adult).

Explore the virtual reality experience and watch The Sail of the Solent animated film to further enhance your visit.

Family-friendly experiences and attractions at the iconic landmark

Spinnaker Tower offers more than just stunning views. It also provides several family-friendly experiences and attractions:

The tower has interactive displays and exhibits that engage and entertain children, making it an educational and fun experience for the whole family.

Enjoy a delicious meal or snack at one of the tower's restaurants or cafes while taking in the panoramic views.

Check the tower's website for special events and activities that are suitable for families, such as workshops and craft sessions.

To make the most of your visit to Portsmouth, don't miss the opportunity to enjoy the panoramic views and family-friendly experiences at Spinnaker Tower.

The D-Day Story

Families visiting Portsmouth should not miss out on the opportunity to visit The D-Day Story. This unique museum is dedicated to the Allied Invasion in June 1944 and tells the personal stories behind this historic event. It offers educational experiences and exhibits that are suitable for people of all ages, making it a great family activity.

Learn about the Allied Invasion at The D-Day Story

The D-Day Story is the only museum in the UK that is solely focused on the Allied Invasion. Visitors can learn about the challenges and sacrifices faced by the soldiers who participated in D-Day. Through immersive audio-visual presentations and iconic objects, the museum brings the story of D-Day to life.

Educational experiences and exhibits for families

The D-Day Story aims to engage and educate visitors, including families, about this pivotal moment in history. Here are some features and exhibits that families can enjoy:

Interactive displays: The museum offers interactive displays that allow visitors to explore maps, uniforms, and other memorabilia related to D-Day. These displays provide a hands-on learning experience for children and adults alike.

Overlord Embroidery: Don't miss the Overlord Embroidery, which is one of the highlights of the museum. This impressive piece of artwork spans 83 meters and is the largest work of its kind in the world. It portrays the events of D-Day and the Battle of Normandy in stunning detail.

Family-friendly audio tour: The museum offers an audio tour specifically designed for families. This tour provides kid-friendly information about the exhibits and engages children in learning about the history of D-Day.

LCT 7074: Families can explore the last surviving Landing Craft Tank from D-Day, which is located on Southsea Seafront. This provides a unique opportunity to see and experience the scale of the landing craft that played a vital role in the invasion.

Visiting The D-Day Story is an informative and engaging experience for the whole family. It allows children and adults to learn about the bravery, sacrifice, and ingenuity of those who participated in D-Day.

Conclusion

In conclusion, Portsmouth, a vibrant city on the UK's south coast, presents an exciting and diverse range of family-friendly activities. This historic maritime city is teeming with attractions that offer a mix of fun, education, adventure, and relaxation, ensuring a memorable experience for every member of the family.

From exploring iconic ships like HMS Victory and the Mary Rose to viewing the stunning cityscape from the Spinnaker Tower, every day in Portsmouth brings a new adventure. Children can learn about UK's naval history at the Portsmouth Historic Dockyard, delve into the world of contemporary art at Aspex, or enjoy classic seaside fun at the piers.

Whether it's experiencing the exhilarating high-speed Rib-ride from Gunwharf Quays, understanding the significance of D-Day at The D-Day Story museum, or simply enjoying a laid-back day at the beautiful Southsea Beach, Portsmouth ensures a fulfilling family vacation.

The city's rich history and vibrant contemporary culture combine to make it a truly unique destination. The multitude of experiences on offer, along with the family-friendly environment, ensures that every visit to Portsmouth is packed with enriching experiences and lasting memories. So, for those planning their next family getaway, Portsmouth stands as a compelling choice offering fun, education, and adventure in one fantastic package.