Well, we survived Christmas! A wonderful time was had by all! Wrapping the kids main presents took us an age on Christmas Eve, but the kids faces when they came downstairs made it all worthwhile!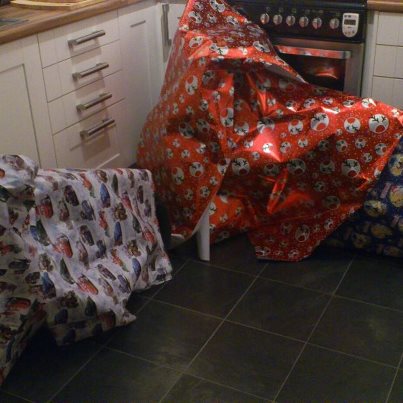 After the usual Father Christmas, present overload, Christmas day saw us having a delicious roast turkey at my mother in laws, with hubby's family. Kids had an awesome time playing with their cousin Zack, who is 6, and getting sack loads of lovely gifts. Gemma's favourites were the mountain bike we got her, and the 'Magic Tooth Fairy Game' from her Auntie. Jacob also loved his new bike, and a very special toy lorry from daddy's workplace, with the company logo and all the details that made it look just like 'one of daddy's lorries'.
Boxing day has been another lovely day, this time at my mum and dads. Turkey, chips and salad and yet more presents, including some gorgeous Lazy Jack's sweatshirts for the kids. This was followed by rounds of all the kids new board games (and they had quite a few!) and some serious Lego building – was perfect, what Christmas is all about.
We are now having a quiet evening together – kids are watching The Incredibles as I write this, snuggled up on the sofa with daddy, who looks like he might just fall asleep any minute! I have been using the 5 minutes of peace to search the sales for a new washing machine, and have managed to get a great deal on one, reduced from £349.99 to £199, with a £25 off your first order offer and free delivery – total bargain!
Hope you have all had an amazing Christmas – would love to know what you have all been up to?