Bibs are a must have for any new baby, and having had 2 babies who suffered from reflux and were constantly sick, I have tried out my fair share of bib makes and styles!
So I was very pleased when I was asked to review a bandana style bib from Babble Bib. I never tried the bandana style bibs with my older 2 children – I stuck to the special milk bibs with the thick neck as they seemed to catch the milk dribble well, and so I was keen to see how the bandana bibs fared!
The hardest job was choosing a design! There are so many wonderful designs and patterns on the webiste that I found it very hard to choose, but eventually I settled on the All Star – a grey bib with red stars.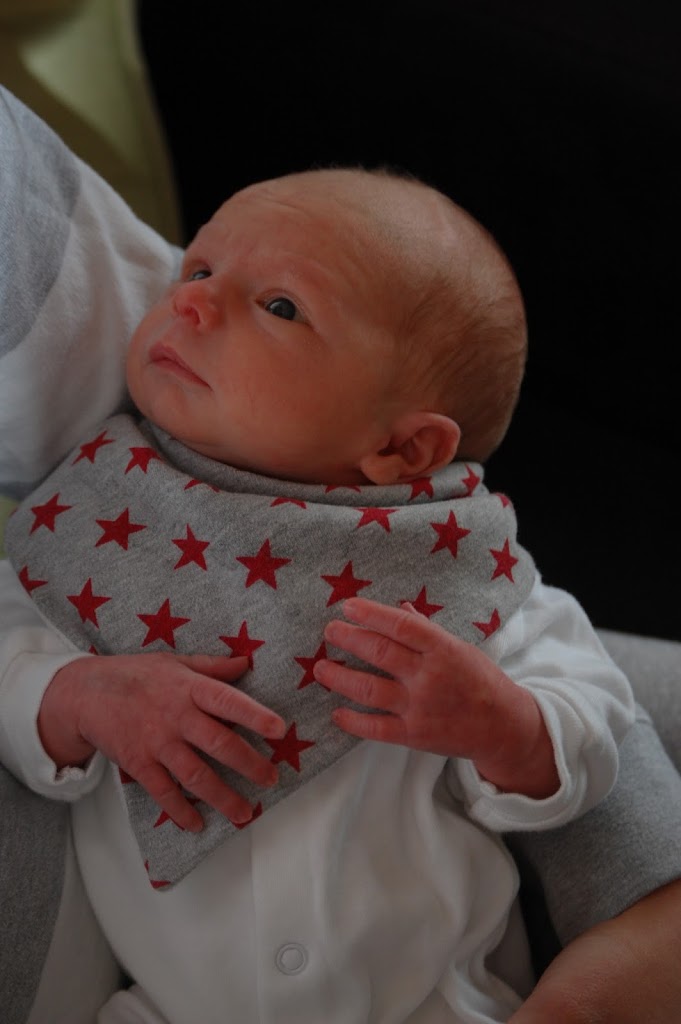 As soon as it arrived we put it to the test on Max – he tends to dribble some milk down his neck when feeding, so I was very interested to see how the bib would cope with this. The bib itself is gorgeous – it's great quality, lovely and thick and with a super soft fleece lining. It also has 2 sets of poppers, so you can adjust it to fit as your little one grows.

During a feed, the bib does a perfect job – the bandana style fits snugly under Max's chin and so catches any milk that dribbles down, preventing it from running down onto his neck and clothes.
As well as doing a great job of keeping Max clean and dry, it also looks really lovely on him. I find some bibs just look functional and a bit boring – this one does the job it is supposed to and looks great at the same time!
Overall, I cannot recommend these bibs highly enough! Priced at just £3.99, they are great value for money, particularly as they will last for a long time, due to the quality and the fact they are adjustable. They also wash perfectly, and come out feeling just as soft as they went in.
And if you like the look of Babble Bibs yourself, keep your eyes peeled for a competition coming up soon! 🙂
* I was sent this product free of charge for review purposes, but all thoughts and opinions are my own *