I was recently lucky enough to be sent a range of natural cleaning products from Eco2Life to try out. As both Kevin and Jacob suffer from asthma and eczema, I always try to use natural products around the house when I can, so I was keen to see how these products would fare!
Eco2Life products are made
using ingredients derived from corn, sugar cane, coconut, vegetables and citric acids – so no 'nasties' involved!
What's in the box?
I received 4 cleaning products for testing – Bath & Shower cleaner, Floor cleaner, Glass cleaner and a Multi-surface cleaner. The cleaners come in small bottles which you simply add to the spray bottles, along with tap water, and you are ready to go.
So, easy to prepare, and a bonus that you can just buy refill bottles when you run out – no need to replace the spray bottle every time (very environmentally friendly). But what about cleaning performance? Let's find out!
I have to say – I was pleasantly surprised. I will admit that I was sceptical about these cleaning products to start with – in my experience, 'natural' cleaning products often aren't up to the job. But these do seem to do what they say on the tin. I have clean shiny worktops, floors and windows (well, until the children get home from school that is) and everything smells delicious!
So I have to say a big thankyou to Eco2Life. I can now clean my house, comfortable in the knowledge that the products I am using will not aggravate asthma and eczema, and pose no risk to our little newborn. Thumbs up!
BUT JUST HANG ON A MINUTE – BEFORE YOU GO – Do you fancy winning an Eco2Life cleaning box to try out for yourself? Course you do! This fabulous prize contains: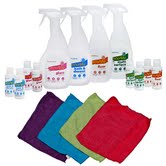 One of each 500ml REUSABLE spray bottle of the eco2life multi-surface, bathroom, glass and floor eco friendly high performance cleaning products.

Two of each 50ml REFILLS, one to get your started and the other to keep you green cleaning

Four different colour high quality micro-fibre cloths
All you have to do to enter is follow the instructions on the Rafflecopter form below – Good luck!