A little while ago, we were sent a lovely package from Tefal: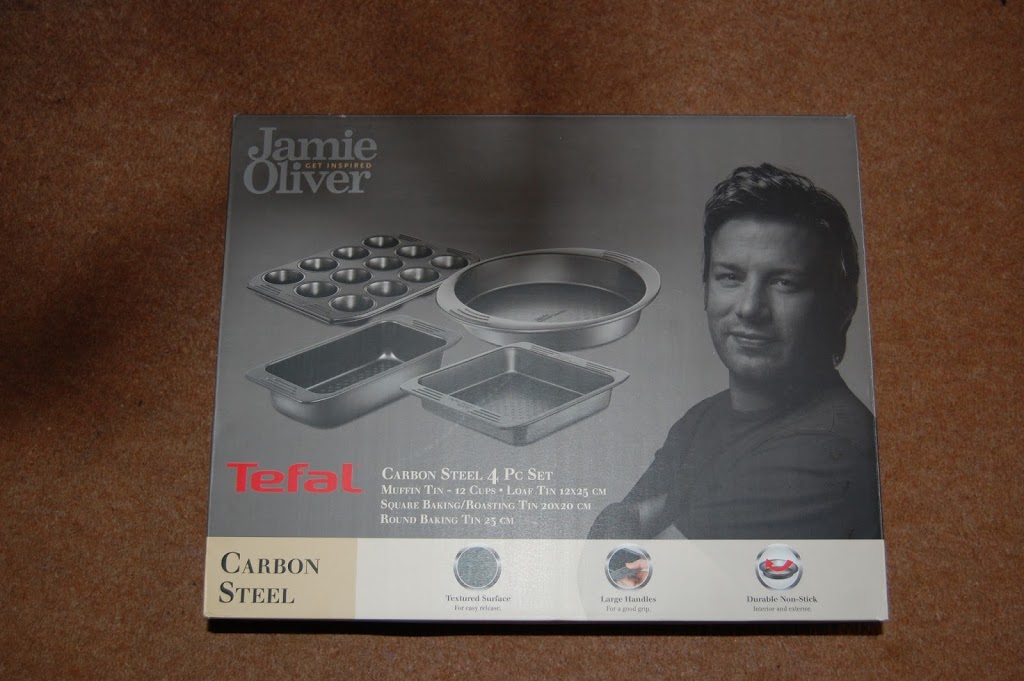 This is the Jamie Oliver carbon steel set, containing a muffin tin, a loaf tin, a square baking/roasting tin and a round baking tin. Now, as readers of my blog will know, we love to bake (especially cakes) and so set about testing these bits and pieces out very eagerly!
Tefal are well known for their 'non stick' technology, and this is very important when baking with children, as they get very upset if their creations get stuck to trays, and end up broken! So, to give the bakeware a real test, we descided on a very delicious (but very sticky!) chocolate brownie recipe. We have made these many times, but nearly always end up scraping the bottom bits off of the baking tray as no matter what we do, they stick! (they still taste good though)
I am pleased to report – there was no sticking of brownies! Easy to get off with a spatula, leaving no horrible mess to scrub off the tin afterwards! Hooray! And I am also pleased to report that every other item in the pack is also the same – no roast potatoes left stuck to my roasting tin after sunday lunch and no cake mix crusted onto the muffin tin after kids baking day. This is HUGE for me, and I got very excited. I shall certainly be investing in more Tefal products from now on – most definitely worth the money in my opinion!
* We were sent these products free of charge for review purposes but all thoughts and opinions are my own *