Money Supermarket recently invited us to take part in their 'Inspect-A-Gadget' blogger challenge – this involved reviewing one of a range of inexpensive travel gadgets to see if cheap can sometimes be better!
We selected the 7″ Lelik Tek android tablet (when I say 'we' selected the tablet, what I actually mean is the children selected the tablet) and when it arrived we set about putting it through its paces!
Because the tablet came with some charge already, it meant the children could jump straight into playing – great touch. Although it is super slim, it feels well made and sturdy, and the children love how responsive the touch screen is (very important when you are playing Angry Birds!)
So, what do we think?
PROS – great value for money, perfect size for children to use, great range of free apps and games available from Google Play, tough and strong.
CONS – Fairly short battery life, very short charger lead!
The short battery life is not too much of an issue, especially as we have an in-car charger adapter, but the fact that the charger lead is so short is a real issue – it makes it very difficult to find a suitable place to charge it up when it is still in use. But overall, this is a fantastic value for money item, especially if you intend to use it for children. Definitely a worthwhile travel investment, and one that has been very well used in the Fever household!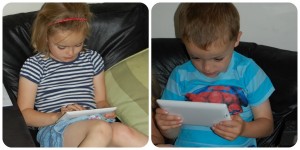 * We were provided with the funds to purchase this tablet by Money Supermarket as part of their Inspect A Gadget blogger challenge, but all thoughts and opinions are my own *