If you are a regular reader of my blog you will know how much I love dribble bibs, and so I was very excited to be offered the chance to work with Funky Giraffe. I have heard a lot of good things about them from friends with babies, so when the parcel arrived I couldn't wait to get started!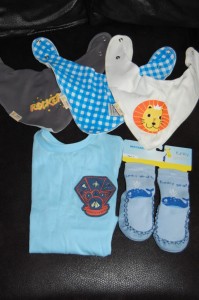 So what do we have here? Well we have 3 dribble bibs, a t-shirt and a pair of moccasins. Everything looks great and Max and I set to work straight away. First up – the moccasins.
Now, I am not a fan of shoes on babies. I think they are too small and need to be able to move freely with no restrictions to their feet. However, these moccasins are more like soft, flexible socks with just a little bit of extra warmth. They just pull on like socks and they even stay on when Max wriggles around in the pram. They are not at all restrictive and they are so soft and supple that I am not worried about his feet being restricted in any way. They just help keep his toes cosy – baby slippers!
Next, my beloved dribble bibs. Max (aka chief tester) is a very dribbly baby and tends to wear a bib most of the day. So funky designs are always a big hit for me – and these don't disappoint! I received 3 lovely designs – Little Rockers, Simple blue check and a Funky Lion). I was struck straightaway by the softness of these bibs – silky soft cotton on the front, backed with the loveliest fleece – you just want to stroke it! So I knew it would feel lovely and gentle against Max's skin.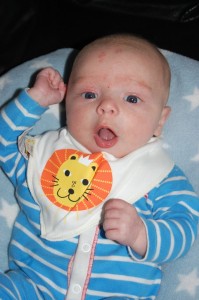 As you can see – Chief Tester approves, and so do I! The fit is perfect, and as there are 2 sets of poppers it is really adjustable and will fit for a long time to come. The ruching is in just the right place and sits snugly under Max's chin, meaning no wet neck! And just to top it all off, they are very absorbent and keep Max dry even with excessive milky dribble! Big big thumbs up!
We haven't had a chance to try the t-shirt just yet as Max is too small, but it is very good quality, and I am sure we will love it in a few months time.
You can find out more about Funky Giraffe and the huge range they have on offer over on their
website
or by joining them on
Facebook
and
Twitter
* We were sent these products free of charge for review purposes but all thoughts and opinions are my own *
BUT JUST HANG ON A MINUTE….BEFORE YOU GO – WOULD YOU LIKE TO WIN SOME FUNKY GIRAFFE GOODIES FOR YOURSELF?
Well of course you would! And the lovely people over at Funky Giraffe are giving my readers the chance to do just that! You could win:
A set of 5 bandana dribble bibs
A pair of moccasins
A baby t-shirt
All in your choice of colour/design!

Now I think you will agree that this is a pretty amazing prize right? And all you have to do to be in with a chance is to fill in the form below!
Terms and Conditions – open to UK residents. The competition will end on 11/07/2013 at 12am. The blog owner will choose the winner through the rafflecopter form (which uses random.org) The winner will be notified by email and displayed on the widget. The winner will then have 10 days to claim their prize. If the winner hasn't claimed their prize after 10 days another winner will be drawn.ThePrizeFinder – UK Competitions