Amber teething anklets have recently become more and more well known, and their health benefits much discussed. Many people have reported them useful not just for teething, but for eczema and skin problems too.
So when I was asked to review an anklet from Amber Anklets I couldn't wait to see what it could do for us. Many of you will know that Max suffers from eczema, and he has also recently started to drool like nobody's business (teeth grumbling away under the surface?) and so when the amber arrived I popped it straight on, and crossed my fingers for some positive results!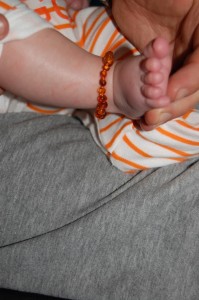 Max has now been wearing the anklet for about 2 weeks. He is still drooling, but he really doesn't seem bothered by it at all. I am more bothered about it than him – there is far too much washing for my liking. The real test will come when the teeth start breaking through – then we shall really see how much the amber helps him! The great thing is, that because he has been wearing the anklet from such an early age – he is not bothered by it in the slightest. I don't think he even notices it day-to-day.
As for the other health benefits? Well, I am pleased to say that in the last 2 weeks we have noticed a gradual improvement in Max's skin. The patches of eczema are less red and raised, and I am hoping that in a few more weeks they may calm right down and even (dare I say it) disappear! Fingers crossed – I shall report back!
If you would like to try an amber anklet for your little one, I am very pleased to say that Amber Anklets have given me another anklet to give away to you lovely lot 🙂 So simply enter via the Rafflecopter form below for your chance to win!
a Rafflecopter giveawayWin competitions at ThePrizeFinder.com