I have to admit that I had not heard of Innabox until very recently, when I was asked if I would like to review one of their greeting cards. Gemma's best friends birthday is coming up, so I let Gemma choose which card she wanted. She chose the 'Spotted bellied panda' greeting card that comes with stickers: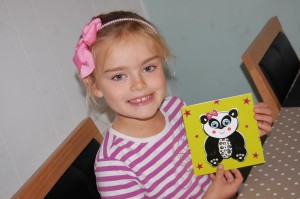 When it arrived, Gemma got straight down to writing the card. Once she written the usual greetings, she got busy with the stickers, adding 'Happy Birthday', 'Thankyou' (for inviting me to your party) and sticking numbers, stars and animals over the inside of the card to make it personal.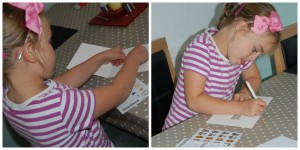 I love that children can get creative, and make the card really unique – it makes a nice change from the standard cards you can buy in the supermarket.
This card is very reasonably priced at £2, which includes postage to your home. I would easily spend this on a card in the shop that didn't include the stickers.
Overall, we were really impressed with this card – good quality, great fun and lovely eye-catching designs. Gemma and Jacob have already chosen the cards they want for the next birthdays on the calendar.
You can find out more about Innabox, and view the full range of cards available over on their
website
.
* We were sent this item free of charge for review purposes but all thoughts and opinions are my own *