As some of you will know, me and the hubby recently celebrated our 7th wedding anniversary, and we were lucky enough to receive a letterbox cake from Baker Days.
The idea of a letterbox cake is not something I had come across before, but I think it is a fantastic idea. Great to send as a gift for birthdays, anniversaries etc – especially if you have family and friends who live far away.
The cake arrived in a letterbox-sized box. Inside was the cake, which was protected in a lovely little tin wih the words 'Just for you'.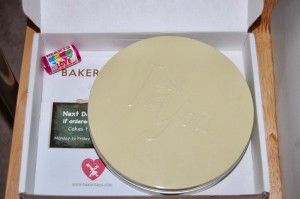 The cake itself looks delightful – really well designed, and with perfect decoration. It looks so appealing.
But of course, as with all cakes, the true test is the taste test – in which Gemma and Jacob were more than happy to participate!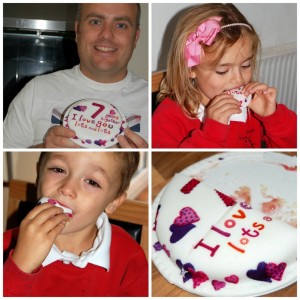 The taste test went well. The cake cuts perfectly into 4 slices – one for each of us. And every single plate was cleared. The cake is ever so moist and light, and the icing has a really subtle fruity flavour. It went down really well with everyone.
I love the idea of the letterbox cake, and I love that they can be personalised for any occasion. They really would make a gorgeous gift for anyone – and even though it comes in the post, you don't lose out on taste, flavour or presentation. A huge thumbs up from all of us!
You can view the Baker Days range, and order your own cake, over on the
website
, or follow them on
Twitter
.
* We were sent this cake free of charge for the purpose of this review, but all thoughts and opinions are our own*