I was recently sent an innovative new baby monitor from Nabby, and we have been testing it out for a couple of weeks now.
Nabby works with iPhones and iPads or Android phones/tablets. First of all, you charge the small diode, which is the part that goes into baby's room. I like that this is so tiny and unobtrusive – you don't even notice it in the nursery.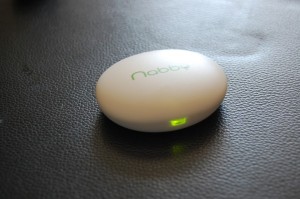 Now you need to download the Nabby app (either via AppStore or Google Play). Just type in Nabby, and away you go – it's free to install.
Once the app is downloaded, you are ready to go. Place the diode in the room with baby, and activate your Nabby app. Immediately, it connects to your baby, and the sound is crystal clear. I like that you can have Nabby running in the background while you use your phone for other things.
Nabby makes it easy to see when your little one is asleep or awake – even if the sound is turned down low, your phone vibrates and the image changes, so you know straight away that your baby needs you.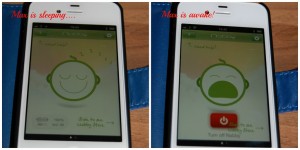 Nabby comes with all the features you need to monitor your baby effectively, and if you want to you can also add a temperature sensor, a sleep timer and a 'listen now' function – all available via your phone. You can even name your Nabby – mine now shows on my phone as 'Max's Nabby'. Lovely little personal touch.
This is a great new device – something I have not seen before. It makes a great monitor for holidays – we took it away with us – as it is so small, and works with your phone wherever you are, so no worries about being out of range, or picking up someone else's monitor! The sound is crystal clear, with no interference, and it has one of the longest lasting batteries I have come across. I also love that Nabby offers the lowest radiation level in a baby monitor – one less thing to worry about, and the range on it is so superb that while on holiday, we could sit outside having a sneaky glass of wine, and still hear Max perfectly well.
* We were sent this item free of charge for review purposes, but all thoughts and opinions are my own *