My kids love being outside, whether that be on their feet, on their bikes or on their scooters. So Gemma was over the moon when she was offered a Razor Berry scooter to review.
It arrived in a surprisingly small box, and we managed to put it together in a matter of seconds, we didn't even need the instructions (and that's really saying something – I am not a mechanically minded person at all!)
Gemma wanted to get out on the scooter immediately: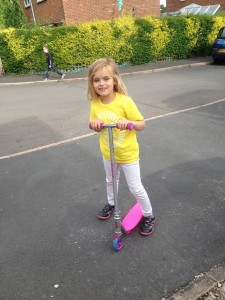 She really liked the scooter, and it wasn't long before she was whizzing around on it, and doing 'bunny hops' (apparently this is the cool name for jumping on and off of kerbs)
I asked Gemma what she thought about her new scooter, and this is what she said:
I love it. It's really bright pink which is cool, and I like the purple wheels. The handlebars are all squidgy so it doesn't hurt my hands when I do bunny hops. And it is not as heavy as my old scooter so I can do more tricks on it. And the wheels aren't noisy – I like that.
I think that sums it up really – it's a winner with its 7 year old tester. It's a shame it doesn't fold for me to easily carry across to the school at pick up time, but that's really the only down-side. It's a great, all round scooter, and perfect for practicing tricks!
* We were sent this scooter free of charge for review purposes, but all thoughts and opinions are our own *