Crawlerz Romperz are fairly new to the market, but I have to say that I am loving the idea of them. As well as being a very cute design that will lok lovely on your little one, they also feature a special anti-slip safety grip on knees and feet – meaning once your baby gets on the move they are less likely to slip and slide. A great idea in my book! They also actively encourage your baby to crawl, as the anti-slip grips mean your baby can move with more confidence and security.
Max was sent a white Crawlerz romper to try out. Now, he's not crawling just yet, but he is certainly on the move! He rolls all over the place and I don't think it will be long before he crawls, so this suit will come in very handy!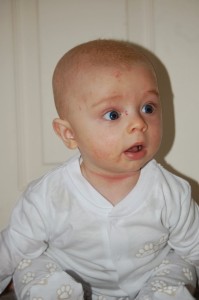 The suit looks lovely on – I have to admit I do like babies in white. The grippers are very strong feeling – they feel as though they would have a good grip to them. And because they are in the shape of pawprints, that just makes them even cuter!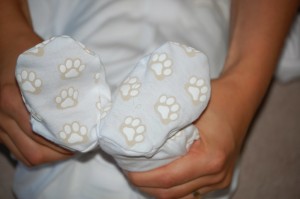 And as you can see, although he is not quite on the move yet, Max is having a really good think about how to get from the door over to the fish tank (his current favourite thing), and once he has worked out this crawling business, I am pretty sure the Crawlerz will stop and slipping or sliding!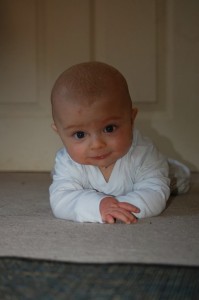 You can see the full Crawlerz range over on their
website
or head over to their
Facebook page
for all the latest news and special offers.
Crawlerz are looking for their 'Face of Crawlerz 2014. If you would like to win guaranteed inclusion onto the professional photoshoot, plus some gorgeous photos of your little Crawler to take away with you – head over to my
Crawlerz competition
!
* We were sent this romper free of charge for review purposes, but all thoughts and opinions are my own *