I don't know about you, but I like to make my children's rooms a little bit different and give them something interesting to look at while they are playing or relaxing. So when I was asked to review a wall sticker scene from Enchanted Interiors I was over the moon. We chose the Ocean scene as the children are very much into the sea after a recent trip to the aquarium ( you can read all about that here).
The Ocean scene contains almost every sea creature you could imagine – from turtles and jellyfish to crabs and whales, as well as seaweed, bubbles and rocks. The children loved unrolling the sticker sheets to see what would appear, and we spent a lot of time talking about where all the animals lived, what they eat and exactly where on the walls they should go.
So how easy are they to use? Based on my previous sticker experiences, I was apprehensive. I have tried a few varieties in the past and have found they either rip when you try to peel them off, or they go all wrinkly when you put them on the walls. The Enchanted Interiors stickers are made from fabric, which I haven't come across before, and I was hoping they would be more sturdy than traditional stickers.
They were 🙂
The stickers peeled beautifully away from the backing with no tugging, and sticking on the wall was a piece of cake – because they are fabric and slightly thicker and heavier than paper stickers, they don't ripple or scrunch up – they simply smooth on perfectly. Just for research we then peeled them off the wall and re-stuck them – again this was easy, they didn't pull away any paint and they were just as sticky second time round, and just as easy to attach.
I love the fact that they don't just have to be on the walls too – they are also perfect for furniture, doors and anywhere else you can think of! Jacob chose a few fish and some bubbles to decorate his wardrobe doors: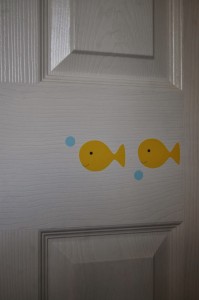 I really rate these stickers. As well as giving you the flexibility to decorate the room your way, they also provide a bright, fun and interactive display for your little one – we have enjoyed sitting down and talking about all the sea creatures we can see on the walls, and what they like to eat etc. It has really encouraged discussion and learning experiences.
The fabric material of the stickers has impressed me too – much easier to handle and much more professional looking on the walls too – they really stand out.
If you like the look of these wall stickers, why not head over to the
Enchanted Interiors website
or take a peek at the
Facebook page
. There is a huge range of designs available – and if you enter code
FFKBR13
at the checkout you can bag yourself 10% off too!
* We were sent these stickers free of charge for the purposes of this review. All thoughts and opinions are my own *