Weaning has well and truly begun in this house, and Max is really enjoying the exploration of food, texture and flavour.
He was very excited to receive a lovely parcel in the post this week: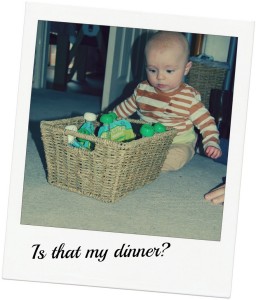 After thoroughly exploring the basket, trying to eat the paper, and throwing the pouches all over the room, it was dinner time. We chose the Blueberry and banana pouch to try first, as these seem to be 2 flavours that Max is very keen on.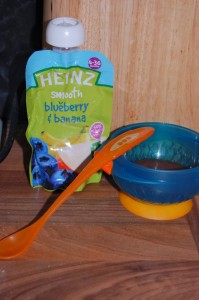 The puree is lovely and smooth, perfect for the first transitions from milk to solids, and smells absolutley divine – really fruity. I am pretty sure the smell alone would appeal to most babies.
Of course, the taste test is very important too – this bit comes down to Max.
Nothing was left uneaten, which I think tells you all you need to know! Max approves.
From my point of view, I love the resealable pouches – as Max is only a new weaner he doesn't eat huge amounts just yet, and these pouches make it easy for me to pop the lid on and pop them in the fridge for next time. Pouches are also much easier for taking out and about than jars. No need for bowls and tubs, just chuck a pouch and a spoon in the changing bag.
I also like that the pouches give you easy to understand nutrition information – little boxes telling you how many of baby's 5 a day and what percentage of their Vitamin C is in that pouch. There are no artificial colours, flavours or preservatives, and no added sugar – just pure yummy goodness.
Max's top 5 favourite flavours from this range are:
Blueberry and banana
Pumpkin, sweet potato and apricot
Strawberry, raspberry and banana
Broccoli, pea and apple
Sweet red pepper, tomato and carrot
You can view the full range of yumminess over on the Heinz baby website.
*We were sent these pouches free of charge for the purpose of this review. All thoughts, opinions and images are my own *