We were recently sent some dinosaur leg warmers from Nappykind, and with the weather turning distinctly autumn-y, this week was a great chance to give them a try.
For those of you who are not familiar with baby leg warmers, let me fill you in. They are designed to help make nappy changing faster, help protect little knees on hard floors and aid toddlers with potty training and undressing.
They work in the same way as adult leg warmers – just roll them onto your baby's legs.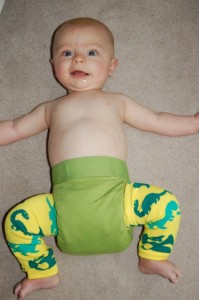 Max appoves, as you can see. I approve too. I love how bright and cheerful the colours are, and how soft the material is against Max's sensitive skin. They fit well, as you can roll or stretch them to the size you need for your little one.
As I use cloth nappies, I am already a fan of baby leg warmers, and these are certainly one of my all time favourites. All this outfit needs now is a cute t-shirt, and Max is ready to rock and roll! Nappy changing is easy peasy as there are no trousers to take on and off, and they can also be used under trousers for a bit of extra warmth when it gets really chilly!
Nappykind sell a huge range of leg warmers as well as leggings, nappies, bootees and more so do check out their
Facebook page
.
And if you fancy winning a pair of unisex baby leg warmers for the little one in your life – enter below!
* I purchased these leg warmers myself using a blogger discount. All thoughts and opinions are my ow. Competition terms and conditions: UK residents only. Competition closes on 19/10/2013 and winner will be drawn by random generator, and emailed. Prize must be claimed within 10 days or will be redrawn. Win competitions at ThePrizeFinder.com