I am a huge, HUGE fan of Pink Lining, as my friends will tell you, so to say I was excited to be sent one of their bags for review is a little bit of an understatement. Ecstatic comes closer.
Marketed as 'Changing bags that make the mundane paraphenalia of parenting covetable' Pink Lining are putting the fun and the style back into baby changing bags. Because we are ALL yummy mummies, and we deserve a little bit of gorgeousness in our lives.
Pink Lining bags are a treat right from the beginning. They arrive wrapped up in their trademark shocking pink tissue paper, and tied with ribbon. It's like Christmas come early.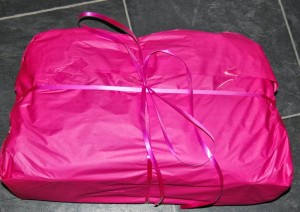 The bag itself is just as much of a treat. I chose the
Not to so Plain Jane
design with the gorgeous 'Cream bows on Peppermint' print. It is ever such a lovely subtle print that compliments my pushchair, is not too girly for my little boy, and will even work as a handbag once I no longer need to carry a changing bag. It's a more 'grown up' take on the iconic Yummy Mummy bag.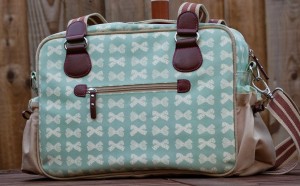 So we have established that I love the look of the bag – but how does it work on a practical level? I carry a LOT when I go out – my husband tells me I take enough for 2 families when we head out for the day, but I like to be prepared for every eventuality – and the Pink Lining bag can handle it: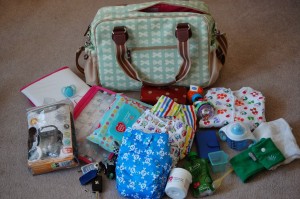 As you can see, the bag holds plenty. 3 cloth nappies, wipes, phone, car seat sunshade, keys, dummy, purse, nappy cream, Max's lunch, bowl and spoon, bib, muslin, beaker, spare clothes and a toy as well as the Pink Lining change mat and wet bag (which is very handy for storing used nappies).
The bag has lots of pockets, which are handy for keeping everything where you want it to be – I use the inside pockets for beakers, food and nappy cream and the elasticated side pockets hold my phone and keys. This way I know where everything is when I want it.
Even when the bag is full, it doesn't feel heavy. The weight is evenly distributed and I can comfortably carry it using the shoulder strap.
There are also 2 smaller handles with a pushchair attachment which allows you to popper the 2 handles together to hang it on a bar style handle.
The Pink Lining Not so Plain Jane bag is really well thought out, and designed with parents in mind. Yes it looks gorgeous, but it works on a practical level too. There are organiser pockets to keep your stuff in order, there are 2 carrying options to make it easy to carry on its own or on a pram, it is WIPE CLEAN oilcloth (in capitals as we all know how important wipe clean is) and it is spacious enough for your everyday needs.
The Not so Plain Jane bag is priced at £69 – and when you consider that this bag will serve all your baby-days needs and then step up to the mark as a funky and unique handbag, I think this is great value.
Pink Lining also offer a great range of accessories, from wallets to phone cases as well as a child section with a totally gorgeous range of rucksacks, lunch boxes and more. Take a look at the
Pink Lining website
to view the whole range – but be prepared – you will want to buy EVERYTHING!
I would love to know what you think of the Pink Lining range – and also what you carry in your changing bag? Do you pack even more than me? What is your 'essential' item that you cannot leave the house without?
* We were sent this bag free of charge for review purposes but all thoughts, opinions and photographs are my own *