When it gets to about this time of year, the shops are starting to fill up with Christmas goodies, and I find myself beginning to look for Christmas outfits for the children. Despite the fact that they have hoards of beautiful clothes, I always like to get them something new for Christmas Day. And I always tend to stick to the same few shops, because I just know that they will offer style and comfort.
One of the shops I always look in for any special occasion wear, be it Christmas or a party, is Monsoon. Their clothes are always so pretty, and I never fail to find a whole host of things in there that I want need. From gorgeously girly, sparkly party dresses to smart, sharp suits for the boys there is something for every occasion.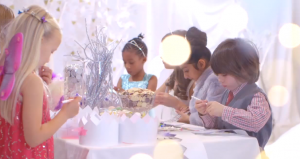 More importantly, I have always found their clothes to be a good fit, comfortable to wear and made to last. You can wash them over and over and know that they will still look as good as the day you bought them – and we all know just how mucky little ones can get! It is also very important that the clothes are comfortable – there is nothing worse than being at a party and feeling itchy/restricted/uncomfortable is there? For Christmas Day it is all about the versatility – the clothes have to look great, but also be able to stand up to the crawling-around-on-the-floor-hunting-for-presents-under-the-tree family fun that happens in this house!
I love the range that has appeared in the store this year. It is all sparkle, glitter, smart and snazzy and it really does catch your eye. There is no doubt that any child would look festive and fun in one of these outfits.
Do you buy special Christmas outfits for you and your children every year? Or is that just me?
What do you think of the new Monsoon Christmas range?
* This post is sponsored by Spreaditfast.com *