I have come across Zu3D before, when working in a primary school, but have never got round to giving it a go with Gemma and Jacob. So when we were asked to review the 'Dinosaurs in Space' kit from Zu3D I was keen to see how they would get on with it.
The concept is pretty simple – you make the characters and the scene, then you use 'stop motion' technology to create your film – basically a series of still shots that are then merged together to make a moving image.
Set the scene
Making the scenery is easy, even for little ones. The Dinosaurs in Space box opens up to reveal a scene, which you can then decorate and colour. Gemma and Jacob used felt pens for this, but you could really use anything – paints, wax crayons or chalk.
Create the characters
Depending on the age of the child, this may need some adult input. The characters are made from plasticine, and there is a step by step guide on the CD that shows you how to make the dinosaurs. Of course, you can choose to create your own characters – you don't have to make copies of the ones shown on the box, but we decided to follow the guide and see what we could come up with. It is fairly simple – you can obviously adapt here and there, if you want to change the shape of the spikes or claws for example, but the guide is straightforward – Kevin made 2 dinosaurs in about 15 minutes. The children helped with shaping them, and they also made some little extras – trees, rocks and a snail (don't ask why) to add to their scene.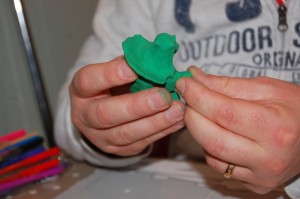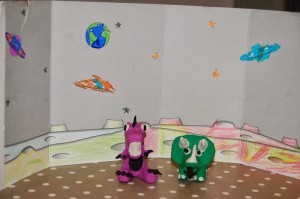 Make it real
To make a film, set up the webcam included in the kit, then pop your dinosaurs in the position you want to start with. Take an image. Move the dinosaurs and any other props you have made to the next position, bearing in mind that it needs to be small, subtle movements to work properly on film. You just keep doing this, until you come to the end of your story. Gemma and Jacob had written a storyboard in advance, so they knew exactly what they wanted to happen.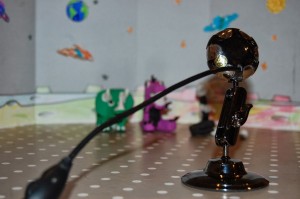 The software allows you to watch your film back, make changes and even add in sound effects. It's a great fun and interactive kit that allows the whole family to get involved, and something that would make a perfect Christmas present for any budding film maker or set designer. Priced at just £34.99, and with the option to use it over and over again, I think this is a bit of a bargain!
Our Dinosaurs in Space
* We were sent this kit free of charge for review purposes, but all thoughts and opinions are my own *