Testing chocolate. It's a hard job, but someone's got to do it.
Yesterday I received a Christmas Goody Bag from Hotel Chocolat. Full of a delicious selection of chocolate goodness, I couldn't wait to jump right in.
What;s in the bag?
50% cookie and caramel wreath
6 Christmas Mess chocolates – fruity cranberry ganache with strawberry mousse and meringue sprinkles
6 Treacle Tart chocolates – Molasses and caramel in chocolate topped with shortbread biscuit
A trio of milk chocolate Santas
Once the children had been shipped off to school, I sat down and slowly ate scoffed the chocolates, making sure to sample all the flavours. The chocolate Santas are pure, melt in the mouth milk chocolate. The Treacle Tarts are rich, the Christmas Mess are sweet and smooth and the Christmas Wreath is just decadent and luxurious. Everything, somehow, tastes of Christmas – whether that is the flavours or just the pure luxury of these chocolates I couldn't say.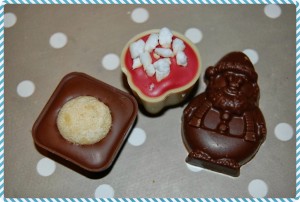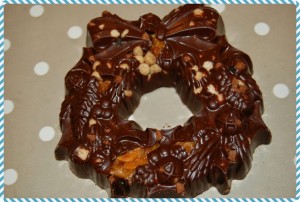 If you are looking for a Christmas gift for someone special this year, you can't go wrong with something from the Hotel Chocolat range. There is something to suit every taste and every budget. I would offer to share mine, but ermmm, there appears to be none left…..
* I was sent this goody bag free of charge for review, but all thoughts and opinions are my own *