Following on from our Christmas fingerprint wreaths and Stained glass pictures the children were keen to continue with more Christmas themed crafts. So next up, we made Paper plate snowmen. Ever so simple to make, and they look great!
What you need
2 paper plates
coloured paper
string
glue
scissors
hole punch
How to make it
Punch holes around the edges of the paper plates, then thread string in and out to link the 2 plates together.
Cut shapes for the eyes, nose mouth, hat and buttons from coloured paper.
Stick the shapes onto the plates to make the face and decoration.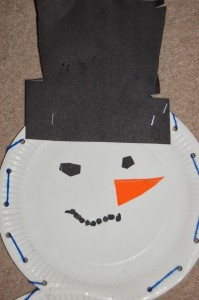 If required, pop a loop of string onto the back for hanging.
Such a fun way to use up paper plates, and it looks great hanging by the Christmas tree or on the door for Santa to see! You could get more creative and use paper plates to make a Father Christmas, a penguin or a gingerbread man.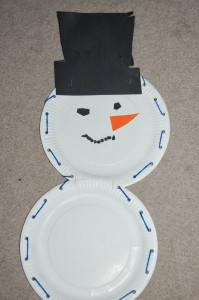 Let me know if you give this a try – would love to see what you made!