Before Christmas, Max was sent a lovely package from HiPP Organic. The lovely parcel was chock-a-block full of delicious treats.
Max has been weaning now for a couple of months, and we tend to use baby-led weaning as a rule, mainly giving him bits and pieces of whatever we are having, and letting him eat and explore with his hands. However, sometimes that is just not possible or practical, so we like to have a few baby food pouches for days out and visits to other peoples houses.
The HiPP organic pouches are very simple to use – just unscrew the lid and squeeze into a bowl – or directly onto the spoon if you don't have a bowl handy. As they can be served warm or cold, they are very easy to use no matter where you are.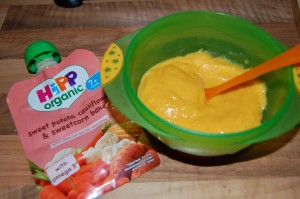 We received a selection of stages of flavours. The 4 months plus pouches are ideal for brand new weaners as they are completely smooth. The 7 month plus pouches have a more textured consistency and are great for introducing little ones to a slightly different feel.
Max couldn't wait to try them out!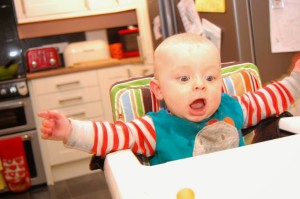 They went down a treat. The favourite was the sweet potato, sweetcorn and cauliflower, and he also very much liked the banana with baby rice – he is a huge banana lover! If you have a new weaner who doesn't eat much yet, then you can re-seal the lid and pop the pouch into the fridge ready for next time.
There are LOADS of flavours available, and we will definitely be trying a few more out. They are just handy to have in the house for those days when you don't even have 5 minutes to make a sandwich….we have all been there right?
* We were sent some baby food pouches free of charge for review purposes, but all thoughts and opinions are my own *