My name is Kate, and I am a changing bag addict.
It's true you know. Over the last 8 years I have had more changing bags than I care to remember, and all have had their good and bad points. Some matched my pushchair, but didn't have enough pockets. Some had amazing storage but didn't look right. The list goes on. So when the lovely people at Pacapod offered to send me one of their rather gorgeous looking Sequoia bags, I jumped at the chance!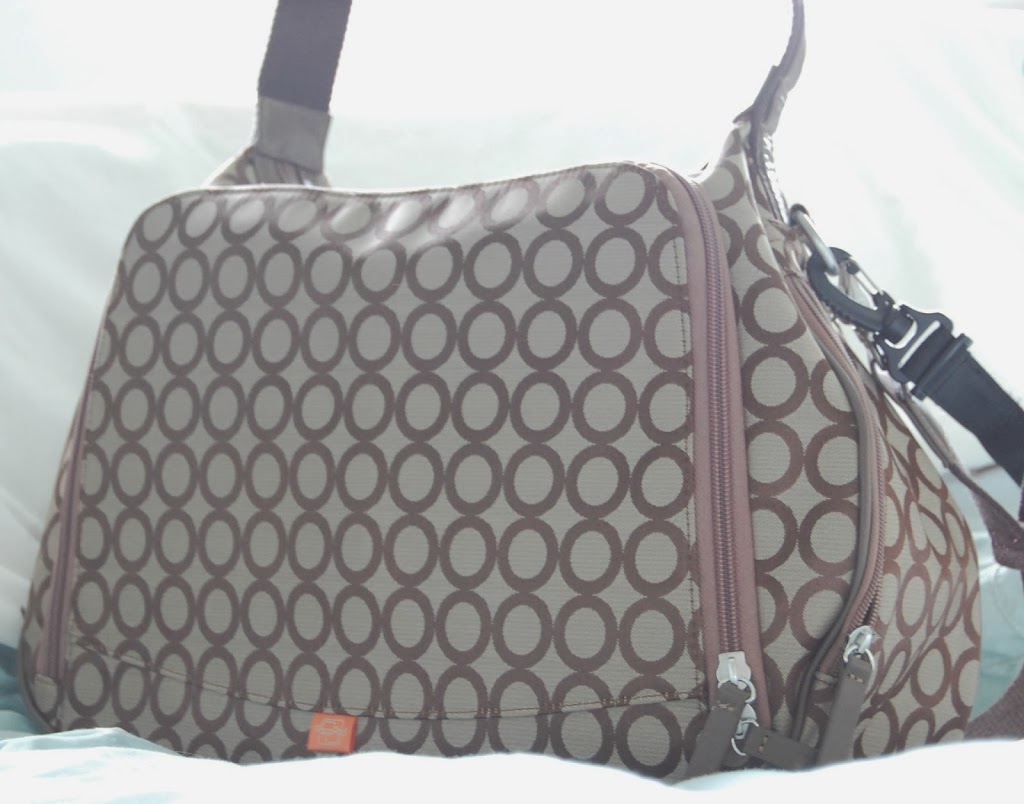 As you can see – it delivers on looks. It's gorgeous. In a soft mink colour with a slightly darker circles pattern, it is understated glamour.
As for storage, I have to say it doesn't disappoint here either. There are several pockets, all for different things. As a big fan of having everything in the right place, this pleases me greatly. There are 2 small zipped pockets on the sides – I use these for my phone, for dummies and for any other little items which tend to get lost in a big bag! Then there are the 2 main bag compartments. The pocket on the top opens up a spacious pocket with 2 pouches and a key clip. For me, this has become the wet bag area – I use it store my wet bag containing wet cloth nappies and any dirty clothes – it keeps it altogether ready to throw in the washing machine when I get home. Finally the 'main' section – a large zip pocket that runs across the whole front section of the bag. Inside here, there are 2 removable pods – the feeder pod and the changer pod.
The red feeder pod holds bottles, snacks and drinks. It is insulated so will keep everything at the right temperature for your little one. It also has a very clever feature – possibly the cutest idea I have come across. The feeder pod has backpack straps on the back, so one Max is toddling, he will be able to carry his own little snack pack on his back. Very very clever, and value for money too!
The cream changer pod contains a changing mat, plus loads of sections for nappies, wipes, nappy cream and nappy sacks. Everything is always in place – no more digging around at the base of the bag trying to find the Sudocrem! Both pods can be clipped onto the pushchair handle if you don't want to take the whole bag out – perfect for nipping to the shops.
The Pacapod Sequoia also comes with stroller straps, making it easy for you to attach the bag to any set of wheels, whether you have 2 handles or a single bar. They hold the bag firmly in place, and they make access to the bag a lot easier, as it is held in the right position at the right height – not dangling down by your knees or banging off your baby's feet! There is also an adjustable shoulder strap so you can carry the bag yourself when the need arises.
This changing bag may well have converted me. I may no longer need to scour the shelves looking for the perfect changing bag – I think I may just have found it!
My name is Kate, and I am no longer a changing bag addict…
* I was sent this item free of charge for the purpose of this review, but all thoughts and opinions are my own *