Last month we took part in our first secret mission as Bigjigs Play Patrol agents – you can read all about how we took our toys on an outdoor adventure here.
Last week we received mission 2 – fun with a friend. Gemma, Jacob and Max (a.k.a Agents Diva, Striker and Fever) received a toy each and were challenged to have fun sharing the toy with someone else.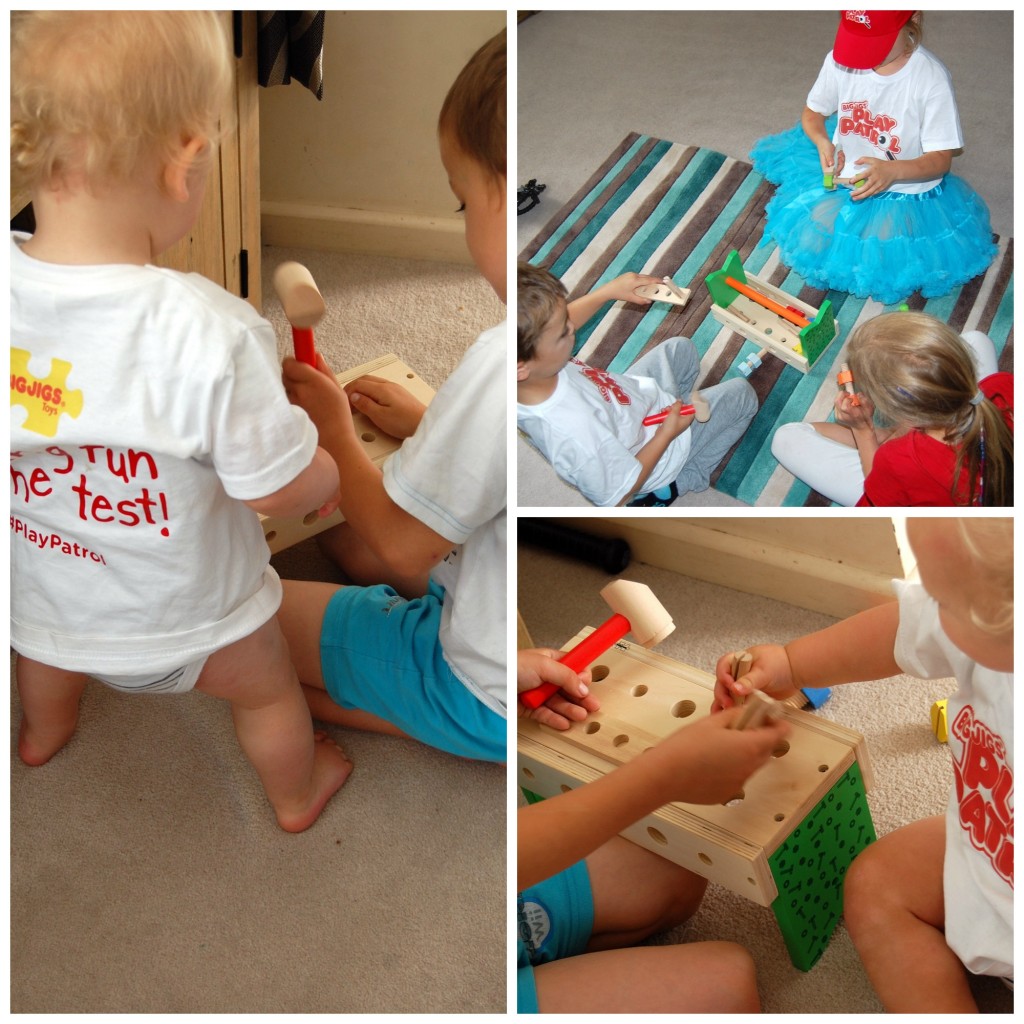 Tool box – Jacob was sent the Bigjigs wooden carpenters work bench, which has been a hit with everyone. Packed full of nuts, bolts, spanner and hammer it's ready to play with from the word go, and has different sized holes to hammer the pegs into. If you then turn the workbench upside down, it becomes a carry box, and a handy place to store all your bits and pieces when not at work.
Gemma and Jacob had a friend over to play today, so it was a great chance to try out the Bigjigs goodies, and share with a friend. They spent a good half an hour playing together, building and fixing things, adding in Lego figures and the safari blocks to create a miniature workshop. Once the bigger children had finished playing, Max enjoyed pushing all the pegs through the holes and bashing things with the hammer.
Croquet set – Gemma received the Bigjigs croquet set, which has been perfect this week as we have had plenty of sunshine, and the kids have loved being able to get out in the garden and learn a new game. There are 4 croquet mallets, 4 colour coordinating balls and plastic hoops. Everything comes in a storage bag, which is really handy for tidying up afterwards, and keeping everything together safely.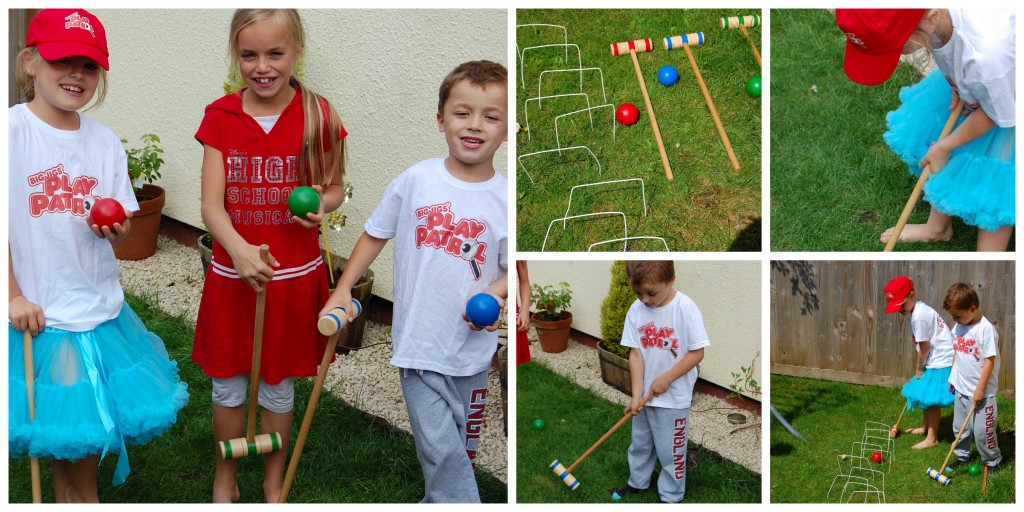 It's lovely for the children to have a new outdoor game that they can share with friends and family. A lot of outdoor games are only suitable for 1 or 2 players, so this makes a nice change. It's a set that they can use over and over again, setting up the hoops in different orders and making up their own rules.
Bead frame – Max was sent the Crocodile push along bead frame. I like this toy as it is a 2 in 1 item – not only does Max get the enjoyment of pushing it along (making brum brum noises as he goes), but he also has a small bead frame too. Whenever we go to the doctors, all 3 children love the large bead frame table in the waiting room, and so I knew this would be a popular toy.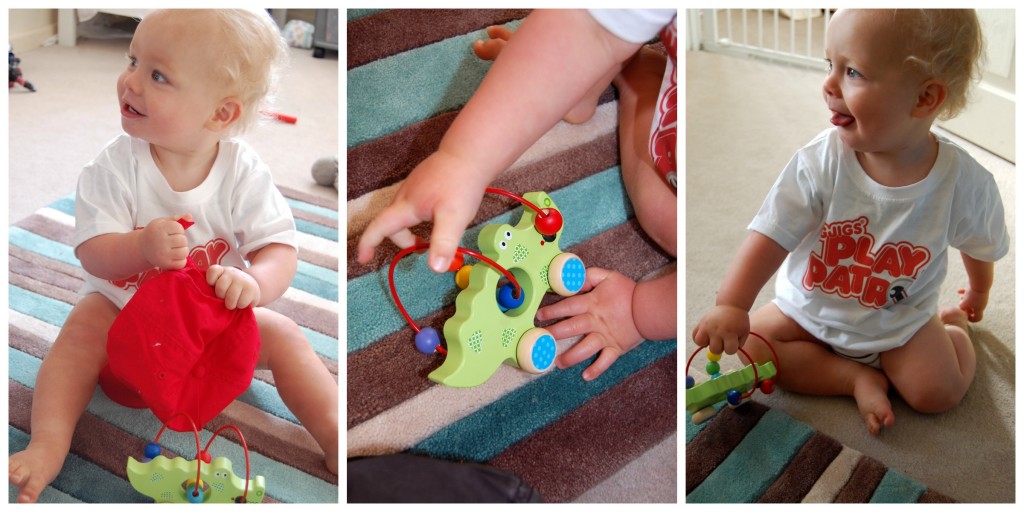 It is the perfect size for small hands, and Max loves to push it around the floor, pick it up and carry it and sit playing with the beads. He is a bit small to share with a friend just yet, but he loves playing with his big sister who shows him how to push the beads all the way around the wire, teaching dexterity and co-ordination skills. The bright colours catch his eye every morning, and it is always one of the first toys to be pulled out of the toy box each morning!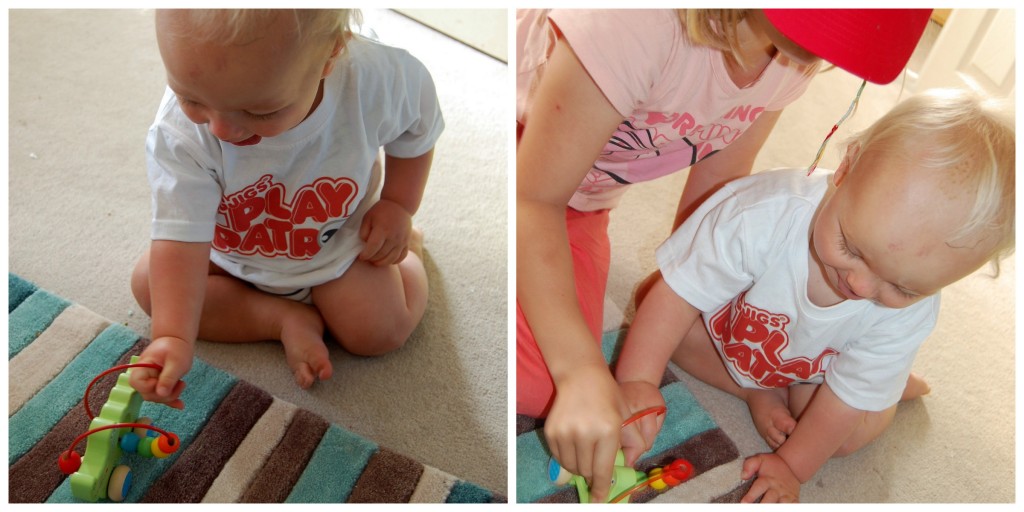 Bigjigs have come up trumps once again, with all three toys getting the secret agent seal of approval. Agents Fever, Diva and Striker signing off…until next time. Over and out.