Many of you will know that this week id World Breastfeeding Week 2014. I have written about breastfeeding quite a lot on here, from our experiences of feeding a premature baby to my thoughts on breastfeeding in public. To help celebrate World Breastfeeding week, I have been sent a couple of products from Frugi and Carriwell.
Frugi breastfeeding dress
Part of the new autumn collection, the Frugi gathered breastfeeding dress is just too gorgeous. Designed with a shaped under panel which allows the top layer of fabric to be pulled up for discreet and easy feeding, it is s staple for any autumn/winter wardrobe (and it is so pretty, I would buy one even if I wasn't feeding!
I am a size 10-12 and the small fits comfortably – I think the fit is really generous. The soft organic cotton dress is made with a touch of elastane which makes for a flattering dress that clings in the right places and skims over the others. The tie waist pulls in to give a lovely shape too. Nobody would know this was a breastfeeding dress to be honest – the underpanel just looks like a natural detail of the dress – it does sit quite high but I have been pushing it down a bit to give a lower, ruched effect. I love the print and the colours too – a big fan of polka dots!
This is by far my favourite ever nursing dress – the soft, organic loveliness feels so luxurious. It fits right, it washes well and I feel comfortable in it. Winner. I am already eyeing up the same dress in the Wine Autumn birds design…oh, and the wine striped top too.
Carriwell Seamless nursing bra
Having a comfortable, well fitting nursing bra is SO important. It needs to feel soft against your skin (especially during the early days when your breasts can be super sensitive), it needs to be flexible with your changing shape and it needs to be quick and easy to clip open for feeding. The Carriwell bra delivers on all fronts.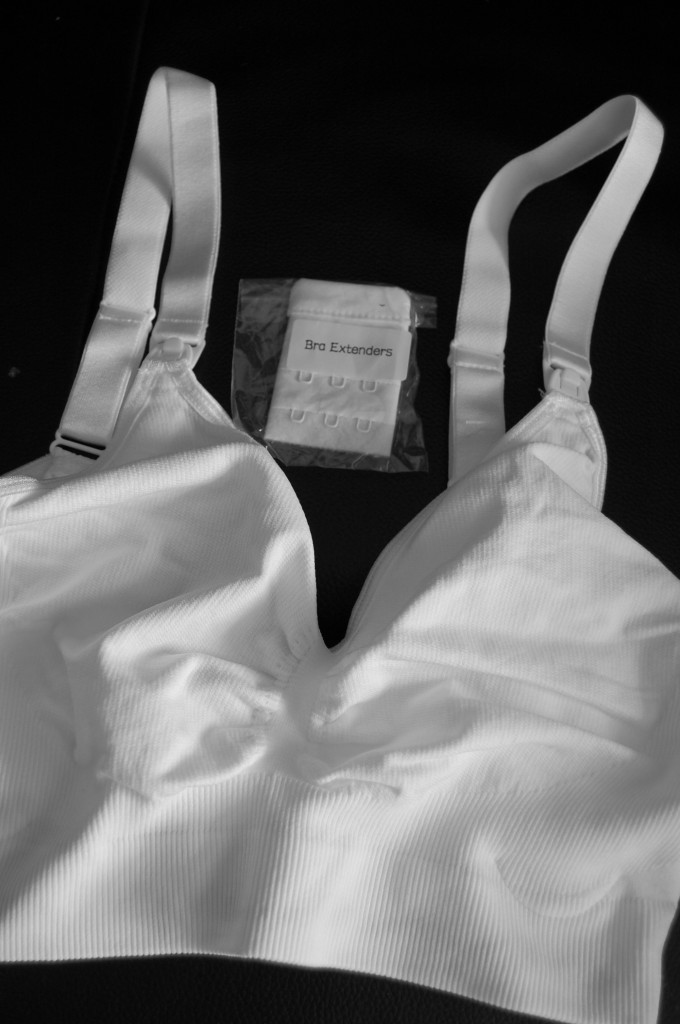 Because it is seamless, there is nothing that will rub against you, and it also gives a smooth and clean line under clothing. The fit is good too – the stretchy, wide underband gives extra support in place of a wire, and the flexible cups have stretch too – perfect for an ever changing shape during breastfeeding. The quick release feeding clasps are the usual style – easy to work with one hand while you hold a wriggly baby in the other! I think my favourite feature has to be the fact there is no inner cup – so when you unclip for feeding, you have full skin to skin contact with your little one.
Each seamless nursing bra comes with a free set of bra extenders, so you can be sure to get the perfect fit for you, and because this works as an everyday bra, or one for sleeping in you will get heaps of use from it.
Did you breastfeed, or do you plan to? Did you find it easy to get your hands on stylish, comfortable maternity wear?