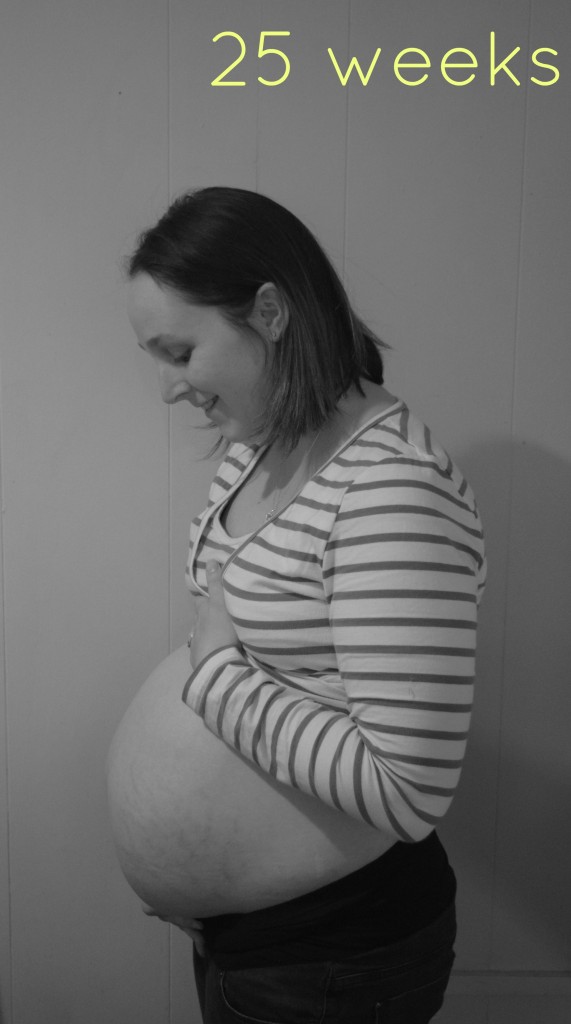 Another week, another bump update – 25 weeks already!
The bump has definitely grown this week, I feel a lot bigger and rounder, and some of the clothes which were quite loose have become rather tight this week! Everyone I meet has a theory about the gender of the baby – some say that my bump is high which means it's a boy. The next person I meet says the bump is all out in front which means it's a girl. I don't think there is any truth in these theories, but it's fun to guess anyway. I have had a similar shape and size bump with all my pregnancies, and have a girl and 2 boys, so I don't think it's possible to guess from the bump shape. I have my own gut instinct, but we will have to wait and see if that's right or not – it was the last 3 times!
I had a midwife check up this week, and everything was fine. My blood pressure was up ever so slightly but still well within normal range, and the baby's heartbeat was steady and strong at 160bpm. My next appointment is at 28 weeks, when I will be having routine blood tests and my anti-d injection.
I have been a bit tired and achy this week, but the arrival of this months Project B box cheered me up – look what was inside!
The Deep Freeze patch has been a life saver, and has really eased my lower back pain. I have been out and bought some more of these since, as they really do help. The Moma porridge, Alpha Bites and Bear snacks have been great for kick starting some energy, and the Teapigs tea bags have been a lovely way to unwind in the evenings – as has the Divine caramel chocolate! I have popped the Weleda soothig cleansing lotion, Lansinoh nursing pads and Femfresh to one side ready for my hospital bag and after the birth. The Childs Farm moisturiser has been a lovely post nappy change hand cream too! Once again, everything in my box has been well thought out, useful, practical and relevant to my stage of pregnancy. I also really enjoy reading the information cards and learning that my baby is now the size of a grapefruit!
I will be back next week with a 26 week update. To read my 24 week post click here.