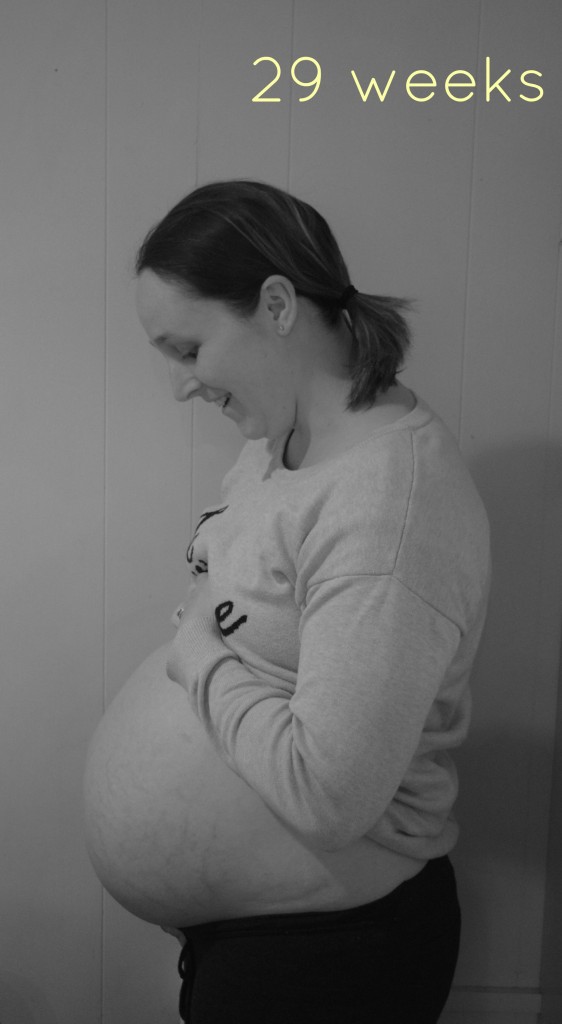 Another week, another bump watch 😉 Hope I am not boring you all!
It's been a busy week here as the older children have been home on Easter holidays. It's lovely to have them home, but with lots of trips to parks, scooter rides and garden play I am feeling ever so slightly worn out! I am noticing the back ache returning, probably due to lots of bending down, lifting and chasing around after 3 little ones. I have been enjoying the warmer weather though, it's been lovely to be able to get outside more and it's not yet too hot for me to feel uncomfortable.
My main niggle at the moment is heartburn. I had it mildly in my other pregnancies, but this time around it is far, far worse. It wakes me at night, I cannot lie down comfortably and it flares up after eating too. I have tried all the usual remedies such as milk, smaller meals and Gaviscon, but nothing has helped so I think it might be time to ask the doctor for something stronger. I am getting up in the morning exhausted after a very disturbed sleep, so I really do need some relief.
I have my routine midwife appointment later today, and while I am looking forward to hearing the baby and getting checked over, I am not looking forward to the blood test, anti-d injection and whooping cough vaccination that awaits me this time! I am wondering if I am slightly anaemic, as I am tired and breathless at times, but that could just be down to the size of the bump now. The blood tests will tell me more – I shall let you know next week what the results were.
I will be back in a week with my next update. You can read my 28 week post, and see my last scan pictures here.