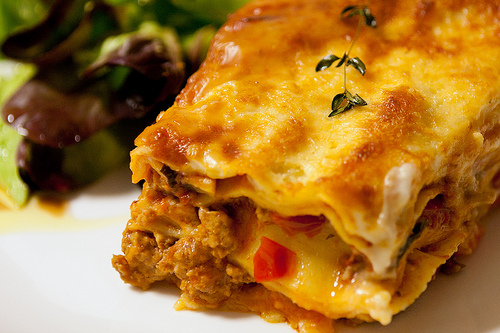 Photo Credit: MattyTaylor via Compfight cc
As UK families strive ever harder to make money stretch further, one key area for potential savings concerns food. Grocery shopping is one of our biggest financial necessities – along with mortgage or rent costs, utility bills and fuel – but with a little smart thinking and organisation, it's completely possible to eat well without spending a fortune.
Making, and sticking to, a set shopping list of essential items helps – luxury or spontaneous purchases are guaranteed to boot up the bill. Maximising ingredients, and using leftovers to create other meals, also helps. So, too does freezing food. Very often, it's worth making bigger meals because the cost of buying slightly larger quantities is outweighed by the advantages of cooking two meals in one; eat one straight away and freeze the other to enjoy at a later date. In many ways, the freezer – such as these available on ao.com – is one of the most important appliances we'll ever own.
For meal inspiration, here are five delicious meals that can be cooked and frozen:
Lasagne
This classic dish is perfect for freezing and enjoying again later. It's simple to make. This version, from BBC Food Good, uses beef mince and includes prosciutto for a dash of extra flavour, but pork mince works equally well. Layer the mince, ragu sauce, mozzarella cheese and fresh pasta sheets. Serve with a crisp green salad and garlic bread.
Chilli con carne
Chilli is ideal for freezing. It's easy to cook this up in a big batch. Typically, beef mince is used but for a slightly different twist, slow cook casserole steak instead. Add chilli powder, red kidney beans and chopped tomatoes, and it's done. Chunks of chorizo might be included for extra depth of flavour and smokiness. While it's tempting to eat the whole lot, keep some back for another day.
Beef Stew
So good you might not have any left to freeze, but try to resist temptation and save half of this delicious stew. There are many versions of a beef stew or beef casserole – the recipe here uses Guinness to give it an extra dimension and to help tenderise the steak.
Chicken Tikka Masala
Simple to make, simple to make a lot of. Brown off chicken breasts or thighs – again, it might be worth buying a slightly bigger pack in order to help create larger portions – and cook with chopped onion, chopped tomatoes and chicken tikka masala paste. Stir in double cream and natural yoghurt, and then set aside the amount you want to freeze.
Meatballs
An 800g pack of beef mince goes a long way when it comes to creating meatballs. Once you tear off little handfuls of meat and mix with breadcrumbs, beaten egg, salt and pepper, before shaping into balls, you'll soon find you're making a couple of dozen. Roll the balls smaller to stretch further. Cook half and serve with spaghetti and pasta sauce. Freeze the rest and serve with spaghetti, or penne. Or cook up in a Moroccan-inspired sauce and serve with freshly-cooked rice.
* This is a collaborative post *
Please consider voting for me in the pregnancy or family fun category!