Having a newborn again has reminded me just how much 'stuff' they come with. In theory, all you need for a newborn are a pair of boobs and some nappies, but in practice there are lots of things that make life with a newborn and 3 other children much easier. These are my top 10 newborn essentials and why I love them.
Poddle Pod. I had a Poddle Pod with Max, and it was a life saver. He was a reflux baby and didn't like being laid flat on his back, and so we used to lie him on his side or tummy in the Poddle Pod so his head was slightly higher than his body. It really helped him to settle, and I knew I wanted one for Eliza this time round. Essentially it is a baby nest that cocoons your baby safely and comfortably, and so far it is Eliza's favourite place to sleep – apart from someones arms 😉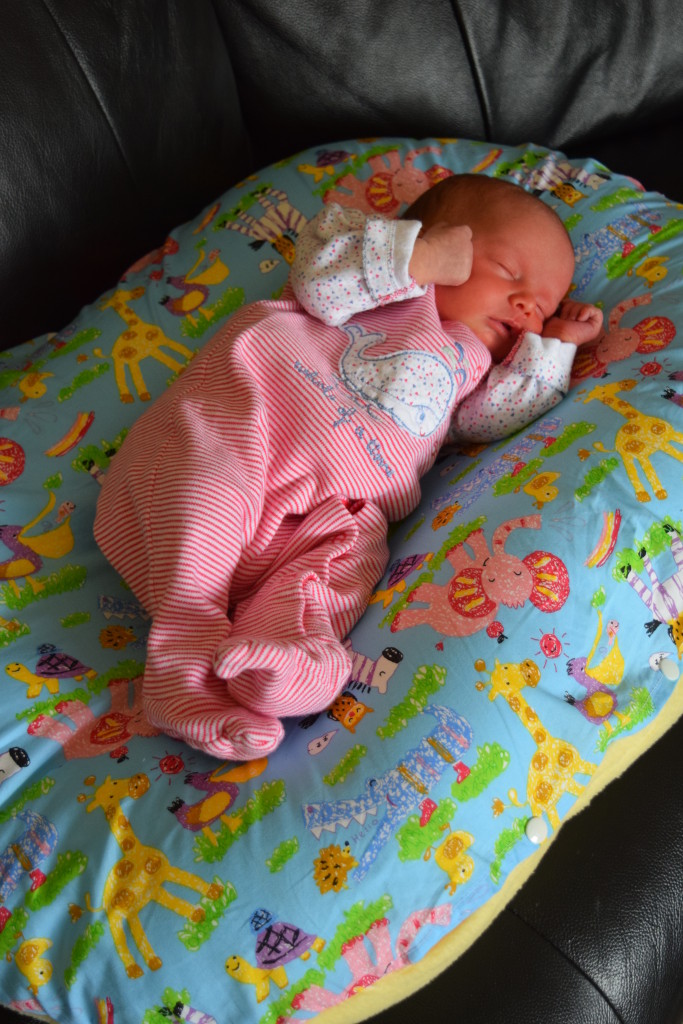 Lansionh products. Breastfeeding in the very early days can be uncomfortable – you and your baby are learning together and sometimes this can cause sore nipples. I have sworn by Lansinoh nipple cream with all of my babies – it soothes sore, cracked nipples and provides a barrier to prevent further problems, without leaving a strange taste for your baby. Breast pads are also important when your milk comes in, unless you want wet patches on your tshirt! The Lansinoh ultra thin nursing pads hold a decent amount of milk and are soft and comfortable.
As breastfeeding progresses, you may want to express – maybe so someone else can do a couple of night feeds? If you are only planning to express occasionally, you don't need to invest in an expensive electric breast pump – a manual one works just as well. This Lansinoh breast pump is compact enough to pop in your changing bag when out and about, easy to use, clean and sterilise and extracts a decent amount of milk with good suction. You can also get milk storage bags so that you can freeze a supply of milk for future use. This is something I found invaluable with my other children when they were in SCBU.
Rockin Baby pouch. I have always loved a good baby carrier, and this time around it has been invaluable. It leaves my hands free for the other 3 children, so I can manage to carry school bags and hold Max's hand on the school run. It also soothes Eliza when she is fretful as she loves being held close. The Rockin Baby reversible pouch is my current carrier of choice for 2 reasons – it is comfortable for both Eliza and I, and it is so simple to use – really important when you are pushed for time. It is simply a case of popping the pouch over your shoulder and putting the baby in! It is easily adjustable with zips across the rear, and the hammock style interior holds Eliza in a really supported position with her knees up and her head close enough for me to keep a close eye on her.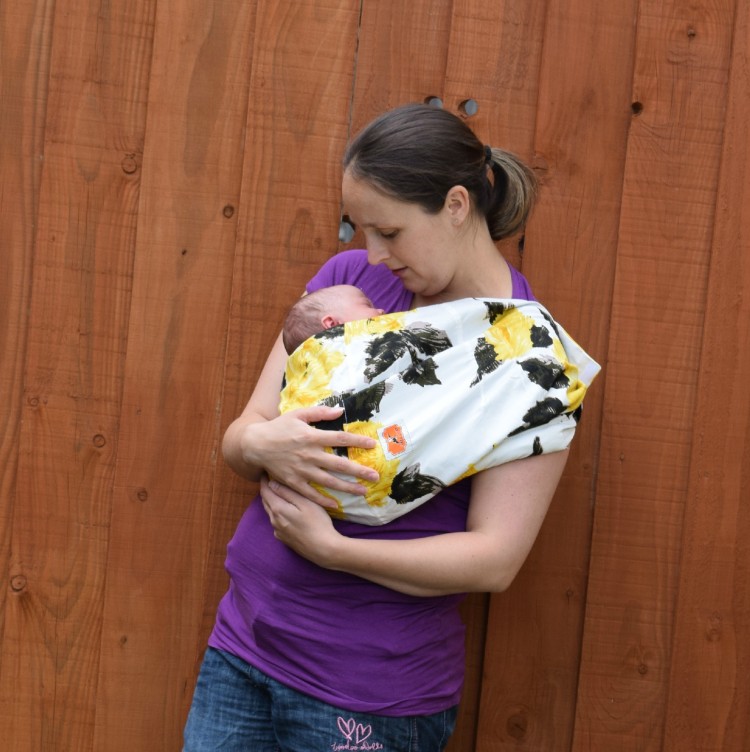 Play mat. It might not seem like something you need straight away, and your newborn certainly won't appreciate all the toys and sounds just yet, but I have found a playmat has been really useful. It gives me somewhere soft and clean to pop Eliza down and it is easy to explain to the children that they can play near her, but that they mustn't go onto her mat or have any toys on there. It has meant they can happily play beside her and show her toys without her being in danger. As she grows she will be able to watch the hanging toys and bat them with her hands and feet. You don't have to spend a fortune on an all singing, all dancing version – this one cost less than £10 from Mothercare.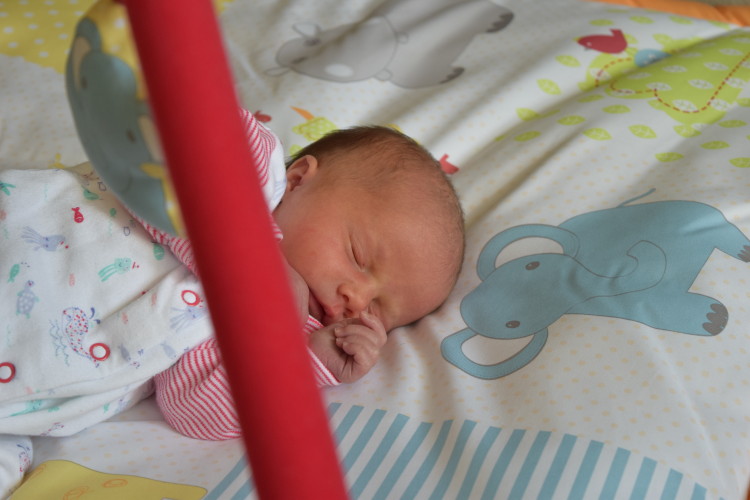 Bouncy chair – again, not something your baby will get full use from just yet, but an item I couldn't do without. We have removed the toy bar for now as Eliza doesn't need that at the moment, but having a safe, secure place I can put her when I am cooking or need to pop upstairs has been a life saver! I know she won't be stood on when the children are running around and she loves it – she always has a cosy, snug nap in here.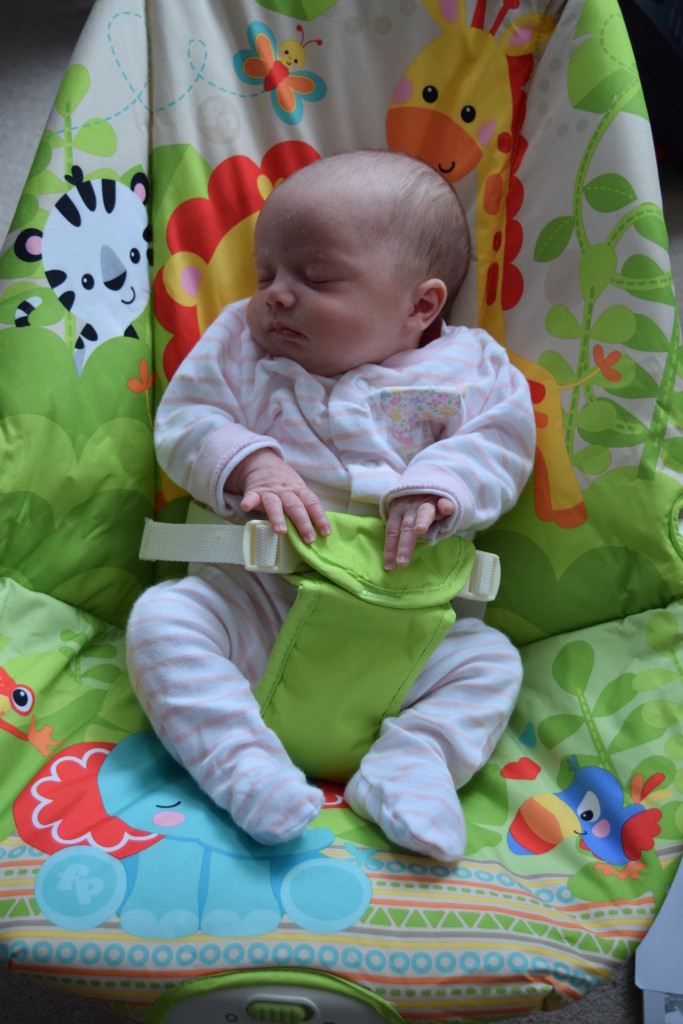 Baby toiletries. We haven't used much in the way of toiletries just yet, but we have used a few of the products from the Earth Friendly Baby range. They are made from natural, organic ingredients gentle enough for newborn skin. I actually packed the wipes in my hospital bag and used them for the first nappy changes. The soothing chamomile bubble bath, shampoo and body lotion have been used at bath times. Not only do they smell amazing, they leave Eliza's skin soft and smooth.
For my own postnatal body I have been continuing to enjoy the Maternelle bath soak I started using during pregnancy, as well as the Shea Mooti body cream – they both feel like a real treat after a busy day with the children.
Cellular blankets. One of those baby items you can never have too many of! In the first few days they are the perfect sleeping cover for your newborn as they keep them warm and snug while allowing air to circulate and prevent overheating. You can swaddle with them, you can use them during chilly days as a cover up in the chair, the Poddle Pod or the pram and they can even be used as a play mat/picnic blanket/changing mat when out and about. Truly multi functional. We love the bright, colourful options from Mama Designs.
Muslin cloths. You cannot have too many of these! They are so handy, especially if you have a reflux baby. They mop up milky sick like nothing else! They are another one of those multi functional items – use for mopping up spills, a feeding cover up when out and about, a blanket for warmer days, a changing mat if you are caught out and even as a comforter – I know so many babies and toddlers who love their muslins, and won't go anywhere without them.
Shnuggle bath. A baby bath is one of those items you can never decide if you need or not. Many people will tell you that you can manage without by simply using the sink or the big bath. I am not comfortable using the big bath for Eliza – she is simply too small and I feel that she wouldn't be supported properly and I might lose my grip on her. For that reason, I love the Shnuggle bath. It is specially designed to make a secure and safe place for your baby to bathe. It has a 'bump bump' for your baby to rest on so they don't slide down into the bath, a foam backrest for comfort and rubber feet to grip the surface it is placed on.It is suitable from newborn right through to 12 months so it is really great value for money and a great place to wash your baby – as they grow you can safely have 2 hands free to wash and play while still knowing your baby is supported well.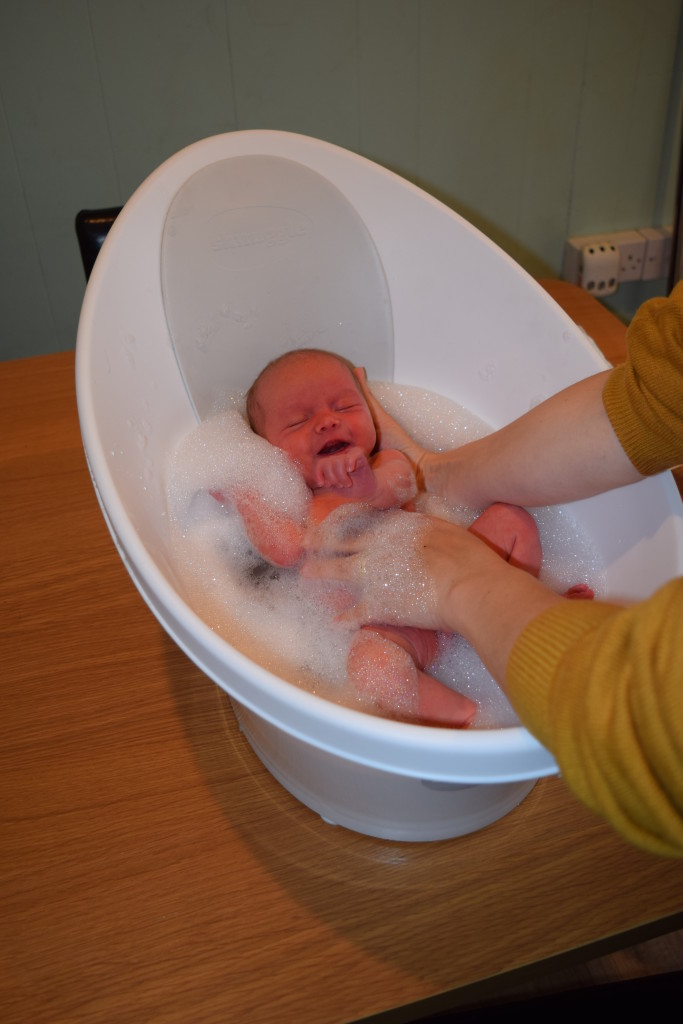 Tots Bots nappies. Tots Bots have been my nappy of choice for all my children. I use Easyfit all in one nappies during the day and Bamboozle Stretch nappies with a wrap at night time. I can't rate them highly enough, and you will have heard me talking about them on my blog many times before. Eliza is just too small for the Easyfits yet, but I can't wait until she is big enough – I have some super awesome prints waiting for a squishy newborn bottom – including this rather gorgeous Tweet nappy…
What were your must have items in the first few weeks with a new baby?