12 weeks. 12 weeks have passed since we welcomed Eliza into the world, and I really don't know where that time has gone.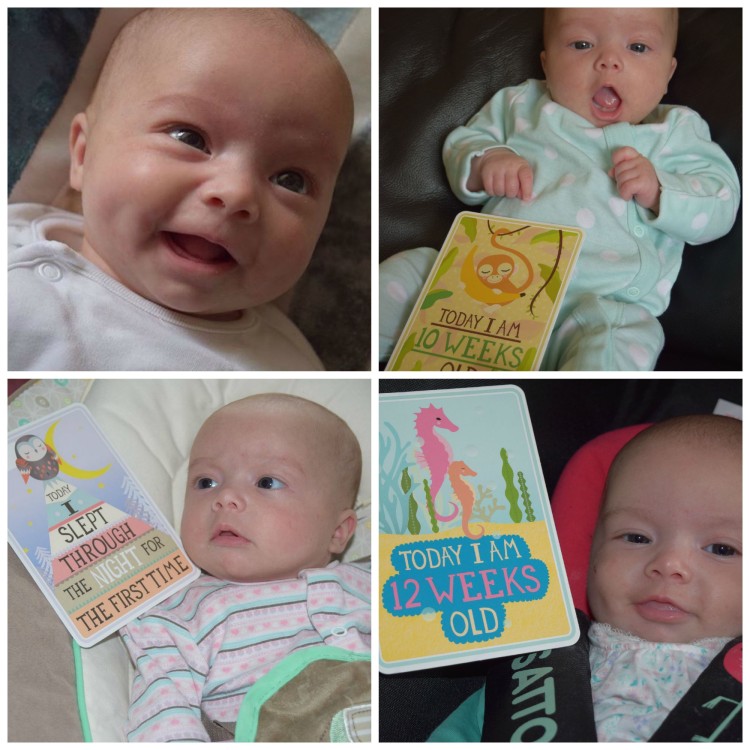 Weight: After a slow start, Eliza seems to have really picked up speed lately. She was weighed this week and is now 11lbs 4oz. She's still not huge, but she is now sitting comfortably on the 25th centile and seems to be following a steady pattern of growth.
Feeding: Having a reflux baby means that feeding is never going to be easy. Over the last few weeks we have had several appointments with the GP, health visitors and paediatric team we are managing her symptoms with Gaviscon, Ranitidine and a prescription formula. During the day she generally feeds about every 3 hours, going for longer stretches at night time – which I am more than happy with!
Sleep: Sleep! We are finally getting some! At 11 weeks old Eliza slept through the night for the first time, going from her last feed at 10pm right through until 6am. I woke up several times through the night as I was waiting for her to wake up any second! She has since slept for about the same period of time most nights since. There have been a few occasions where she has gone back to a 4 or 5 am wake up, I think when she has been going through a growth spurt. We had one stretch of 8pm – 4.30am a few nights ago, which gives me hope that soon we could introduce a proper bedtime routine.
Likes and dislikes: We have recently been trying out the Fisher Price newborn to toddler gym which has been a real hit with Eliza. She loves watching the flashing lights and trying to hit the hanging toys with her hands. She likes the swing chair, which often soothes her off to sleep if she's a bit fractious. She likes to be held by you, but now much prefers to be looking around than be snuggled into your shoulder. She loves watching her older brothers tear around. As for dislikes, nothing much appears to upset her yet – unless you're taking a bit too long to feed her when she's hungry!
Firsts: This has been a month for firsts – the first time sleeping through the night and we have had those first giggles too. Total heart melt. It started off sounding a bit like a hiccup, but now she chuckles at you when you chat to her or tickle under her chin. She is trying so hard to roll over too, I don't think it will be long. She turns onto her side as soon as you lay her down now.
I can hardly believe we are at the 3 month mark already. She has changed and grown so much, and is becoming so much more alert and interested in the world around her. Time really needs to slow down – my newborn is growing up far too fast! It won't be long before we are talking weaning, sitting, crawling. Time flies. Join us for the next update at 16 weeks – eeek!