I am a big fan of wooden toys, and one of the things we have been thinking about getting for a while is a wooden dolls house. I think a dolls house is one of those toys that is so flexible – all my children will be able to get play value from it. Gemma can use it with her Lalaloopsy dolls, Jacob with his action figures and Max will use it as a traditional small world toy. As Eliza gets bigger she will also be able to enjoy it, so it's definitely a great investment.
We have been sent this Butternut Country wooden dolls house from Toyz World, and at first glance it seemed to be just what we were after.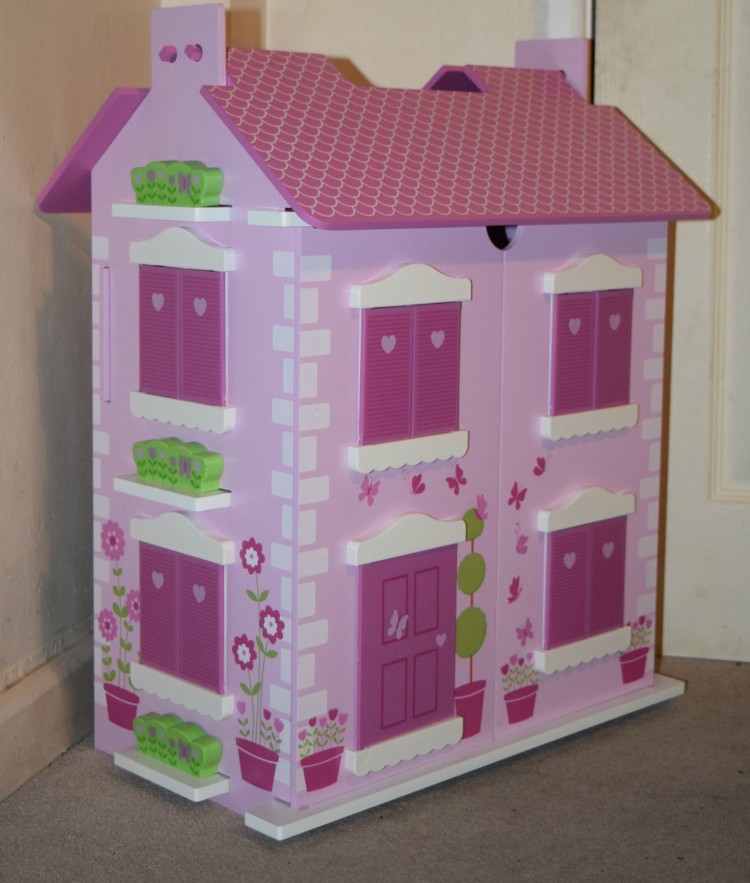 It is incredibly easy to put together – there are no screws or tools required. The wooden pieces are all numbered, and they simply slot together, forming a very sturdy structure. The roof is in 2 lift up sections providing an extra play space, and there is a wooden pole between the 2 roof sections which makes it easy to move the dolls house around. The decoration is very pretty, and in a traditional style – although it would be nice to see a couple of other colour options added to the range as well as this pink and purple one.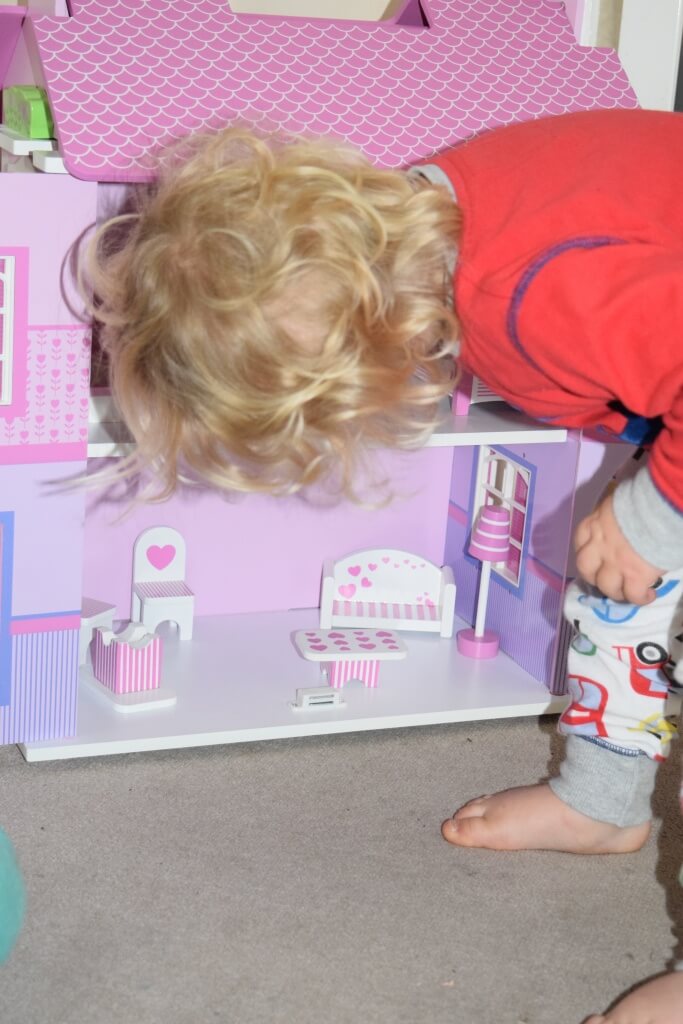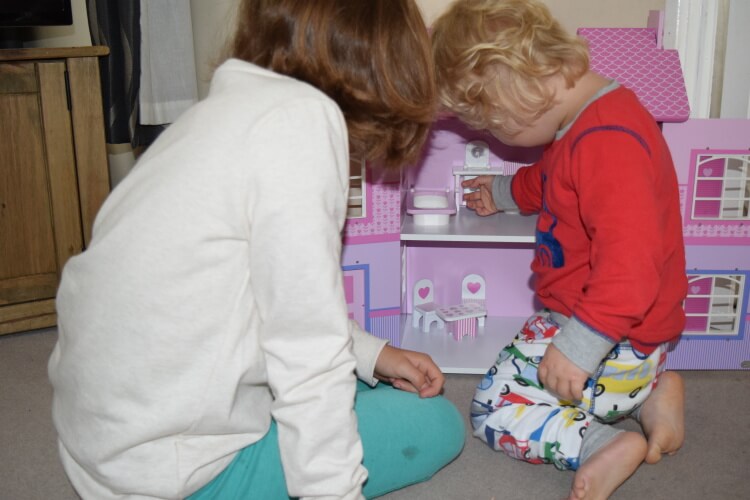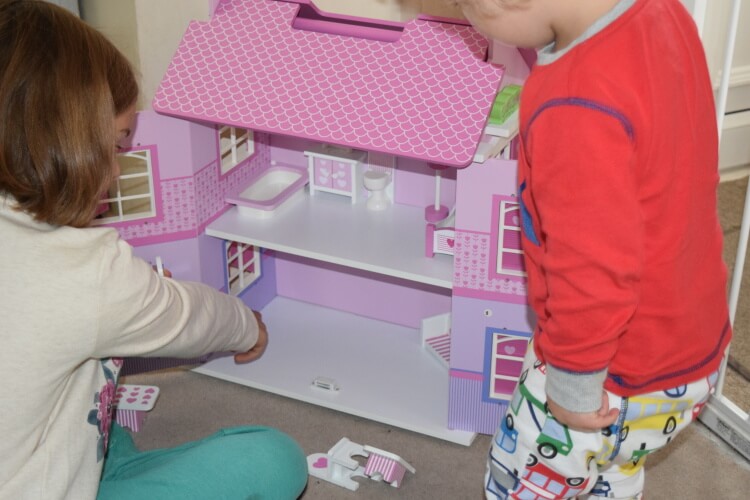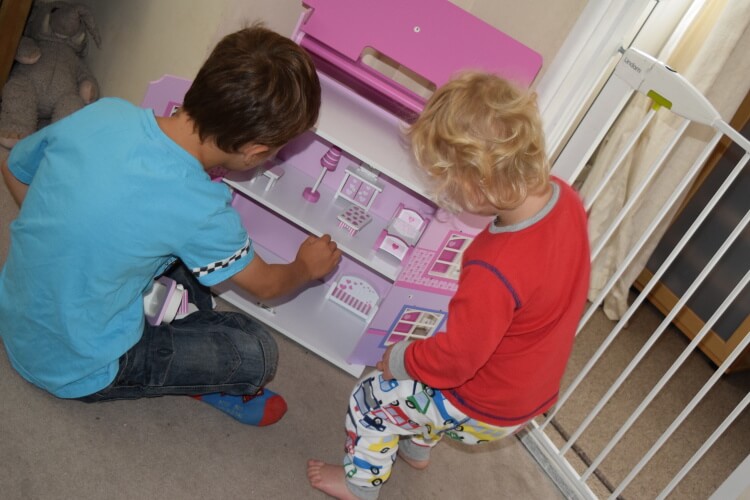 Max, Gemma and Jacob were all over the moon when they saw a dolls house waiting for them one morning, and I couldn't drag them away from it for breakfast. They loved setting up all the furniture inside – which again is wooden, and great quality, and creating their own play scenarios with dolls, teddies and cars. I love the range of furniture that is included – there is everything you would expect to find inside a play home, from beds and sofas to lamps and a dressing table with stick on mirror. It all comes ready to play, so once you have popped the house together there is nothing else to do.
I love the fact that this dolls house spans so many age ranges – there are very few toys that my 9 year old and my 2 year old will both enjoy. It has been encouraging some lovely imaginative play, especially from Max who will spend a long time setting up the furniture, moving it from room to room and adding in Duplo figures. The easy lift roof and wide opening front panels make it really easy for him to be able to access the play space and add his own toys.
The dolls house is a great size too – we don't have acres of space and so wanted something fairly compact. The Butternut Country house is approx 58cm tall, 44cm wide and 25cm deep so it's the perfect size for most playrooms or bedrooms without taking up too much floor space. We have also found it fits beautifully on our train table, so the children can set it up there with a train track running outside. This dolls house would make a wonderful birthday or Christmas gift, and can be purchased from Toyz World for just £49.99 – I think it is worth every penny.