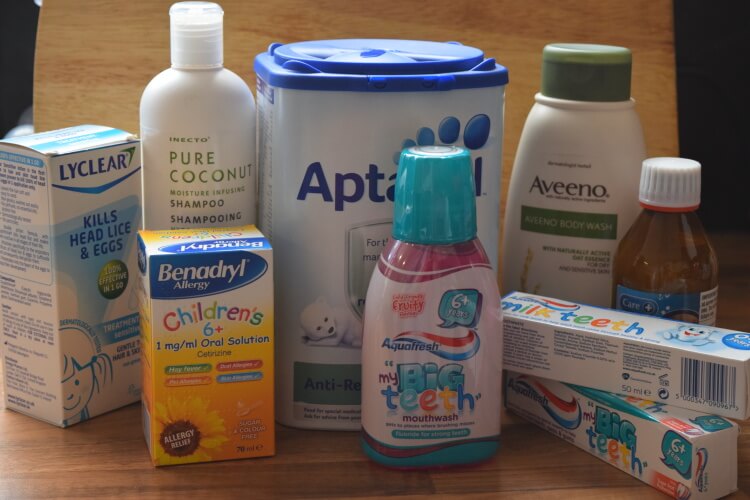 Chemist Direct is the UK's number 1 online retailer of pharmacy medications, specialist skincare products, everyday essential toiletries, vitamins and supplements, and even stock a dedicated range of products to keep your pets happy and healthy. I see it as a sort of one stop shop for anything medicinal, hygiene and health related. It saves trawling around several different shops and pharmacies to get what you need, and of course everything is delivered straight to your door – a real bonus for me at the moment with a small baby.
Ordering was simple – just search by product name or category to find what you need. I chose a selection of everyday products:
Lycra head lice shampoo – this is bound to be needed when the children go back to school in September
Benadryl allergy syrup – Jacob suffers from hay fever so this is a summer must have.
Pure Coconut shampoo – I am a big fan of coconut so this was a little treat for me!
Aptamil anti reflux milk powder – Eliza suffers from reflux and we wanted to try this milk to see if it would help.
Aquafresh Big Teeth mouthwash and toothpaste and Milk Teeth toothpaste – everyday essentials.
Avenue body wash – one of the only body washes that doesn't cause Max to have an eczema flare up.
Kaolin and Morphone mixture – a bathroom cabinet essential.
Once I had chosen my products I went to checkout. The 2 medicinal items (Benadryl and Kaolin & Morphine) were flagged on the system and I was asked to fill in a short form stating who the medicine would be used by and for what purpose. Once this was done the order was accepted and processed and a confirmation email was sent. It told me to expect my items within 5-7 working days.
My items were delivered 4 days after the order, which I thought was very quick. They were well packaged and everything I had ordered was there – nothing missing or substituted. Everything was in good condition and has since been used by the whole family in one way or another.
Would I use Chemist Direct again? Yes I would. They advertise themselves as being cheaper than pharmacies and supermarkets. I wouldn't necessarily agree with this as a blanket rule, although a lot of items on offer did work out to be cheaper than local deals. However, the fact that I can have everything delivered from one place and sent straight to my door is a real bonus for me, and for that reason alone I would order again.