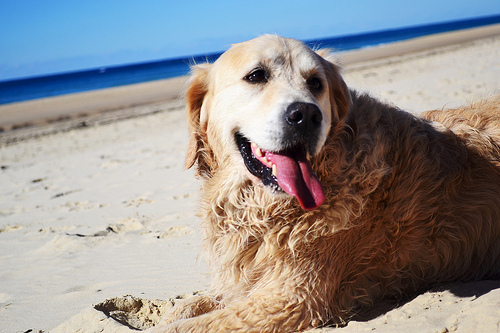 Photo Credit: Matthew Waters via Compfight cc
As a child, I grew up with a dog in the house. Having a dog was something that just seemed normal to me – he was very much a part of our family, and as such would join us on trips out and holidays. This meant we always stayed in dog friendly cottages or similar places which welcomed four legged members of the family with open arms.
Of course, when choosing a place to stay in the UK, it is important that the accommodation is people friendly as well as dog friendly. We have stayed in some stunning cottages over the years, from traditional stone built homes to wooden lodges. We usually tend to stay relatively local – Devon, Cornwall, Dorset – as travelling too far with young children just isn't a practical option.
So what do we look for in a family and dog friendly holiday?
Traditional accommodation. There is nothing better than a cottage which screams character – whether that is the interior, the exterior or both. It's heartwarming to drive up a little lane and find a stone cottage waiting for you, or a little wooden chalet ready to welcome you in. Inside, you can't beat a fireplace, some wooden floors, shutters on the windows or quirky little cubby holes.
Practical accommodation. Although this doesn't always go hand in hand with traditional, it's important to us when we travel as a family. There need to be enough mod cons to make our stay comfortable – central heating, double glazing and kitchen appliances. Other great features we have sometimes found include stair gates, travel cots and dog beds.
A room with a view. On holiday, you want to wake up and see the sights. It could be a view of the sea, rolling green hills and trees, or an inviting blue swimming pool. Whatever it is, you want to be able to look out your window and be excited by the possibilities.
Things to do. We always research the local area before we travel, and write a list of places to go and things to do – everything from checking out the local parks and playgrounds to earmarking the best walks and hikes and any landmarks and places of interest we want to see.
Space. Not just in the cottage but outside too. Some of the nicest places we have stayed have either a garden with the cottage or an open space nearby – so we can let the children and the dog run free, stretch their legs in the mornings, or even eat al fresco if the weather is agreeable.
What do you look for in a family and dog friendly break away?
* This is a collaborative post *