My newborn isn't a newborn any more – she's now a 4 month old baby, keen to explore the world and grow up faster than I am ready. She wants to do things that her brothers and sisters are doing, she no longer wants to be in my arms all the time, and she is growing at a rapid rate and looks less new baby like every day. Eliza is 4 months old.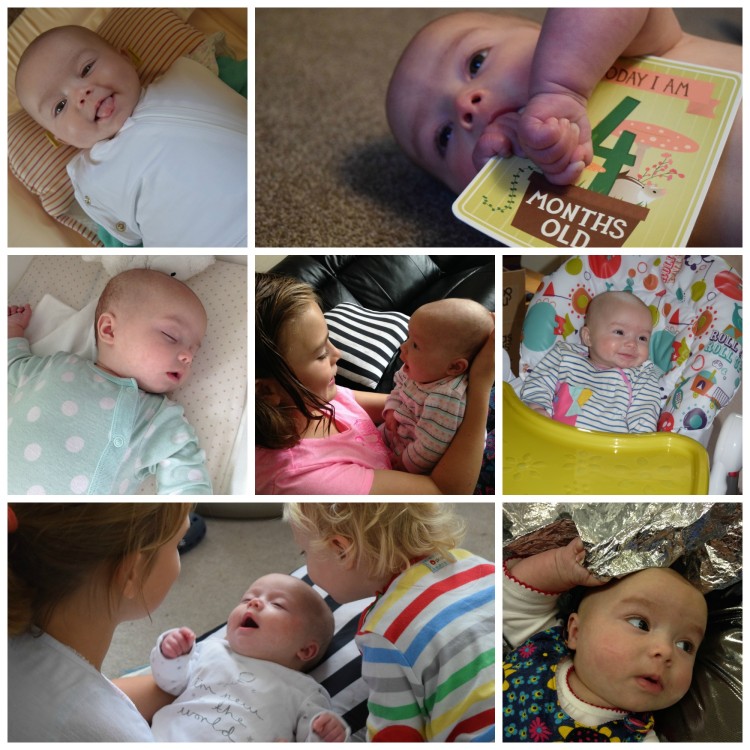 Weight: Slow and steady weight gain – she was weighed this week and is now 13lbs 1oz. She's not huge but she's sitting consistently on the same centile so there are no concerns.
Feeding: Feeding is a lot easier of late. Now that we seem to be on the right combination of medicines for her reflux, she is definitely more comfortable. The prescription formula she is having has made a huge difference too, and we are all feeling a lot more relaxed. She generally feeds every 3-4 hours during the day, which is pretty manageable – although typically she always seems to want feeding right on school run time!
Sleep: Eliza is now a star when it comes to sleeping. After a rough first few weeks, she now goes down in her crib at around 7.30 – 8pm and sleeps through until 6 – 7am. There were a couple of rough nights when she had her injections, but other than that we seem to have a pretty good routine sussed. It means there is plenty of time in the mornings to feed her and then get the others ready for school and nursery.
Likes and dislikes: Her current favourite thing is the Jumperoo – she just loves being upright and able to see what is going on, as well as bashing all the buttons and lights on the front. It makes it easier for the other children to interact with her too, which they all love. Eliza adores her brothers and sisters, and it is wonderful to watch their relationships develop. She likes to chat and coo at them and in turn they enjoy making her laugh by playing peekaboo.
We have also started baby sensory classes, and I can't begin to tell you how much Eliza loves these. The combination of songs, lights, textures, bright colours and new experiences has been a real hit with her, and we look forward to the class every week. She has changed so much lately, even since her 12 week update where she still preferred to be carried around and snuggled in to you. Now she wants to be playing and joining in with the older children's games.
As for dislikes, nothing specific that I can think of – she doesn't like to be kept waiting when she is hungry though, and she makes her wishes quite clear!
Firsts: There have been a few firsts over the last month. She has rolled over for the first time, and there is no stopping her now. If you leave her on the floor for a minute she isn't in the same place when you come back. It's so funny to watch her move around. We have also had the first proper belly laughs, usually when one of the older children plays a game of peek-a-boo with her. We had the first full nights sleep from early evening through to morning, and the first time in the Jumperoo. There are probably other firsts, but time runs away with me and I haven't noted everything down. We have all been too busy enjoying this stage.
It's scary to think that the next update will be at 5 months, where I imagine she will have come on so much. We could be looking at her trying to sit up and thinking about weaning. Where did my baby go?!