5 months. Almost half a year. I can't believe we are at the 5 month mark already, and I can't believe how much she has grown and changed in those 5 months. She really wants to be doing and trying new things, and is starting to get frustrated that she can't keep up with her big brothers and sister. I think she might be an early mover, purely so she can join in with their games!
Weight: I had Eliza weighed last week and she is now tipping the scales at 14lbs 7ozs – not bad for a reflux baby who struggled to put on weight at the start!
Feeding: Feeding is going well, and has settled down a lot. She is still on prescription formula and reflux medication, but it seems to be working well for her and we are sticking to it for now. She will have a review at 6 months with the paediatrician.
She definitely had a growth spurt recently, between 4-5 months, and we have had to up her feeds to 8oz, which she will take between 4 and 5 times a day. She obviously needs it, as it has maintained her weight and she is a happy and contended baby most of the time. We are starting to think about weaning now she is 5 months, and I am talking to my health visitor about the best way to approach this.
Sleep: She was sleeping SO well at 4 months, and then we hit the sleep regression phase and we had a few nights where she woke for a night feed again. We went with it (and used matchsticks to prop our eyes open) and fingers crossed she now seems to be sleeping better again. We usually put her to bed after her last feed between 7 and 7.30pm and she will sleep through until 6 or 6.30am. I can't complain!
In the day she tends to nap in the car and pushchair at school run times, and will have a good sleep in the middle of the day too.
Likes and dislikes: Eliza absolutely adores the baby sensory class we go to once a week – the combination of songs, lights, textures and other things to see really stimulates her, and she always enjoys that hour, and sleeps incredibly well afterwards! At home she loves playing in the Jumperoo or on her play gym, and is much more interactive now – she will hit and grab the toys, move things on the Jumperoo to make the lights and sounds work, and use her feet to bounce up and down. She definitely wants to play more now.
She also really loves her Ewan the Dream Sheep – we pop him on at bedtime and she lies watching the light and listening to the soothing sounds until she drops off. In the mornings when she wakes up you can hear her chatting away to him and pulling on his legs.
As for dislikes, she doesn't like to be kept waiting for her food 😉 Apart from that, there isn't much that she doesn't enjoy, although she is getting less and less keen on being restricted in her car seat. We have also had to pack away the carrycot and put her in the pushchair seat now as she really doesn't like to be laid flat – she wants to sit up and watch what is going on around her.
Firsts: Eliza rolled for the first time at about 17 weeks, from front to back. She can now roll both ways, and this month she rolled over several times in succession – so when you leave her on the play mat, you never know where she will be when you come back! If she is on her back, she will dig her heels into the floor and push herself backwards, so she gets around a bit that way too! She also learnt to blow raspberries this month, and will now do this at every opportunity!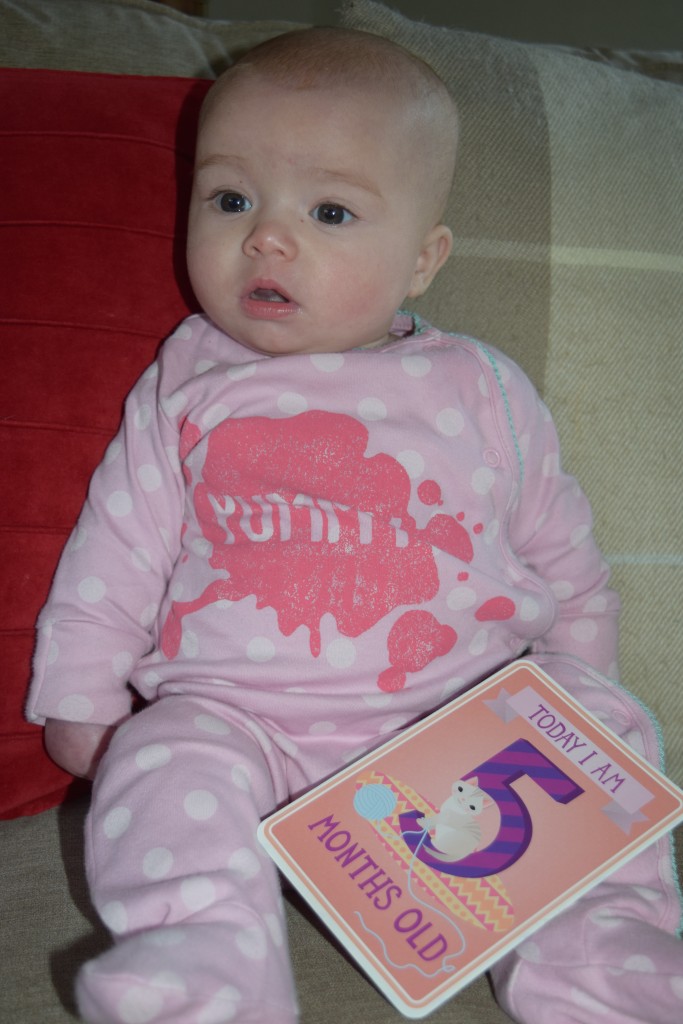 And so we head on towards 6 months, half a year. I wonder what the next update will bring? Weaning, teething, sitting up? I can't wait to find out what the next month holds for this little person.