It's been another great month for post – we have received some really lovely things that I want to share with you!
The thing Max has been most excited by this month is a beautifully wrapped parcel that arrived from Lego Duplo. Inside was a fire station set and a matching tshirt. He had the tshirt on within minutes, and with the help of Gemma and Jacob he had the fire station ready for play pretty quickly too!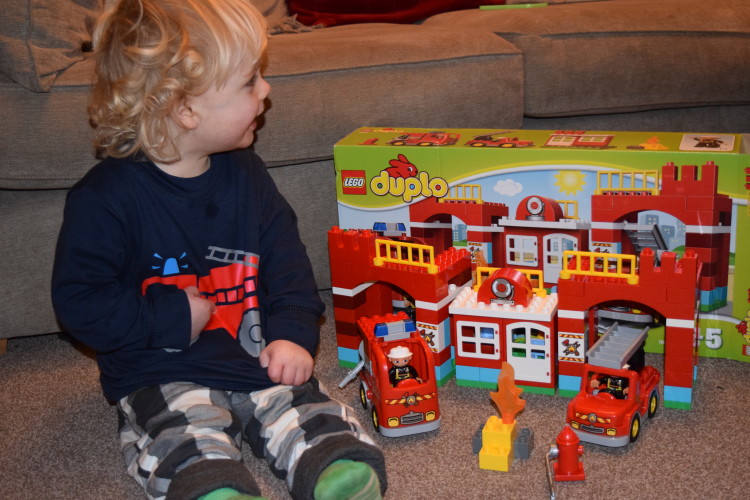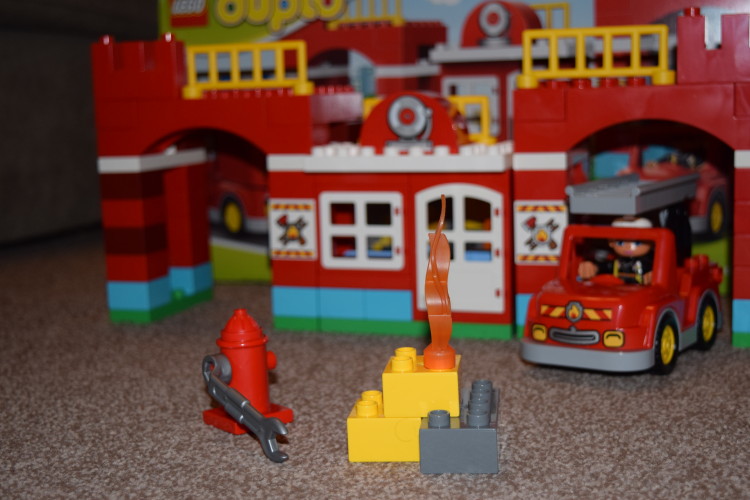 The set is really simple to put together, with clear instructions designed for children to be able to follow. As well as the fire station, the set includes 2 fire trucks and some accessories – all of these have been well loved and played with a lot ever since. The fire engine that Max is holding in the photo has fast become his favourite toy, and I know we will get hours and hours of play from this set. A great Christmas present idea.
Max has also been loving his new Little Life bee poncho towel. Gemma and Jacob both have their own hooded towels, and we use a Cuddledry one for Eliza, so it has been nice for Max to have his own version. I love the bright yellow and black design, and the unusual material. It doesn't feel like a traditional towel at all – it's made from a quick drying soft fibre fabric, and so it dries a lot faster than standard towels, and can absorb up to 9 times their own weight in water!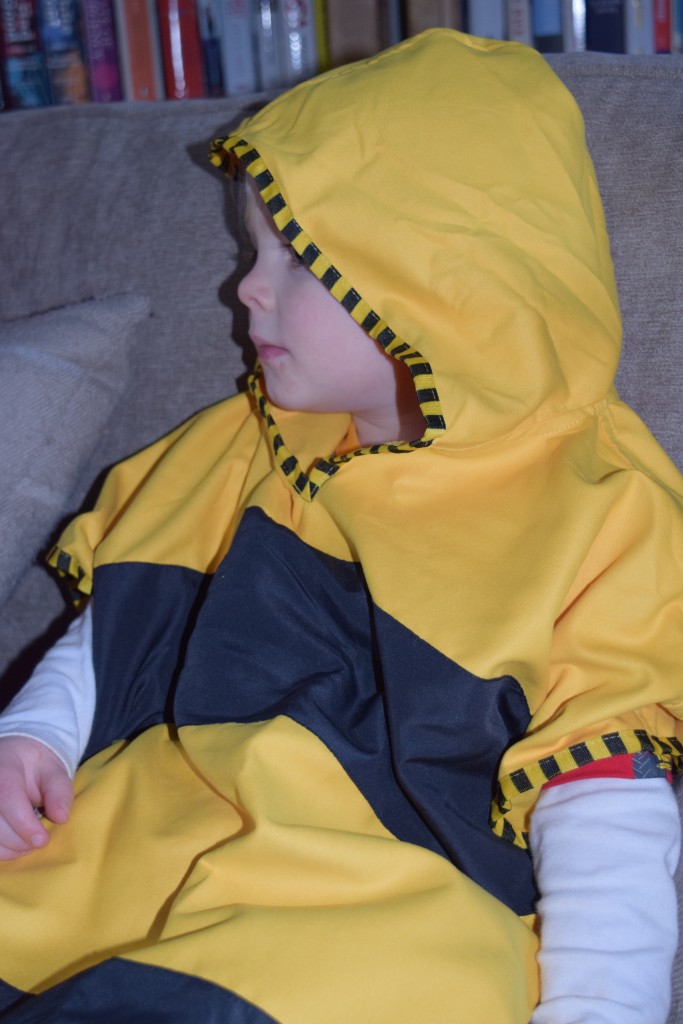 As well as being great for bathtime, this poncho towel would also be ideal for swimming or the beach – especially as the fabric offers UPF 50+ protection. They are lightweight and cool for summer and they are so compact they can easily be rolled up and popped into your bag.
I have been enjoying My Geek Box this month – a box of geeky treats through the door, This box contained a BOO tshirt and lots of zombie themed paraphernalia – a Dracula puzzle, a Twisted Dark book, a zombie print tea towel, car sticker and a metal wall sign.
If you are looking for a Christmas gift for a geeky friend or family member, this could be a perfect option – whether you just buy the one box or sign them up for a subscription, with a different theme every month.
Eliza has had some lovely post this month too, including a couple of gorgeous Nuby festive bibs. My favourite is this gorgeous gingerbread man pattern – perfect for this time of year!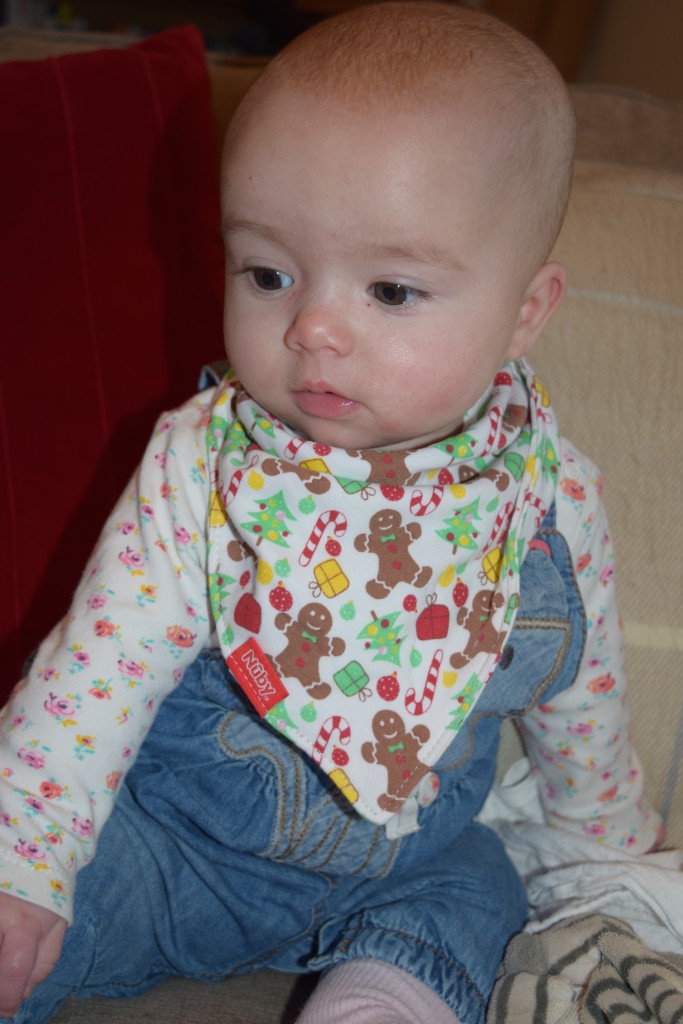 The bibs fit well around her neck, stop dribble and milk from seeping through onto her clothes, and brighten up any outfit. We also received a selection of oral health products such as baby toothpaste, teething powders and toothbrushes, and we are looking forward to trying those out once teething starts!
The older 3 children recently received some rather gorgeous tshirts from Tiger Prints. Gemma chose a G for Giraffe tshirt, Jacob went for a red footballer top and Max has a M for Macaw one.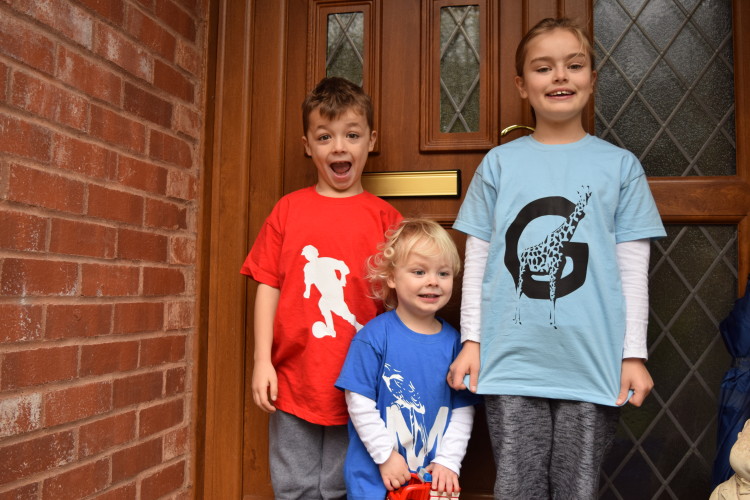 These tshirts are really lovely, and would make a wonderful gift. There are loads of designs to choose from – everything from sports and slogans to the animal alphabet tops. They are really good quality, although fairly lightweight so you may need a layer underneath. There are also hoodies and vests available on the site, so there is something for everyone. They wash well, the colours don't fade and they just look great. I do love something a bit different, and we have had a lot of comments about these tshirts.