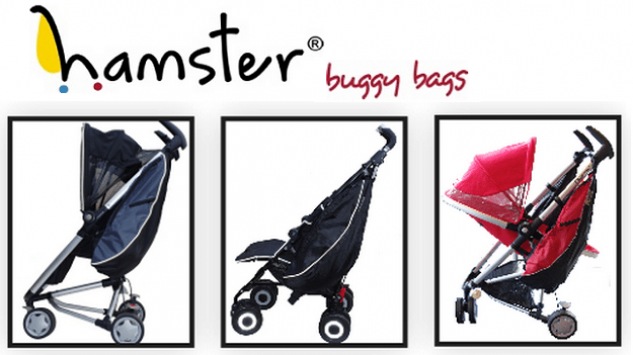 We have all been there. A busy shopping trip with a toddler in tow, bags full of shopping, loading up the buggy only for it to tip over backwards as soon as you hang anything heavier than a loaf of bread on the handles. Now I know you shouldn't really hang anything on your pushchair, but I know many of us do, as you really can't fit much in those buggy baskets can you?!
Hamster bags could be the answer. Two bags that attach to the sides of your buggy, these provide much needed storage space while leaving your set of wheels much more stable. Simply attach with a velcro strap around the pushchair frame – this stays in place all the time so you only need to do it once – then clip the bags on and off as you need them. So if you're just popping out on the nursery run you can leave them at home. If you're heading to Tesco for the daily supplies, clip them back on and you will have space to carry everything home safely.
Now, before I go any further, I must say that these pannier style bags are designed for umbrella style pushchairs. However, as we don't have a buggy of that style, I decided to try them out on my iCandy Peach All Terrain to see if they would work with other pushchairs.
The simple answer is that they do. They are more fiddly to attach, as you don't have the standard style A frame that you see on strollers. However, once you have the velcro straps attached around the chassis, you are sorted – and this takes less than 5 minutes. Find the best place to attach the Hamster Bags, wrap the velcro tightly around that point and then click the bags into place. There are large inside and outside pockets – I use the large 'main' pocket for the bigger stuff, and then keep my keys, phone and wallet in the smaller pocket at the front. Not only does this keep everything safe but it means the things I use the most are super east to access.
Hamster Bags last long beyond the buggy stage too. They come with a shoulder strap so you can carry them like a backpack – or get your older children to help out with the carrying! 😉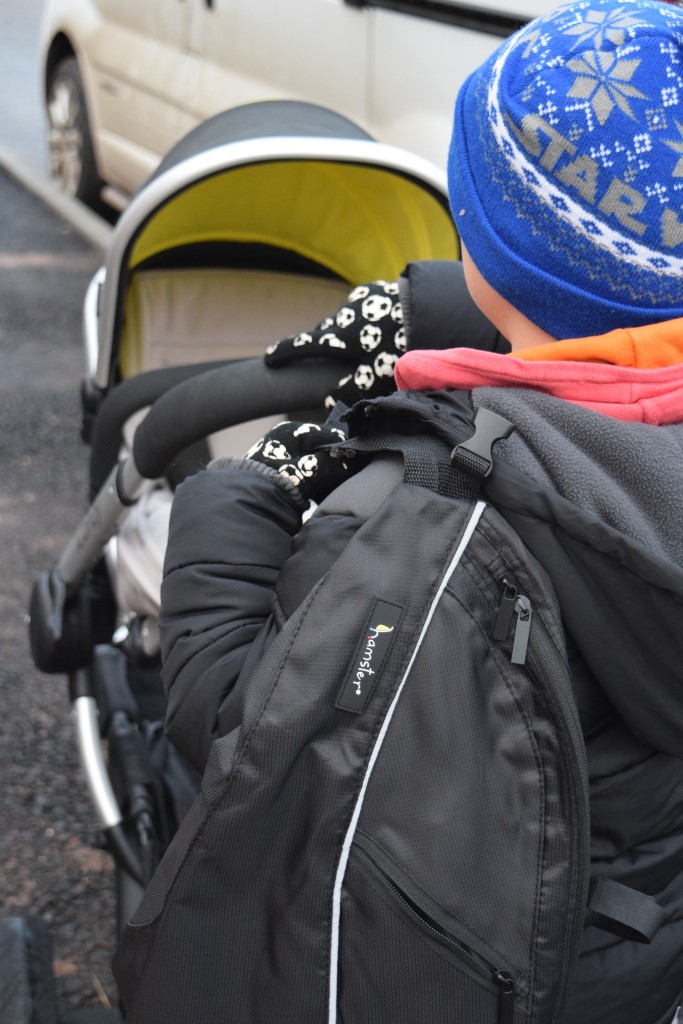 With lots of storage space, reflective strips for safety and the versatility to use with or without your pushchair, Hamster Bags are a really worthwhile investment – and I have a set of Hamster Bags to give away too! You can choose from black, blue or red and all you have to do to be in with a chance is enter below – good luck!
Terms and conditions. Open to UK residents, competition ends on 31/1/16. Winner will be randomly selected from all correctly completed entries and contacted by email. Winner should claim their prize within 10 days or it may be redrawn. Prize supplied directly from Hamster Bags. More competitions at ThePrizeFinder