Three quarters of a year have passed since Eliza made her dramatic entrance into the world, and I honestly can't remember life without her. She has changed all of our lives for the better, and although there have been a lot of hard and challenging times recently I wouldn't change her for the world.
Weight: No idea. At 8 months she weighed 17lbs 9ozs, right on the 50th centile. If she has continued to follow that line, she would be about 18lbs 10oz. We actually have her 9 month check up with the health visitor tomorrow, and I seem to remember this includes a weight check, so I can see if my guess is right!
Feeding: Weaning is continuing to go really well, and there is nothing this little girl won't eat! Breakfast is usually cereal and a banana, lunch something like cheese spread sandwiches with some baby crisps and a yogurt, and her main meal is whatever we have – anything from lasagne or spaghetti bolognese to roast dinner or fajitas. Her favourite is definitely a roast chicken dinner with yorkshire puddings – she can't get it in her mouth fast enough! She is only having 2 bottles of milk a day now – first thing in the morning and last thing at night, although I don't think it will be long before she drops the morning bottle too – she much prefers food!
Sleep: Eliza sleeps really well at night time – she goes to bed at around 7pm and sleeps through until around 6.30 – 7am. She doesn't sleep much in the day now – the odd 20 minute cat nap here and there, although she nearly always falls asleep in the baby carrier when we walk the dog.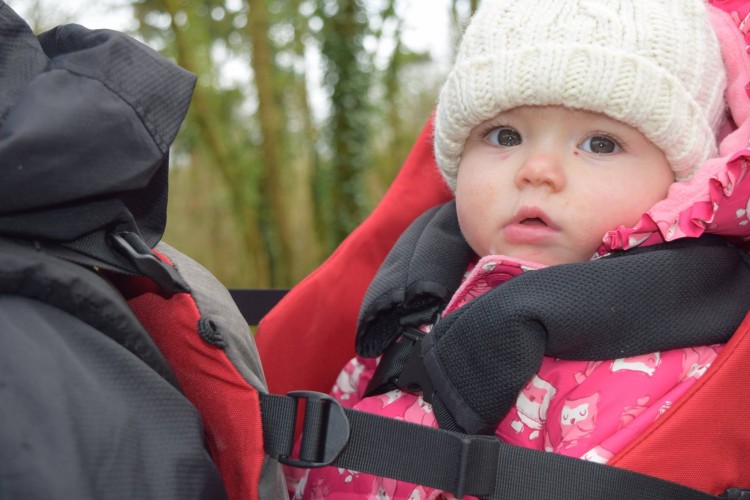 Likes and dislikes: We are still struggling with separation anxiety at the moment – Eliza really hates me leaving the room or being out of her sight. I know this is really common at this age, and we are just reassuring her we are still around and waiting for it to pass. Other than this, there isn't much Eliza doesn't like – she is a pretty easy going little thing. She loves to bounce in her Jumperoo, she adores her big sister and brothers as they make her laugh every day. She really loves being outside – whether that is in the carrier or the pushchair – fresh air is definitely one of her favourite things, especially if she can watch the trees or see the other children riding their bikes and scooters.
Firsts: We have had a huge first this month – Eliza crawled! She has been on the verge of doing so for a long time now, and she got the hang of it 2 weeks ago. Now there is no stopping her – she is into everything and she gets faster every single day. She is now attempting to make her way up the stairs, and has also managed to pull herself up on the sofa a couple of times!
She is fast on her way to becoming a toddler now (eeek) and I can hardly believe that in just 3 short months she will turn 1. How can that be?! It only seems like yesterday I was sat in that hospital bed with my tiny newborn in my arms.