Britain is packed full of literary connections so to help you find the perfect day out, the book worms at holiday company www.cottages.com have created a map of the best places to visit to immerse yourself in the worlds of your child's favourite authors and stories.
If you've always wanted to explore the places that inspired your favourite authors or keep the family entertained by their favourite characters coming to life, why not use this handy guide to plan your next outing?
Mavellous Museum for Roald Dahl Fans
See the fantastical world of author Roald Dahl come alive at the museum created in his honour. Featuring three interactive galleries, find out about Roald Dahl's school days, see his original Writing Hut and in The Story Centre put your imagination centre-stage with fantabulous activities to inspire your little writer.
Roald Dahl Museum, HP16 0AL
The Windmill, Wendover, nr. Aylesbury, Property Ref: PKKW
Enjoy a unique holiday in this detached windmill, built around 1800, now converted to provide comfortable spacious accommodation over five floors with spectacular views over the Chiltern Hills from the second floor sitting room. Used as a working windmill until 1900 and then the home of an actress and a music publisher, The Windmill, now minus its sails, is located in the historic market town of Wendover. Set in a quiet location, it has an attractive enclosed rear garden.
Nestling in a gap in the Chiltern Hills, conveniently located to visit the Roald Dahl museum and Whipsnade Zoo. The area is blessed with a variety of walks through some of southern England's most enjoyable countryside; the famous Ridgeway Path runs right down Wendover High Street.
Price: WAS £839, NOW £788 for three nights' self-catering arriving on 21st March 2016. Sleeps 10 people and two pets. www.cottages.com / 0345 498 6900
Find Stick Man, Stick Lady and Family Three
The latest hit from favourite Julia Donaldson has been brought to life by The Forestry Commission which has created a series of Stick Man Trails throughout the UK. Not only is the trail a great way to explore nature, with a host of downloadable activities from their website, you can even have fun on rainy days!
Breathe in the stunning countryside which inspired Beatrix Potter
A visit to the Lake District is a great experience in itself, but with such a strong association to the stories of Beatrix Potter, it's the perfect opportunity to find out more about this incredible author. Younger children can enjoy the Beatrix Potter Lake District Trail, following the clues to find her iconic characters amongst the countryside and for older children, a visit to her house is a brilliant insight in to the writer's life.
The Cottage, High Oxen Fell, nr. Coniston, Property Ref: 948
This cottage adjoins a 17th-century farmhouse on a traditional Lakeland working hill farm, once owned by Beatrix Potter, now owned by the National Trust. It enjoys a very quiet and secluded position, in a superb setting surrounded by rocky bracken-covered hills and high fells, in the heart of Lakeland. The views from all windows are across the magnificent Langdale Valley to the surrounding woods and mountains. Enjoy the tranquil splendour of this idyllic setting in a TV free cottage to enable you to relax in peace of a true away from it all holiday.
Price: £419 for seven nights' self-catering arriving on 26th April 2016. Sleeps four people. www.cottages.com / 0345 498 6900
Wonderful Wizardry
For Harry Potter fans, there are so many places to visit across the UK, all with magical connections to the wizard world of Harry and Hogwarts. Whether it's a trip to Alnwick Castle or Durham Cathedral to see the locations from the film or a day at Harry Potter World where you can sample Bertie Botts Every Flavour Beans straight from Diagon Alley, there's plenty to suit every J.K Rowling fan.
Harry Potter World, WD25 7LR
Alnwick Castle, NE66 1YU
Glenfinnan Viaduct, PH37 4LT
Durham Cathedral, DH1 3EH
A Bear who likes Marmalade
The classic stories of Paddington Bear, and the more recent film adaptation can be brought to life with a trip to Paddington Station. See where Michael Bond's fictional bear was found and if you have time, why not take the Paddington Bear bus tour which takes in some of the famous locations from the film.
Michael Bond's Paddington Bear at Paddington Station and bus tour
Spend a Day with Peppa and Friends
For fans of Peppa, a visit to Peppa Pig World is a perfect day out with the family. Have fun on the rides, meet some of your favourite characters and jump in some very muddy puddles!
Mark Baker, Phil Davies and Neville Astley, Peppa Pig World, SO51 6AL
Choo Choo!
For most Thomas fans, a trip to the local train station is a great way of spending an hour, but if you're looking for a family day out, with 12 wonderful themed rides and a spectacular indoor play area why not visit Thomas Land at Drayton Manor?
Thomas the Tank Engine, Thomas Land, B78 3TW
Step back in time with the Railway Children
A trip to the picturesque Yorkshire town of Haworth offers the chance to see the train station featured in the film versions of E. Nesbit's Railway Children. A real glimpse into the past, the traditional station is a great introduction to the classic book of adventure. Haworth also has a wealth of literary history with connections to the Bronte sisters for slightly older readers.
Oakworth Station, Haworth
Messing about on the River
Join Ratty, Mr Toad and Badger at the River and Rowing Museum, just off the Thames. See the characters of Kenneth Grahame's Wind in the Willows come alive and learn more about the river systems and environment in the process. You can also enjoy watching the boats and rowers take on the water outside.
River and Rowing Museum, RG9 1BF
The Wonderful World of Winnie the Pooh
A.A Milne was inspired to write his endearing collection of stories by Ashdown Forest, close to his home of Hartfield in East Sussex. There are a number of Pooh Walks to help guide you through the settings for some of his favourite tales and see Pooh, Christopher Robin, Piglet and Eeyore come to life.
A.A. Milne's Winnie the Pooh at Ashdown Forest
The Oast House, Nutley, Property Ref: PJJX
Lovingly restored, this is an unusual detached period barn with a wealth of exposed beams nestling in the owner's 15 acres of grounds. It has its own small garden area and is situated on the edge of the Ashdown Forest, also known the world over as the home of A.A. Milne's character Winnie the Pooh.
This area offers 6,500 acres of open heathland on the highest sandy ridge top of the High Weald Area of Outstanding Natural Beauty. Despite its name, woodland makes up less than 40% of the total area. Sheep, cows and goats graze freely side by side amidst the walkers and motorists.
Price: WAS £971, NOW £918 for seven nights' self-catering arriving on 19th March 2016. Sleeps eight people. www.cottages.com / 0345 498 6900
I'm Late, I'm Late, for a Very Important Date!
Why not treat Alice in Wonderland fans to their very own Mad Hatter's tea party? At the St James Court Hotel in London, the eclectic menu of cakes and pastries include 'Queen of Hearts' Mango Tarts, 'Drink Me' strawberry potion, 'Caterpillar's Mushroom' Raspberry Marshmallows and Pocket Watch macaroons. Book at least 24 hours in advance to secure your place!
St James Court Hotel London, SW1E 6AF
Famous Five and Secret Seven Come Alive
Enid Blyton is synonymous with Dorset, which with an array of beaches and countryside is a great holiday destination in itself. The town of Purbeck is a great place to start, as the area which inspired the Famous Five stroies. There are a number of local activities available including a location tour and museum to learn more about the author. Make sure you stop for some fantastic ice cream and ginger beer!
See the Tartan Bear
Author Mary Tourtel wrote and illustrated the Rupert Bear stories and at the Canterbury museum, fans can see original artworks, as well as memorabilia and images of the latest animated Rupert Bear.
To celebrate World Book Day on Thursday 3rd March, the book worms at holiday letting agency cottages.com are offering a collection of Beatrix Potter books to help fill the bookcases of your little readers!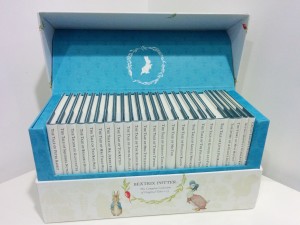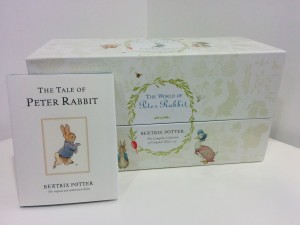 AND THEN
The cottage company has more than 15,000 properties across the UK and to help you choose your next holiday destination, they have put together a map of places to visit connected with some of our favourite children's authors and stories.
OR
Britain is packed full of literary connections so to help you find your next day out, the cottage company has created a map of the best places to visit to immerse yourself in the worlds of your child's favourite authors and stories.
OR
There are so many places in the UK connected to some of our favourite authors and stories, the cottage company has put together a map to help find your next day out to visit. In fact, if it's inspiration you are after, why not take a peek at the Inspire and Explore regional guides available on the website to help plan your next self-catering break.
Terms and conditions. Open to UK residents, giveaway ends 24/3/16. Winner will be randomly selected from all correctly completed entries and contacted by email. Winner should claim their prize within 10 days or it may be redrawn. Prize supplied directly from Cottages.com