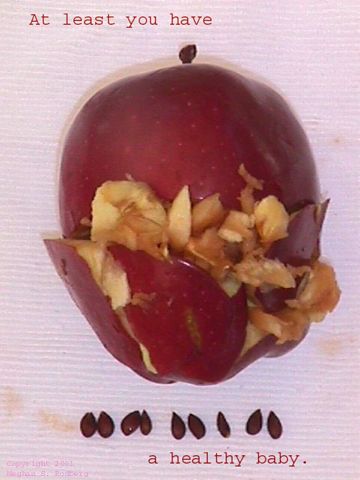 I read a post the other day from a lady who had wanted a hands off, non medicalised, hands off birth with her twins. She had a meeting with the supervisor of midwives prior to the labour, made sure everything was written down and reiterated everything again when she arrived at the hospital in labour. Yet she was still 'not allowed' in the pool she had requested, was told to lie flat on her back for examination and delivery and subjected to scans and monitoring she neither wanted nor needed. The lady felt traumatised, let down, upset and out of control.
And then someone commented that 'at least she had come away with 2 healthy babies'. And I wanted to burst into tears for her.
Because that is NOT all that matters.
Of course we all want to come away from our labour with a happy, healthy baby. But a happy, healthy mum is also incredibly important. How is that mum going to cope effectively if she doesn't feel she is happy and healthy? If she feels guilty, broken, out of control and lost?
Because that's what happens. Too often.
My first birth resulted in a crash section. My labour was medically managed from the second I arrived at the large hospital, following an ambulance transfer from my lovely, local birth centre. My baby was back to back. I was told this would make birth difficult, that I needed to be monitored. I didn't know any better, but I could see my water birth slipping away. I didn't know I could refuse the monitors, the examinations. I didn't know I could tell them how uncomfortable I was lying on my back with my legs in stirrups. I didn't know I could say NO to ventouse and forceps.
I just didn't know.
I came round from my anaesthetic to find myself minus bump, minus baby. She was in special care. But she was OK. And for that I was thankful. But is that all that matters?
No.
I didn't bond with her. The last thing I had heard before being knocked out was a nurse saying 'We've lost the fetal heart rate'. I thought she had died then and there. So I couldn't believe this baby was mine. I kept waiting for someone to come and take her away, to tell me they had made a mistake, to send me home with empty arms.
But I took a healthy baby home, and that's all that matters. Right?
Wrong.
10 years on, this birth still haunts me. I can remember, minute by minute, everything that happened during my labour. I question the decisions that were made for me, and I beat myself up for not being better informed. I feel guilty that I failed my baby, that she had such a traumatic arrival into the world. I sank deep into depression after the birth, and I have never fully recovered from that. My mental health is still unstable now, and I frequently get flashbacks and nightmares where I wake screaming, thinking my baby is dead, thinking I didn't survive the operation.
People tell me all the time "At least she's healthy. At least she's a happy, bright little girl. That's all that matters isn't it?"
Well no. That's not all that matters. Don't I matter too? Doesn't it matter that I am broken, wounded and deeply affected by this? Doesn't it matter that my poor husband was left alone in a room after I was wheeled off to theatre, with no idea of what was going on? Doesn't it matter that the first sighting of his daughter was her being resuscitated by a neonatal team? Don't you think that will always stay with him?
Birth trauma matters. We need to talk about it. We need to let parents know that they matter too.