We have always found the step between highchair and dining chair to be a big jump. Very few dining chairs are high enough to allow toddlers to reach the table, so they still need something to boost them up to the correct height to eat comfortably. That's where the Welcome Family booster seat comes in!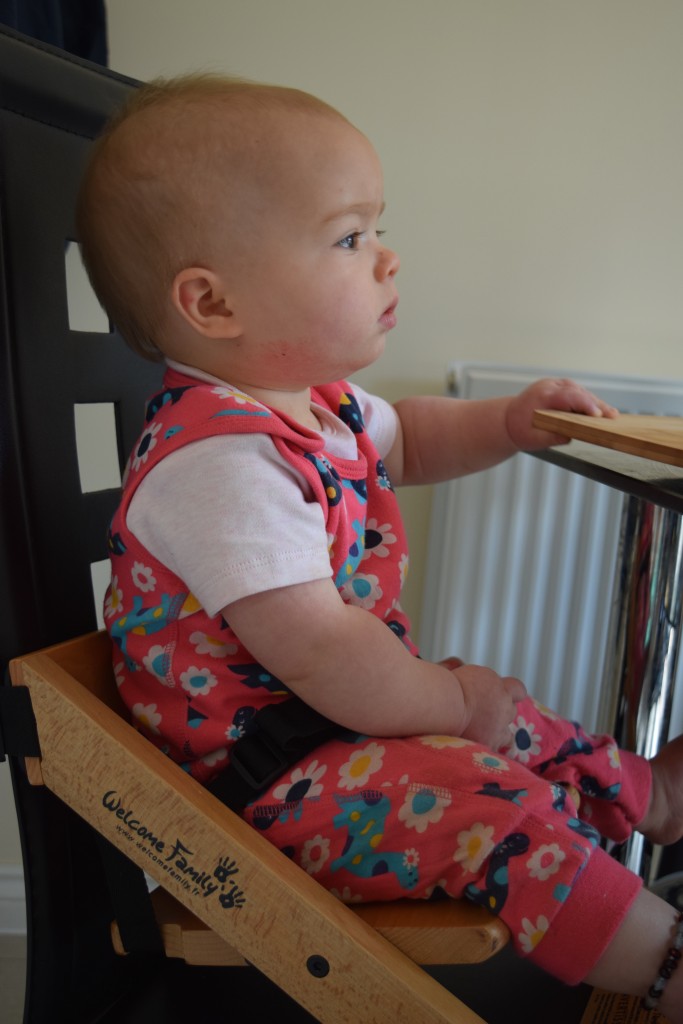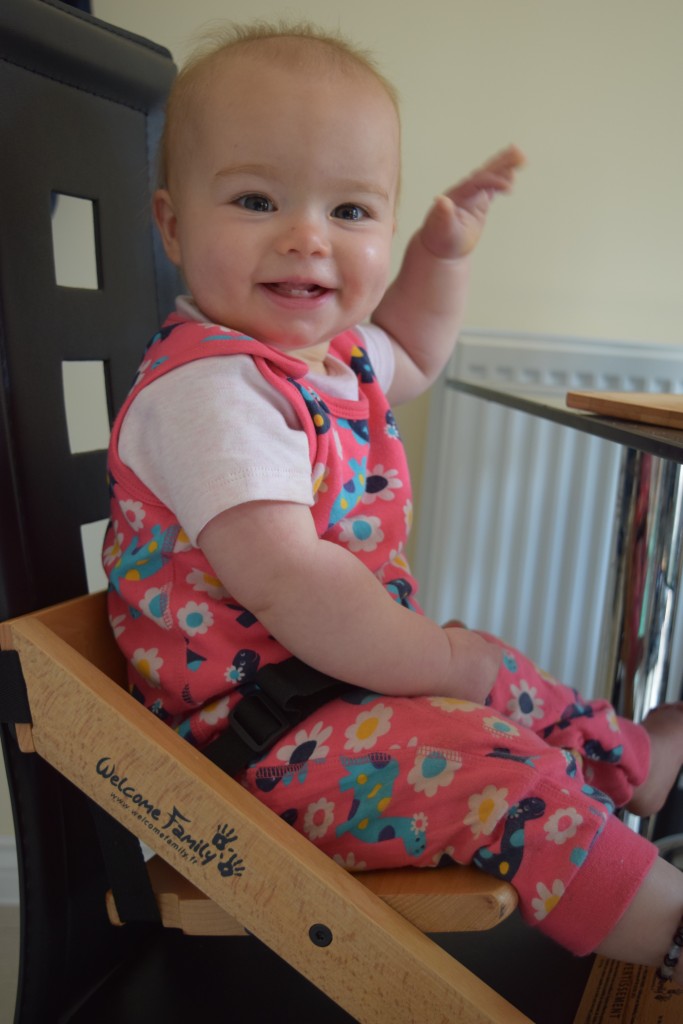 Suitable for children aged from 6 months to 3 years (max weight 20kg), this booster seat is a really good value option, priced at just £49. We didn't start weaning until 6 months, and we chose a traditional highchair, but if I had known about this booster seat, we might have cut out the highchair altogether and gone for the Welcome Family booster seat from the beginning.
The seat comes in a flat box – to set it up, all you have to do is fold the seat down and strap it onto your dining chair. There are 2 straps – one goes around the seat back, and one goes underneath the seat of the chair. They fasten with simple clips, and there is heaps of room for adjustment, meaning it should fit almost all kitchen or dining room chairs.
There is a 3 way harness for security, with straps that clip around your baby's waist, with a crotch strap between their legs – similar to those you would find on a pushchair. Once in the seat, Eliza feels very secure and looks safe and comfortable. The seat height is just right, boosting her up just enough to reach the table.
I love having Eliza seated at the table with us. It makes family meal times much more sociable, and she can join in with play time too, if we have the paints or playdough out. The Welcome Family booster seat is made from beech wood, and is incredibly easy to clean – it needs nothing more than a wipe over with a damp cloth.
One of the real benefits of this seat is the huge age range it is suitable for. As well as using it for Eliza, we have been able to use it with Max, who has just turned 3. I was worried that the seat position would be too high for him, and would push him up too high above the table, but I was pleasantly surprised.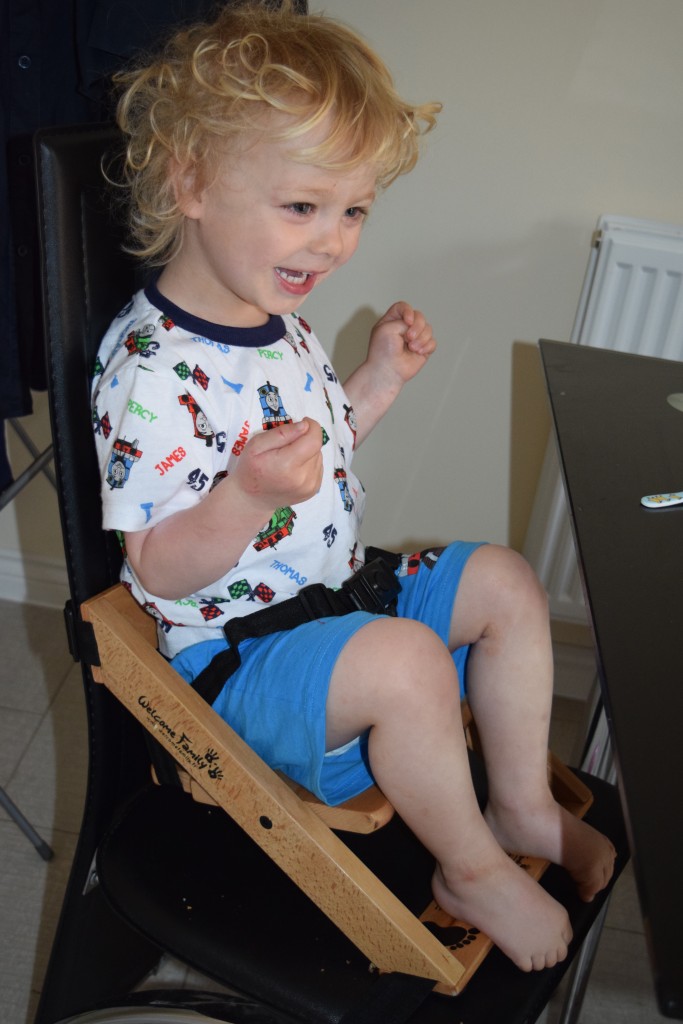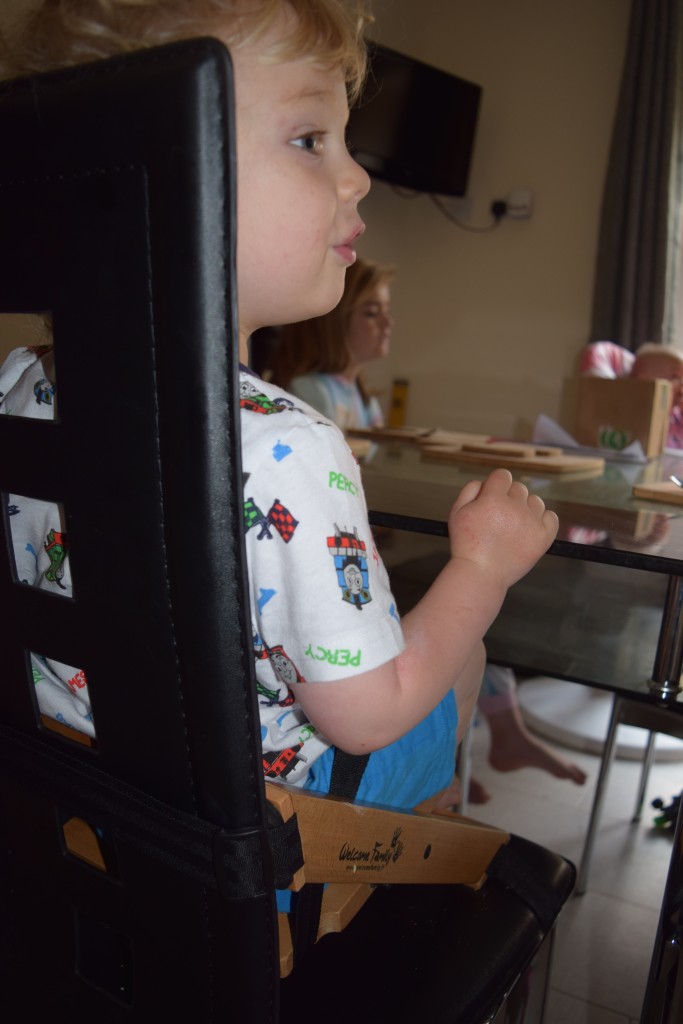 He is able to sit comfortably in the booster seat, and again it seats him at the ideal height for family meals and playtime. He much prefers this to having to sit up on his knees, which is not only uncomfortable but pretty unsafe too – he has been known to wobble off the chair before now – usually taking a drink with him!
If you travel a lot, or regularly go for meals with family and friends, then the Welcome Family booster seat can be folded down into a really compact size, making it ideal to use both at home or out and about.
Our only real issue with this booster seat is the fact that now Max and Eliza both want to use it all the time. Eliza doesn't want to go back into her usual highchair, and Max refuses to sit at the table without it. I think we might have to buy another…..