Love tulips? They are perhaps the most spring flowers ever, bringing joy and a fresh touch to any type of table and wall decoration they're associated to. How is it better to arrange them on tables so that they could impress you, your guests, family, or a special occasion?
There are thousands of ways to arrange them, the container or vase will depend on the style you're going to have – baskets, glass, vintage cups, jugs, tin cans or whatever you like. Look at the ideas below and get inspired.
But first, where do you get tulips? You can plant bulbs in your backyard, get one from a local flower shop, or if you're from Australia, you order fresh tulips from Fresh Flowers online, or Pro Flowers for worldwide – yes, at the comfort of your own home.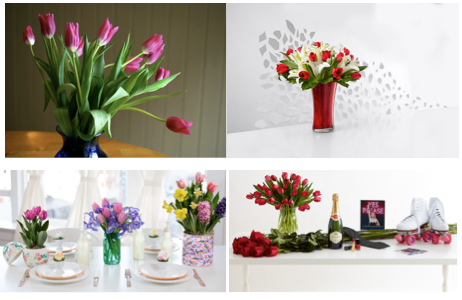 What container/s can I use?
Tulips don't have to be traditional. Choose any container you want to use a stand. Samples are glass milk bottles, drink bottles, mason jars, old glass containers, etc. It's just a matter of sentiment. Choose a container that will complement the area around the table where you will put it.
Tulips as wedding centerpiece. Need a cheerful flower to use as your wedding centerpiece? Use tulips! With their tall height, variety of vibrant colors and pretty leaves, they're great both for big and small centerpieces. Also, tulips are often more affordable than other flowers (especially if you'll wed in sprint, when the tulips are in season.)
For example, you can pair tulips with hydrangea or ranunculus for a monochromatic white tablespace. Short tulips in small containers are perfect for round tables, when you require something low so that the wedding guests can have a chat with each other easily.
Want to accent the tulips in your centerpieces? Make use of a single tulip as your place setting décor. The tulips will naturally draw attention and awe from everyone at the table.
Most people choose tulips for non-traditional floral centerpieces. Their pliable stems allow them to easily shape without splintering or snapping.
To give your wedding centerpieces more drama and height, use tulips with untrimmed stems.
Tulips can effortlessly fill small containers. You can put them to good use making a romantic presentation at your wedding.
Vintage weddings often feature lush, soft flowers in gentle colors. Try using pale pink tulips in small jars to adorn your tables. If you like attractive greenery as much as we do, make sure to allow the leaves on the tulips when you have space in your centerpiece.
To draw better attention to a single shade, choose a tulip that will complement your wedding color and use it as the focal point in your centerpieces.
Did you know that the meaning of tulips is generally perfect love? With all the sentiments and meanings of tulips, it's not surprising that their popularity continues to soar whether it be spring, summer or fall.
Having an occasion (a wedding perhaps) soon or want to decorate your table just because? Start adorning your table with fresh tulips and watch people get enchanted by the sight of its beauty and simplicity.
* This is a collaborative post*