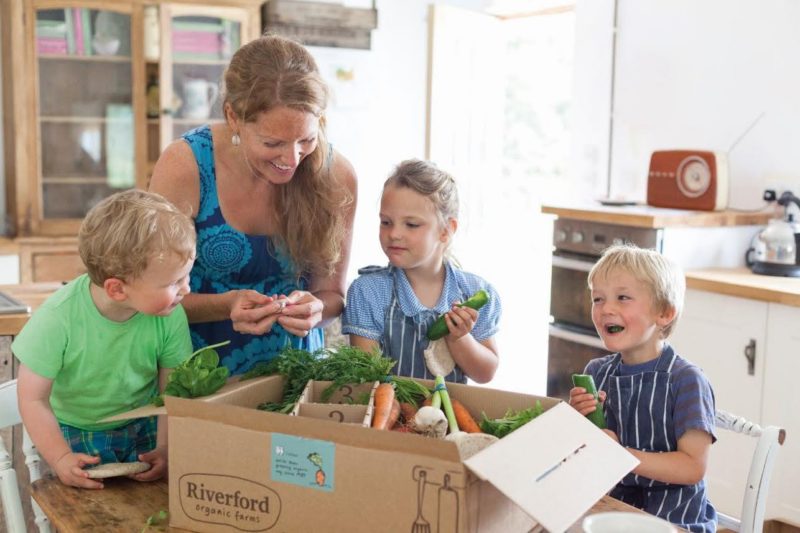 As farmers, veg box deliverers and self-confessed 'veg nerds', Riverford Organic Farmers know a thing or two about healthy, seasonal eating. What's more, their new 'Veg Fund' allows families to raise money for their school while introducing children to healthy eating and teaching them where their food comes from.
It's already taking off; schools across the country are signing up to the scheme to introduce families to Riverford's organic veg, not least because their iconic veg boxes can inspire children to try new things.
For every new family that signs up to receive veg box home deliveries, Riverford give £15 to the school's PTA to spend on what they like. Families eat healthily, schools get more funds; it's good for everyone. As part of the scheme, Riverford also offers classroom visits where children can learn about vegetables and healthy eating in a fun and interactive way.
Riverford founder and farmer, Guy Watson said, "Our new Veg Fund is a fantastic way for us to get involved with the local community. Part of the scheme involves school visits to talk about our boxes and where our veg comes from; it's great to see children getting so excited and inquisitive about vegetables once they learn more about them."
Riverford has been growing organic veg since 1987, taking careful attention to looking after the soil, wildlife and environment as they go. They grow for flavour and freshness; for the carrotiest carrots and potatoes like your grandad used to grow. In 2015 their veg boxes were named the Observer Ethical Product of the Decade. Riverford believe getting children involved in the kitchen from an early age is integral to a life-long love of cooking from scratch. Their boxes are a great way to get children to help out, whether it's scrubbing the mud from carrots or potatoes, or podding broad beans.
To find out more about The Veg Fund and find out how to sign up your school, visit www.riverford.co.uk/vegfund-register, and to be in with a chance of winning a Riverford medium fruit and veg box for yourself, simply enter my giveaway below!
Terms and conditions. Open to UK residents living in a Riverford delivery area. Winners will be randomly selected after the closing date on 6/10/16. Winner will be contacted by email and should claim their prize within 10 days or it may be redrawn. Prize supplied directly from Riverford.